It is hard to believe, but Didier Drogba's last match under Jose Mourinho was more than six years ago, 2 September 2007. Co-incidentally, given Saturday's set-back at Villa Park for his former club, it was a 2-0 defeat at Aston Villa. Drogba was then ruled out with a knee as Chelsea were held in successive home matches by Blackburn Rovers and Rosenborg precipitating Mourinho's axing on 20 September.
Stamford Bridge looks and sounds much the same now as it did then. They still sing 'Blue is the Colour', they still play Harry J Allstars' "The Liquidator", and they still wave plastic flags. The team Drogba faced was, however, very different. Not so much in personnel - Petr Cech, John Terry, Frank Lampard and, occasionally, Ashley Cole, are still playing, which is quite a lot given the turnover of players in modern football - but in Chelsea's approach.
Mourinho's Chelsea Mark I was a powerful unit built around a strong, imposing, spine. Defensively it still is. Cech and Terry remain while Branislav Ivanovic, Gary Cahill and Cesar Azpilicueta are at least as solid as the key figures in the old Chelsea: Ricardo Carvalho, William Gallas, Paolo Ferriera, Asier del Horno and Cole.
It is further forward the differences lie. The Mark I played 4-3-3 with Makelele at the base of a narrow midfield trio, breaking up opposition attacks and starting Chelsea's with quick, short passes. In front of him were Lampard and either Michael Essien or Michael Ballack. They had licence to push on, secure in the knowledge that Makelele guarded the back door.
Chelsea 2 Galatasaray 0: Player Ratings
Chelsea 2 Galatasaray 0: Player Ratings
1/11 Petr Cech 6/10

Had next to nothing to do all night long for Chelsea and in truth anyone could have done his job on the night. Galatasaray having only one shot on target all game shows the extent of Cech's requirement. Saved well from Drogba's effort on as simple a Champions League night as a 'keeper could wish for.

GETTY IMAGES

2/11 Cesar Azpilicueta 7

Helped down the wing without be a major threat and was kept honest by Drogba in defence. Did well to cope with the strength with of Drogba though and never looked in trouble.

GETTY IMAGES

3/11 Gary Cahill 9

Rifled home Chelsea's second from three yards out by being in the right place at the right time from Terry's saved header and was never going to miss. Defended with confidence and ease along side Terry.

GETTY IMAGES

4/11 John Terry 9

Dealt with everything that Galatasaray could muster with ease and could have got on the score sheet with well-connected volley that went just over. Set up Cahill's goal with a strong header from the corner on great night of the Chelsea captain.

GETTY IMAGES

5/11 Branislav Ivanovic 6

Was a threat down going forward without ever looking in trouble defensively. Steady display all round. Booked for blocking off Drogba.

6/11 Frank Lampard 8

Ran the midfield for Chelsea in a very controlled and mature performance showing all his experience. Picked off tackles and showed full range of passing. Set up Willian who might have scored and had some decent half chances himself that in years gone by might have found the net.

GETTY IMAGES

7/11 Ramires 7

Caught early on in his already injured face and looked shaken up a bit after but put in a strong performance in Chelsea's engine room. Broke up play well and his strong running helped start attacks.

GETTY IMAGES

8/11 Willian 7 (Kalas, 93)

The least effective of Chelsea's attacking midfield trio but still put in a good shift. Had a couple of decent efforts on goal but neither drew too much effort from the Galatasaray goalkeeper. Pacey all night long and gave Chelsea good width but not at his best.

GETTY IMAGES

9/11 Eden Hazard 8

Linked up well with Oscar all night long and looked a real threat with his pace and trickery. Touch over-elaborate at times but performed well and had the beating of Galatasaray defenders throughout.

GETTY IMAGES

10/11 Oscar 9 (Schürrle, 82)

Looked tricky and skilful all night long and had the numbers of several Galatasaray players. Set up Eto'o for the opening goal with a perfectly timed pass and won the corner for the second goal but not giving up on Lampard's over hit ball. Booked a touch unfairly for tackle on Selcuk Inan but a good night all round for the Brazilian.

GETTY IMAGES

11/11 Samuel Eto'o 7 (Torres, 85)

Put any Chelsea nerves to bed with just three minutes gone after staying onside well and firing low past Muslera to open the scoring. Found chances relatively hard to come by afterwards though but still linked up well with the attacking midfielders and held up the ball well.

GETTY IMAGES
Width was provided by the full-backs, up to a point, and the flank players in the front three. One of these was usually a genuine winger, such as Arjen Robben, Damien Duff or Shaun Wright-Phillips, sometimes both, though Joe Cole and Salomon Kalou also featured regularly. Mourinho liked to have pace (most managers do) because that made defences wary of pushing too high up the park. That is what the opposition centre-halves usually wanted to do because the last place they wanted to be battling with Drogba was on the edge of the 18-yard box.
That, though, is where they often found themselves, vainly attempting to win possession off the big Ivorian as he took a long forward ball from, perhaps, Cech or Terry, on to his chest, before either turning to shoot or playing in one of the midfielders who had broken forward in support. So many of Lampard's goals came this way. There was a moment last night when Drogba, with Terry on his back, took a long goal-kick from Fernando Muslera on his chest and laid it off so easily it was as if his old team-mate was not there. It was not Lampard, however, who took the shot but Felipe Melo and it was wide and weak.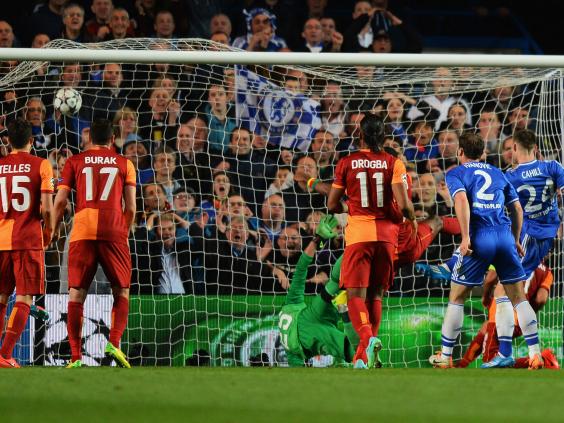 Drogba was one of Mourinho's first signings when he first came to Chelsea in 2004, for £24m from Marseille, and he built his gameplan around him. But there are not many players around like Drogba and contenders such as Diego Costa, Zlatan Ibrahimovic and Radamel Falcao were out of Chelsea's reach in this FFP age. So Mourinho brought in Samuel Eto'o, as much an African legend at Drogba, but also no longer young and a very different player.
Moreover Mourinho inherited a squad constructed to Andre Villas-Boas' specifications with the three Amigos, Oscar, Juan Mata and Eden Hazard, brought in to play a version of tiki-taka. This surfeit of 'tanner ball' players had one advantage for Mourinho: by making a scapegoat of Mata, the crowd's darling and the club's back-to-back player of the year, he ensured the others would put a shift in. The way Oscar tacked back to tackle Emmanuel Eboue at 2-0 highlighted the tactic's success.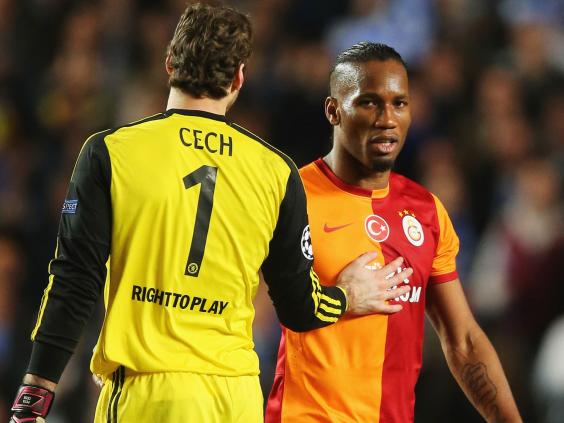 He restored Terry, deciding his leadership qualities outweighed his declining pace – so exposed by Villas-Boas' high line, but now protected by deeper defending and a two-man midfield shield. That includes Lampard, no longer a goal-hungry predator but a disciplined holding player. And in attack he has made the best of what he has, which is players of great technique rather than physique. Hazard is a wonderful player, Willian busy, diligent and versatile, and, as the opening goal underlined, Eto'o still a high-class finisher whose movement is almost as good as the peerless Antonio Di Natale.
Some of the front four's attacking interplay brought Arsenal to mind, but the second goal came from a route more familiar to Drogba. Lampard is still delivering good corners and Terry is still meeting them. And with Muslera between the sticks there was no need to have Ricardo Carvalho on the line impeding the goalkeeper, the Uruguayan parried Terry's header straight to Cahill without encouragement.
Which is better? If you needed a one-nil away from home Mourinho's first team would be the one, if you were paying £50 to watch, the second incarnation is preferable, and it leads the league. The signing of 6ft 4in Nemanja Matic as a holding midfielder suggests Mourinho wants to remake the original, so enjoy the sequel while it lasts.
Reuse content