The oft-quoted claim that London is France's sixth-biggest city, with more than a quarter-million cross-Channel migrants, is somewhat disputed, but it certainly sounded like it tonight. There was a distinctly Gallic accent in SW6 as le quartier sud-est, where the away fans are placed at Stamford Bridge, rang with optimistic chants.
For half-an-hour the travelling (and resident) support had reason to be cheerful as Paris St-Germain controlled the tie with an ease that must have worried Jose Mourinho, especially with Eden Hazard, Chelsea's lock-picker, off injured. Then Hazard's replacement Andre Schurrle, scored, Chelsea began to believe, and we had the contest that had been anticipated.
And so we should have had. A two-nil home win, for a club so formidable at home as Chelsea, and as experienced in Europe, was by no means an impossible job especially with Zlatan Ibrahimovic injured. Ahead of this tie Mourinho addressed the Swede's absence and, in that way of his, managed to turn the debate into one which depicted his club as the disadvantaged one.
Having reeled off a list of Chelsea players who were injured, ineligible or suspended he said 'We are not crying'. He added: 'The fact that a multi-millionaire club that buys players and players doesn't play one important player in Ibrahimovic I don't think is a problem."
Chelsea 2 PSG 0 (agg: 3-3): Second leg player ratings
Chelsea 2 PSG 0 (agg: 3-3): Second leg player ratings
1/23 Petr Cech 8/10

Strong punch clear on Motta's free-kick to keep clean sheet intact before the break. Vital stops from Lavezzi and Alex in final minutes

GETTY IMAGES

2/23 Branislav Ivanovic 7

Strong presence helping out in defence or surging down the right wing. Challenge on Matuidi earned a booking but helped keep out PSG

GETTY IMAGES

3/23 Gary Cahill 8

Thrashed over from a free-kick after having headed effort cleared. Showed ever-growing confidence and authority with number of meaty challenges

GETTY IMAGES

4/23 John Terry 7

Early charge upfield displayed desire to affect proceedings. Minor injury concern was run off and will be desperate to lead Chelsea to a win in competition

GETTY IMAGES

5/23 Cesar Azpilicueta 7

Overcame slight struggles with Lavezzi in opening minutes but recovered superbly. Strong at the back and revelled in space down PSG's right side

GETTY IMAGES

6/23 David Luiz 8

Helped on Ivanovic throw to allow Schürrle to open the scoring. As with Lampard, dictated play from deep and impressed going forward

GETTY IMAGES

7/23 Frank Lampard 7

Hit and miss free-kick delivery as he was deployed in front of back four. Cautioned for felling Lavezzi and replaced by Ba. The rest is history

GETTY IMAGES

8/23 Eden Hazard 6

Belgian was Chelsea's most attacking player in the first leg in France last week but lasted just 18 minutes before hobbling off injured

GETTY IMAGES

9/23 Willian 7

Has impressed with work rate in recent weeks and again put in a big shift, linking defence with attack and providing attacking spark. Booked

GETTY IMAGES

10/23 Oscar 6

Given more forward role after midfield reshuffle but still played his part defensively. Curled free-kick against bar before going off for Torres

GETTY IMAGES

11/23 Samuel Eto'o 6

Had early effort deflected wide after being fed by Oscar. Tried to steal ball from Sirigu. Little impact after break as subs came on to steal the show

GETTY IMAGES

12/23 Andre Schurrle 8 (Substitute)

Brought on following Hazard injury and showed fine anticipation to score. Hit bar and was a revelation as he helped Chelsea over line. Just

GETTY IMAGES

13/23 Salvatore Sirigu 7

Italian made important block on Lampard free-kick and also got down well to Luiz effort. Exposed for Schurrle goal and could do little with Ba effort

GETTY IMAGES

14/23 Christophe Jallet 5

Will have been relieved to see Hazard exit proceedings after struggling against Belgian. Struggled to keep up with pace of home sides' advances

GETTY IMAGES

15/23 Alex 6

Deflected Eto'o effort over on return to Stamford Bridge and Brazilian also made important saving tackle on Torres as Spaniard sought a leveller

GETTY IMAGES

16/23 Thiago Silva 7

Came out of challenge with Eto'o worse after diving in outside the area. Unlucky not to see his side reach last four as he was main line of PSG defence

GETTY IMAGES

17/23 Maxwell 6

Advanced forward to strike one effort across goal as visitors sought to wrap up the tie. Not his best night at the back but did not shirk his task

GETTY IMAGES

18/23 Thiago Motta 7

A threat from set-pieces and did the simple things well, rarely losing the ball and keeping French side in with a hope of holding out to qualify

GETTY IMAGES

19/23 Marco Verratti 6

Reported Arsenal target was booked in first half. Collided with Schurrle in area. Calm in possession but did not always make best choices with passing

GETTY IMAGES

20/23 Blaise Matuidi 7

Inventive and broke up play well but struggled to match the impact he made in Paris last week. Fouled by Ivanovic before being replaced by Pastore

GETTY IMAGES

21/23 Lucas Moura 6

Impressed last week but did himself no favours with tumble under pressure from Terry. Headed wide from free-kick and drove another effort straight at Cech

GETTY IMAGES

22/23 Ezequiel Lavezzi 6

Extravagant tumble earned little favour. Pulled off one fine turn shortly after the interval but came to nothing before surprisingly being taken off

GETTY IMAGES

23/23 Edinson Cavani 6

Picked up needless booking for obstructing Luiz and again struggled to make mark, despite absence of Ibrahimovic. Blazed fine chance over Cech's bar

GETTY IMAGES
Leaving aside the significant fact that it is the 40-goal striker who elevates PSG from a good side to an excellent one this is a bit rich coming from a man who spent nearly £250m of Roman Abramovich's money on players in just over three seasons in his first stint at Stamford Bridge.
Even then Mourinho failed to win the Champions League with Chelsea, though the spine of his team were still in situ when they finally did so under Robbie Di Matteo.
While that indicates money does not guarantee success, the fact Chelsea were last night chasing a sixth Champions League semi-final in ten seasons under Abramovich proves it certainly increases the chances. The problem for the Russian and his manager now is that other clubs, both nouveau riche and ancien regime, either have more money, or are more prepared to spend it. PSG are one of the former having spent £225m (net) of Qatari cash in the last two seasons to jump from Ligue 1 challengers to Champions League contenders.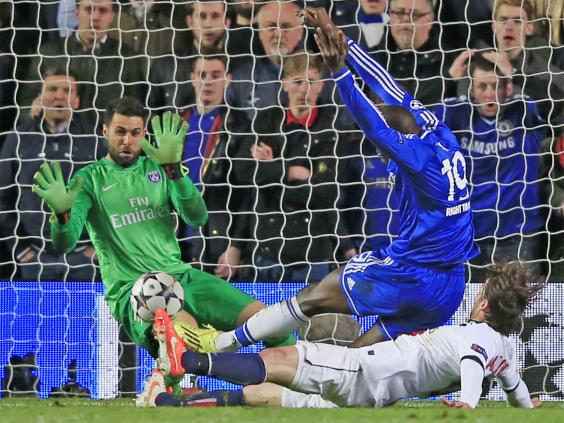 PSG and Chelsea actually spent similar amounts this season, but while the French club only recouped a fifth of their £120m outlay Mourinho had to balance his books more closely selling players such as Juan Mata to reduce his £115m investment to a loss of 'only' £50m. The French club will also have a far higher wage bill, even before Francois Hollande imposed a 75 per cent wealth tax, as elite players will have needed incentive to play in Lique 1. Chelsea will not be the only club waiting with keen interest for Uefa's Financial Fair Play inspectors' examination of PSG's accounts.
Whether the money comes from a Russian oligarch or an Arab potentate it is often spent on the same product: a Brazilian footballer. Brazilians are regularly the best-represented nationality in the later stages of the Champions League and even with Ramires suspended there were eight on the pitch compared with a trio of Anglos and a brace of Frenchmen.
For a long it was a trio of this octet that were the dominant players: Thiago Motta (an Italian international, but Brazillian born-and-bred), Alex and Thiago Silva. Motta, in particular, seemed to have so much tie to play, no mean feat in a match with as high a tempo as this. The footballers who grace this stage are now so fit, and so quick in thought and deed, a player requires exceptional close control to be able to compete.
But at this rarified level technique is nothing without desire. As this match fizzed towards the closing stages, and Mourinho threw on forward after forward, the tie came down to heart as much as art.
Small details matter and maybe Mourinho was right when he said of Demba Ba, "The fact I played him [as substitute] before Nando [Torres] made him feel that he doesn't have the No3 striker on his back. His enthusiasm was fantastic."
Without that boost would Ba, when the ball broke off the legs of Alex, have forced himself ahead of Maxwell to scramble the ball into the roof of the net? No one will ever know, it is another chapter for the Mourinho legend nevertheless.
But it was close, so close. How close was underlined by events in Dortmund where Jurgen Klopp's team could not quite make it a night of comebacks. They hit the post, they were denied by outstanding goalkeeping, but they did not get a fortuitous deflection of the type that provided Ba his chance. Ability, desire... and luck: Football's Holy Trinity.
Reuse content