It was fortuitous that Jose Mourinho opted for a tracksuit rather than the smarter gear tonight, because when the second goal went in to propel his team into the Champions League semi-finals he was off down the touchline like it was 2004 at Old Trafford all over again.
Another stupendous night of European football at Stamford Bridge. Another thrilling conclusion. Another win pulled off by the manager who has never lost a quarter-final in the Champions League in his life and was not about to start the habit now. When substitute Demba Ba scored Chelsea's second with three minutes of normal time remaining Mourinho headed down the touchline as he once did as Porto manager in that famous Champions League tie against Manchester United ten years ago.
This time he was going to tell his players how to defend the last few minutes of the game, pulling the substitute Fernando Torres off the pile first to shout instructions in his ear. Then he collared Andre Schurrle. At the critical point in the game, the Chelsea manager was once again at the centre of everything and yet again his team were turning the tables on one of the big guns in Europe.
Chelsea 2 PSG 0 (agg: 3-3): Second leg player ratings
Chelsea 2 PSG 0 (agg: 3-3): Second leg player ratings
1/23 Petr Cech 8/10

Strong punch clear on Motta's free-kick to keep clean sheet intact before the break. Vital stops from Lavezzi and Alex in final minutes

GETTY IMAGES

2/23 Branislav Ivanovic 7

Strong presence helping out in defence or surging down the right wing. Challenge on Matuidi earned a booking but helped keep out PSG

GETTY IMAGES

3/23 Gary Cahill 8

Thrashed over from a free-kick after having headed effort cleared. Showed ever-growing confidence and authority with number of meaty challenges

GETTY IMAGES

4/23 John Terry 7

Early charge upfield displayed desire to affect proceedings. Minor injury concern was run off and will be desperate to lead Chelsea to a win in competition

GETTY IMAGES

5/23 Cesar Azpilicueta 7

Overcame slight struggles with Lavezzi in opening minutes but recovered superbly. Strong at the back and revelled in space down PSG's right side

GETTY IMAGES

6/23 David Luiz 8

Helped on Ivanovic throw to allow Schürrle to open the scoring. As with Lampard, dictated play from deep and impressed going forward

GETTY IMAGES

7/23 Frank Lampard 7

Hit and miss free-kick delivery as he was deployed in front of back four. Cautioned for felling Lavezzi and replaced by Ba. The rest is history

GETTY IMAGES

8/23 Eden Hazard 6

Belgian was Chelsea's most attacking player in the first leg in France last week but lasted just 18 minutes before hobbling off injured

GETTY IMAGES

9/23 Willian 7

Has impressed with work rate in recent weeks and again put in a big shift, linking defence with attack and providing attacking spark. Booked

GETTY IMAGES

10/23 Oscar 6

Given more forward role after midfield reshuffle but still played his part defensively. Curled free-kick against bar before going off for Torres

GETTY IMAGES

11/23 Samuel Eto'o 6

Had early effort deflected wide after being fed by Oscar. Tried to steal ball from Sirigu. Little impact after break as subs came on to steal the show

GETTY IMAGES

12/23 Andre Schurrle 8 (Substitute)

Brought on following Hazard injury and showed fine anticipation to score. Hit bar and was a revelation as he helped Chelsea over line. Just

GETTY IMAGES

13/23 Salvatore Sirigu 7

Italian made important block on Lampard free-kick and also got down well to Luiz effort. Exposed for Schurrle goal and could do little with Ba effort

GETTY IMAGES

14/23 Christophe Jallet 5

Will have been relieved to see Hazard exit proceedings after struggling against Belgian. Struggled to keep up with pace of home sides' advances

GETTY IMAGES

15/23 Alex 6

Deflected Eto'o effort over on return to Stamford Bridge and Brazilian also made important saving tackle on Torres as Spaniard sought a leveller

GETTY IMAGES

16/23 Thiago Silva 7

Came out of challenge with Eto'o worse after diving in outside the area. Unlucky not to see his side reach last four as he was main line of PSG defence

GETTY IMAGES

17/23 Maxwell 6

Advanced forward to strike one effort across goal as visitors sought to wrap up the tie. Not his best night at the back but did not shirk his task

GETTY IMAGES

18/23 Thiago Motta 7

A threat from set-pieces and did the simple things well, rarely losing the ball and keeping French side in with a hope of holding out to qualify

GETTY IMAGES

19/23 Marco Verratti 6

Reported Arsenal target was booked in first half. Collided with Schurrle in area. Calm in possession but did not always make best choices with passing

GETTY IMAGES

20/23 Blaise Matuidi 7

Inventive and broke up play well but struggled to match the impact he made in Paris last week. Fouled by Ivanovic before being replaced by Pastore

GETTY IMAGES

21/23 Lucas Moura 6

Impressed last week but did himself no favours with tumble under pressure from Terry. Headed wide from free-kick and drove another effort straight at Cech

GETTY IMAGES

22/23 Ezequiel Lavezzi 6

Extravagant tumble earned little favour. Pulled off one fine turn shortly after the interval but came to nothing before surprisingly being taken off

GETTY IMAGES

23/23 Edinson Cavani 6

Picked up needless booking for obstructing Luiz and again struggled to make mark, despite absence of Ibrahimovic. Blazed fine chance over Cech's bar

GETTY IMAGES
Chelsea are in the semi-finals on away goals and as they celebrated at the end, you wondered why you had ever doubted them. This is the team that just tends to get its way in Europe. "Champions of Europe," the home fans sang through the game, "we've done it before" and that warning certainly came true for Paris Saint Germain.
For all their Qatari investment, the men from Paris, defending a two goal lead, learned a little last night of what it requires to be successful at this level. They just do not give in at Stamford Bridge, through the early loss of Eden Hazard to injury and finishing the game with every one of the three strikers that Mourinho rates so little on the pitch together. In the end it was Ba, the last man on Mourinho's mind most of the time, who was the difference.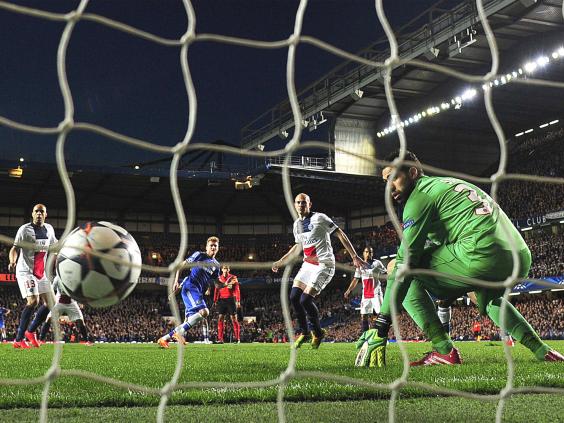 The Senegal international was born in the south-west of Paris and is a PSG fan. When he was brought on tonight with 24 minutes left to play, however, he was playing for his own credibility. Mourinho said later that the decision to bring him on before Torres, who did eventually get on, gave Ba the boost of confidence necessary. "It made him feel that he doesn't have the 'No 3 striker' [status] on his back," Mourinho said. "His enthusiasm was fantastic."
There is something about their reaction to adversity that suits Chelsea so well in Europe. They went out the Champions League at the group stage last season but in all the last two years, which have yielded the Champions League and Europa League titles have been testament to their ability to tough it out. With Mourinho in charge, they are the street-fighters that no-one will relish playing in the semi-finals.
With Real Madrid through as well, there is a possibility that Mourinho will come up against his former club. Or Barcelona with whom his history would fill a few books. Or Manchester United, Bayern Munich or Atletico Madrid. It was why the Chelsea manager soon calmed down, later claiming that the victory had not registered especially high on his list of achievements and that the players had stopped celebrating in the dressing room within two minutes.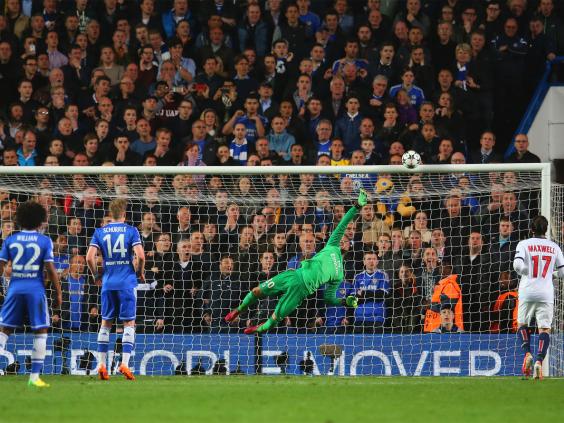 With 18 minutes played it did not look good for Chelsea, Mourinho dispatching Schurrle down the touchline to warm-up. The Chelsea manager had selected Samuel Eto'o in attack despite his pre-match acknowledgment that the striker was not fit, but this was not Eto'o who was struggling so early on in the game. Alarmingly for Mourinho, it was Hazard.
It was not just the loss of the man who has given Mourinho's team their sharpest cutting edge this season, so early in the game; there was also PSG's much stronger start to take into consideration too. They approached the game on the front foot, attacking in the early stages and dominating possession. With Ezequiel Lavezzi on the left  and the even pacier Lucas Moura on the right, they looked like the team more likely to win on the night by a two-goal margin.
But these high-end Champions League ties can switch-around so quickly. For Chelsea it was just around the half hour stage when they exerted a grip on the game and scored their first.
Until then, Thiago Motta in particular had been in control of the game in the middle for PSG with Frank Lampard and David Luiz struggling to get a hold of the ball. Then Lampard's free-kick from the left was deflected off the PSG wall and Salvatore Sirigu was obliged to throw himself across to his near post for a very good save.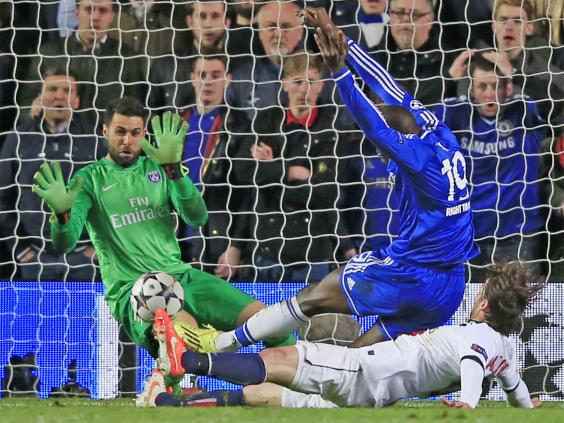 On 32 minutes Chelsea scored their first, a long throw from Branislav Ivanovic and a flick-on from Luiz that belonged to another era of football. As for PSG, they did not react at all and Schurrle had time to sweep the ball past Sirigu with his right foot, unmarked in the area. The German had looked composed from the moment he came on. A pity that a chance four minutes later from another Lampard free-kick did not fall to him, instead it dropped to Gary Cahill who swung wildly and sliced the ball well wide.
In the closing stages of the half Eto'o burst forward with the kind of power that Chelsea have often lacked in attack and it required a brilliant tackle from Thiago Silva, coming in from the side, to win the ball.
It did not take much for the second half to ignite too, not least when Chelsea struck the bar twice in the space of a minute in an absorbing phase of attacking play. Lampard and then Willian from the right combined to pick out Schurrle on that right foot of his on 52 minutes and his shot rattled Sirigu's bar.
Recycled out on the left, Eto'o was fouled and from the free-kick Oscar beat Sirigu again. His shot located the same part of the bar that Schurrle had hit earlier. PSG survived with their lead in the tie intact and saw off that period of pressure. If nothing else, it had developed into a wonderful tie with the tension that one mistake capable of swinging it either way.
When the changes came it was Ba, whom Mourinho opted for first, and then Torres. A surprise given that even though the Chelsea manager rates Torres so little, he seems to rate Ba even less. This was the last roll of the dice from Mourinho, who had seen Eto'o do little of note after half-time. All he needed was one goal.
It came from Ba, who got ahead of Maxwell to score when Cesar Azpilicueta's shot found its way into the area. There was a flurry of pressure at the end but Petr Cech in particular along with the excellent Cahill stood strong to hold for another remarkable win.
Chelsea (4-2-3-1): Cech; Ivanovic, Cahill, Terry, Azpilicueta; Luiz, Lampard; Hazard, Oscar, Willian; Eto'o.
Subs: Hazard/Schurrle 18, Ba/Lampard 66, Torres/Oscar 81,
PSG (4-2-3-1): Sirigu; Jallet, Thiago Silva, Alex, Maxwell; Verratti, Thiago Motta; Moura, Matuidi, Lavezzi; Cavani.
Subs: Cabaye/Verratti 54, Lavezzi/Pastore 72, Marquinhos/Moura 84
Man of the match: Cahill
Rating: 8
Booked: Chelsea Willian, Lampard, Luiz PSG Verratti, Cavani, Moura, Matuidi, Maxwell
Reuse content