The evening before the long dramatic night at Stamford Bridge, Cesc Fabregas was calmly dissecting Chelsea's biggest problem during his press conference in the stadium's Drake Suite.
"If I have to say what we're missing a bit this season, it is that moment when, if we can kill, we have to kill," explained the Spain midfielder, who is as good at talking about football as he is playing it. "There have been moments where we've not done that and allowed others to be dangerous. When we get one goal, we have to go for the second and third. That's the only thing we can really improve. Hopefully we will have that killer instinct  tomorrow."
Almost exactly 24 hours later, Fabregas's hopes were dashed. Chelsea, playing more than 90 minutes against the 10 men of Paris Saint-Germain, never went for the kill. They led 1-0 and 2-1, for five minutes and eight minutes, and twice let PSG back into the match.
Chelsea 2 PSG 2 player ratings
Chelsea 2 PSG 2 player ratings
1/24 Thibaut Courtois

Outstanding showing in France kept Chelsea in tie; tested little in first half. Rounded by Cavani before fine stop. Rooted to spot for Luiz and Silva headers. 7/10

GETTY IMAGES

2/24 Branislav Ivanovic

Serb opened the scoring in Paris three weeks previously but was not afforded space to roam, policed well by Maxwell. Blocked Matuidi shot. 6

GETTY IMAGES

3/24 Gary Cahill

Chosen ahead of Zouma and kept occupied by Cavani all night. Assisted first-leg goal and had shot blocked at a free-kick before swiping in opener here. 6

GETTY IMAGES

4/24 John Terry

Relishes big occasions and stood up to challenge well as PSG took time to impose themselves. Vital block on Cavani but beaten at the end. 7

GETTY IMAGES

5/24 Cesar Azpilicueta

Eager to help in attack but careful not to be caught out of position as PSG pressed. Unable to make impact as French side dominated to progress. 6

GETTY IMAGES

6/24 Cesc Fabregas

Knocked over by Motta and unable to exert influence as easily as he did in first half of season. Knocked off ball too easily by stronger visitors. 5

GETTY IMAGES

7/24 Nemanja Matic

First game in over a fortnight after last month's red card and aided defensive efforts. Crucial interceptions and strong tackles before being taken off. 6

GETTY IMAGES

8/24 Ramires

Energetic as ever, ferrying the ball between defence and attack, but did not offer as much imagination or spark as Willian might have. 5

GETTY IMAGES

9/24 Oscar

It was a challenge with him that resulted in Ibrahimovic being dismissed. Overreaction angered PSG players. Hooked at interval when on a booking. 6

GETTY IMAGES

10/24 Eden Hazard

Skipped through at will early on and hauled back by Matuidi to prevent breakaway near half-time. Showed no nerves with extra-time penalty. 7

GETTY IMAGES

11/24 Diego Costa

Caught in ribs but continued after treatment. Involved in running battle with Luiz and denied penalty when shoved by Cavani. Late tackle on Silva. 7

GETTY IMAGES

12/24 Best off the bench: Willian

Replaced Oscar after being left out for his compatriot. Almost caught out Sirigu at near post. Limited success with dead-ball delivery. 6

GETTY IMAGES

13/24 Salvatore Sirigu

Italian had little to do as PSG began brighter. Gathered from Oscar and Willian free-kick and strong arm denied Ramires. Not to blame for either goal. 6/10

GETTY IMAGES

14/24 Marquinhos

Cleared from Terry at end of first period and kept occupied with trickery of Hazard. Also posed problems with delivery from wide areas. 6

GETTY IMAGES

15/24 Thiago Silva

Caught Costa off the ball and allowed Chelsea attackers little room. Spoiled showing with needless handball before magnificent header for winner. 7

GETTY IMAGES

16/24 David Luiz

Warmly greeted and enjoyed battle with new home favourite Costa, fortunate to escape elbow. Booked for play-acting before powering in leveller. 6

GETTY IMAGES

17/24 Maxwell

Poor cross when in good position but stepped up after the break. Won corner with one cross-shot and played part in composed French back line. 6

GETTY IMAGES

18/24 Thiago Motta

Entered referee's notebook for dissent. Provided valuable extra line of cover for PSG, keeping threat of Chelsea attacks to minimum. 7

GETTY IMAGES

19/24 Marco Verratti

Classy touches and grew into the game as nerves among home side became evident. Half-hearted claims for penalty when caught by Ramires. 6

GETTY IMAGES

20/24 Blaise Matuidi

Booked for pulling back Eden Hazard before interval. Powerhouse who linked PSG attacks and more effective than Ramires' efforts in blue shirt. 7

GETTY IMAGES

21/24 Javier Pastore

Forced Courtois into fine low stop as visitors pressed before wasting second attempt. Rarely ceded possession and always forward-thinking. 6

GETTY IMAGES

22/24 Zlatan Ibrahimovic

Swede has habitually struggled against English opposition and that continued here. Harshly shown straight red card for strong challenge on Oscar. 5

GETTY IMAGES

23/24 Edinson Cavani

Scored equaliser in first leg and close in opening exchanges. Lucky not to cede penalty as he pushed Costa. Shot against post after rounding Courtois. 7

GETTY IMAGES

24/24 Best off the bench: Ezequiel Lavezzi

Took place of Matuidi in closing minutes as French side sought leveller. Almost made immediate impact with header at Courtois before Luiz's bullet header. 6
They failed, despite their one-man advantage and the backing of their home crowd, to fully impose themselves on the game and on their opponents. Fabregas, at the heart of midfield, should have found the solution but he could not.
When Gary Cahill offered his analysis, pitchside long after the final whistle, the centre-half said that Chelsea had failed to grip the game tightly enough. "I don't think we played to our potential, the way we can play, especially when they went down to 10 men and you expect to grab the game by the scruff of the neck," Cahill said. "We didn't quite do that and I'm not sure why."
Jose Mourinho agreed. "The players felt too much the responsibility of the game, especially when the opponents went down to 10," the Chelsea manager explained, clearly and honestly. "Instead of being in the game, enjoying the game, expressing themselves, clearly some of the players couldn't cope with that pressure."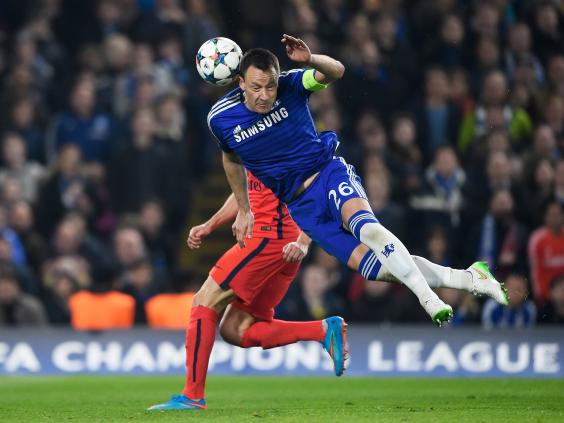 Captain John Terry suggested that Chelsea had become more passive after Zlatan Ibrahimovic was sent off in the 31st minute because they thought progress to the quarter-finals was almost assured. "Maybe as a group we thought 'we're not going to lose this one'," he said. "Instead of going for the jugular, you end up in there waiting and waiting."
That is precisely what happened, although it was not a one-off. Too many times this season, when playing the best opposition, Chelsea have gone into the lead but then been caught between trying to close the game down and pushing for another goal.
That is what happened on Wednesday night but also in the first leg at the Parc des Princes. It occurred in both Premier League games against Manchester City, which both finished 1-1. Against Manchester United at home, the same thing happened, and in the Capital One Cup semi-final first leg at Anfield. It is clearly a recurring problem.
Of course, this is still a successful season for Chelsea. They have won the Capital One Cup and, unless they are hit by catastrophe, will win the Premier League as well. If the last campaign was a transitional season, Mourinho's first since his return, then this time he has delivered in terms of trophies.
But there was a real hope at Stamford Bridge, when the Portuguese manager returned, that this team would be different from the last one, in terms of its commitment to expansive, proactive football.
"We won't give up this style," Mourinho said back at the start of this season. "We are showing a different style of play and we have the players. We are a pass-and-move team when we have the ball. We believe in that." Fabregas, signed for £27m from Barcelona last summer, was meant to be the key man for this. Mourinho said on Monday that Chelsea had been "waiting for a player with his characteristics" and that he had "changed the  profile of our team".
Fabregas has been impressive in patches, but his  contribution has dipped recently. That has often been the way – even a bizarre official statement from Barcelona last summer noted that "the magic tended to fade later on in each season" – but it is a real problem for Chelsea.
The answer may well be in the transfer market this summer. Chelsea could go for a deep-lying passing midfielder, someone to improve the tempo of the side and give them more control in possession. Sometimes pairing Fabregas and Nemanja Matic in central midfield is not enough.
They could look higher up the pitch, for some pace in behind defences, an alternative to Diego Costa or, depending on how well Juan Cuadrado does, an upgrade on Willian. But ultimate responsibility must lie with Mourinho. He has tried to play a new style of football in his second spell at Chelsea and, even with one trophy won and another on the way, he is not quite there yet.
The arrivals of Fabregas and Costa have brought this team up half a level, made them more dangerous, but they cannot yet fulfil the dream of playing assertive, expansive football of the type that had been hoped for. It is not how Mourinho, the undisputed king of reactive football, has won all his trophies in the past, with Porto, Chelsea, Internazionale and Real Madrid. This exceptionally-decorated leopard is still trying to change his spots.
Reuse content