Jose Mourinho on Monday night confidently predicted that Didier Drogba would rejoin Chelsea, as Stamford Bridge prepares to welcome its hero back for tonight's Champions League tie with Galatasaray.
Drogba enjoyed eight successful seasons at Chelsea, winning 10 major trophies, and Mourinho believes the bond between player and club is so strong that his future employment at the club is inevitable.
"It's not [up to] me, it is up to Chelsea," Mourinho said last night. "I think it has to happen one day. When, I don't know. As a player, as a coach, as an ambassador, next year, in four or five years, or 10 years, I don't know.
"But when a person represents so much to a club and the club represents so much to a person, as is the case, I think he has to be welcomed back.
"Undoubtedly, he's one of the most important players in the history of this club. That's not a doubt. We all, Chelsea supporters, agree with that." Drogba, 36, confirmed afterwards that he would stay in football once he retires.
After a 1-1 draw in Istanbul, Chelsea have a good chance of progressing tonight as Mourinho tries to win the Champions League for the third time. After three painful exits from the competition in his first spell with Chelsea, he hopes for better tonight.
"The Champions League gave me some of the best moments of my career, for sure the best one, with Internazionale in 2010," Mourinho said. "But the Champions League also gave me, I think, the worst moments of my career.
"One semi-final, a goal that was not a goal [2005]. Another semi-final, on penalties [2007]. Another semi-final on a Foy-type performance, when I finished with eight or nine in Barcelona with Madrid [2011]. And a fourth semi-final on penalties again [2012]."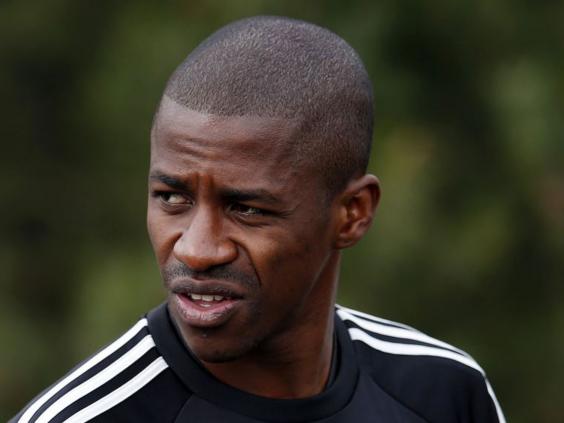 Referee Chris Foy's display in Saturday's 1-0 defeat at Villa Park clearly still rankles with Mourinho. When asked about it again yesterday, he said that he could not discuss it.
"We cannot have a reaction from Villa Park because, if we do, we bring the game into disrepute. We have no reason. We close our mouths and we keep calm."
Ramires was sent off in added time on Saturday for a late tackle, but Mourinho would not criticise his midfielder too much, and said that the incident was caused by accumulated frustration.
"I feel that what happened in minute 92 was a consequence of the other 92 minutes we played before that," Mourinho said.
"I am angry [that Ramires is suspended], but you know in football it's difficult to keep control of the emotions.
"I can't separate Ramires's tackle, which is a red card, from the accumulation of frustration during the match. People that play something and compete for something know exactly what I am speaking about.
"It is a red card. Was it in the first minute, was it in minute 20 completely out of context, where you don't know why the player did this? When you see the moment and what happened before that, you understand clearly – or you don't –  but I do. I understand clearly that a player can make a mistake. He made a mistake."
When asked whether Chelsea would ever receive the same seemingly generous decisions as Manchester City and Liverpool did over the weekend, Mourinho's attitude was clear: "I know. I prefer not to comment."
Reuse content