Jose Mourinho fears that Chelsea will not see the best of Diego Costa against Paris Saint-Germain in the Champions League on Tuesday night because the striker has lost his edge over his three-game Football Association ban for stamping on Emre Can.
The Chelsea manager confirmed that Costa will start the first leg, round of 16 game against the French champions but expressed concern that such a long lay-off from first-team football – 21 days in all – would affect his form.
Mourinho said: "A long rest is not good for him [Costa]. I don't think it's good for him or any player. A little rest is welcome for everyone, a big rest doesn't make good for the players. So we are not going to see the best Diego. I hope I'm wrong, but probably he will need this game to try to get it.
"We organised a game three or four days ago with the kids for him to compete. We tried to replicate competition for him, but it's different. But I know his hunger to play, a big appetite to play and Champions League scenario is a scenario every player enjoys."
Football's dirtiest players - the contenders
Football's dirtiest players - the contenders
1/7 Diego Costa

In addition to his two stamps against Liverpool, the Chelsea striker picked up 10 bookings in all competitions last season. For a defender that might not be a terrible record but for a striker who doesn't strictly need to make many tackles, it's shocking. The chants of 'Diego, Diego' from Chelsea fans just seem to spur him on.

Getty Images

2/7 Pepe

The Real Madrid man has built a career on being a no-nonsense defender. When he appeared to stamp on the hand of Lionel Messi during El Classico in 2012 he took it a bit far. He didn't do his side any favours in the 2010/11 Champions League semi-final either when he managed to get sent off during their defeat to great rivals Barcelona.

GETTY IMAGES

3/7 Sergio Ramos

Real Madrid have not one but two contenders for dirtiest player in the land. Ramos is a great talent, no doubt about it. But he's also an absolute liability. During the course of his career he's seen a stunning 19 red cards (although he didn't get sent off at all last season). To put that in context, that's more than Roy Keane (7) and Patrick Vieira (8) saw in the Premier League combined.

Getty Images

4/7 Luis Suarez

The Barcelona forward picks up bookings and red cards, but he also bites opponents (as Branislav Ivanovic, Giorgio Chiellini and Otman Bakkal can testify) and flips the bird at supporters that give him stick. A real contender.

5/7 Sergio Busquets

However, Suarez might not even be the baddest man at the Nou Camp. Busquets has been a central player in Barcelona's brilliant team over recent years but whilst the rest are playing tiki-taka, the midfielder can usually be found kicking opponents in the shin. He once stood on the head of Pepe, regularly dives and was accused of calling Marcelo a "monkey".

Reuters

6/7 Philippe Mexes

If Mexes already had a reputation as a bad boy on the pitch he confirmed it just this weekend when he grabbed Lazio captain Stefano Mauri by the throat, an incident that earned him a four-match ban.

GETTY IMAGES

7/7 Joey Barton

Whilst the QPR midfielder parades as a reformed character more interested in philosophy than fighting, there remains a sense that trouble is never far from Barton. Away from the pitch he has stubbed a cigar into the eye of a young team-mate and been sent to prison for assault and affray for an incident in Liverpool city centre. Meanwhile he's been banned numerous times for on-field offences and most notably for 12 games for a training ground incident involving Ousmane Dabo in which he left his team-mate unconscious.
While PSG have considerable injury concerns, having lost four key players in their draw with Caen on Saturday, Mourinho also has worries over Cesc Fabregas, who has been ill. Oscar and Willian are also not completely fit. However, both should be ready and the only player definitively out is John Obi Mikel.
Mourinho said he was yet to decide which of his two goalkeepers was to play in the game, with Petr Cech having started the Premier League victory over Everton last Wednesday.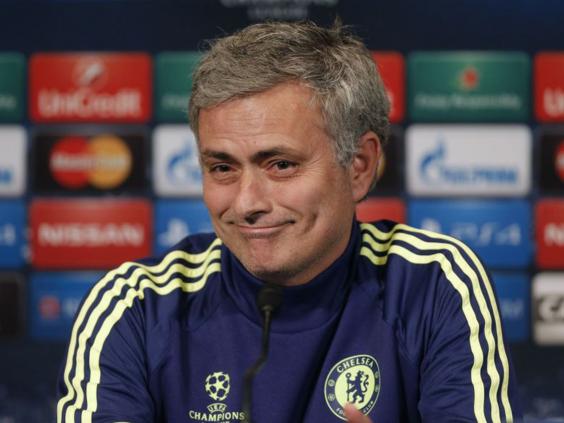 "He [Thibaut Courtois] doesn't know if he plays or not, so I can't tell you," Mourinho said. "He has to know from me, not from the media. But  I repeat: Chelsea have the  two best goalkeepers in the Premier League. For me, it is  an easy job.
"I'm very happy with both. Every time one plays, the team are very confident because they know that, behind, they have a top goalkeeper. Petr can start again but he doesn't know. Neither does [Courtois]. So I can't tell you."
Mourinho also said that Eden Hazard's new five-and-a-half-year contract with the  club demonstrated his loyalty, in spite of strong interest  from PSG.
The manager said: "He [Hazard] is a fantastic player, the kid was always a good kid, easy to have him in the group, easy to like him, easy to feel loved by everyone, so the kid was never a problem. He was always a fantastic kid.
"His evolution has been very, very good. Speculation when a talent like him doesn't sign a contract... it's normal to have speculation around him but at this moment it's end of story, because nobody signs a five-year contract without being absolutely convinced of his happiness and his future. So good for him, good for him, and obviously very good for the club."
Reuse content