There was a spell early in the second half here, as red shirts swarmed through tired opponents, when this Manchester United team looked like a Manchester United team of old. Against, it must be said, very modest opposition, United scored three goals within 14 minutes and could have had double that. They created as many chances in that spell as they have done all season and all the stodginess that has crept into their game under Louis van Gaal appeared to melt away.
Van Gaal had admitted beforehand that United need to be better on the ball but here, as they set about Club Brugge, they had some of that old ambition and swagger that has drifted out of their game. Whether this survives through to Swansea City away on Sunday will remain to be seen, but this was certainly better than an empty midweek.
At the point of it all was Wayne Rooney, who scored a hat-trick and looked sharper and livelier than he has done in months. His last hat-trick for United came almost four years ago, when Sir Alex Ferguson was in charge and Paul Scholes was enjoying his first retirement. That United team were champions of England, and while this side may well not be quite on that level yet, this was certainly one of the more confident and accomplished European displays of the post-Ferguson era.
Club Brugge 0 Manchester United 4 player ratings
Club Brugge 0 Manchester United 4 player ratings
1/13 Sergio Romero

His smart reflexes to whip the ball off Diaby's feet maintained United's first half lead when it was under greatest threat in his only major action. 6

2/13 Matteo Darmian

Has already established himself as a hugely reliable defender and the Italian quickly moved to lock down the right flank. 6

3/13 Chris Smalling

Struggled in the air against the tall and strong De Sutter but continues to be pass the ball smartly and lead a backline he has only recently established himself in. 6

4/13 Daley Blind

As composed as he is on the ball he looks nervy when his opponents attack him. He nearly let Brugge back into the tie with a careless header in the first half and was lucky his opponents merely focused on stopping the rout in the second period. 6

5/13 Luke Shaw

An excellent display by the left-back, who defended well but was even more effective in attack, creating several chances early on. 7

6/13 Ander Herrera

An early booking kickstarted a horror-show of a first-half for the returning midfielder. It didn't get much better than when he fell over the ball, but he recovered well in the second, getting an assist and a goal before being substituted. 6

7/13 Michael Carrick

A solid, calm presence on a night where, early on, United could have given in to nerves when Brugge pressed high. His distribution from deep was as excellent as ever. 6

8/13 Juan Mata

Though his eagerness to pass rather than shoot gave Rooney chances to add to his tally it also made the attacker a touch too predictable, with Brugge able to give him space in shooting positions. Very good, but you still sense he could be better with more goalscoring drive. 7

9/13 Adnan Januzaj

Did little wrong but as his half-time substitution confirmed he did little right either. 6

10/13 Memphis Depay

Looked as full of attacking enthusiasm as he had been in the previous match and played a key role in the important first two goals. 7

11/13 Wayne Rooney

Exploited a tired home side eager to get off the pitch to build some valuable confidence. His first goal opened the floodgates, though don't get carried away when Brugge's defence were shattered in the second half. 8

12/13 Bastien Schweinsteiger

Brought on to shut down the tie but soon embraced the counter-attacking opportunities his hosts provided him. His through-ball for Herrera's goal was spectacular but he nearly trumped it with a delicate chip that floated just wide. 7

GETTY IMAGES

13/13 Javier Hernandez

His chance to impress Van Gaal will be defined by a slip when taking a penalty, but don't forget missing an open goal too. His confidence at United seems irretrievably damaged. 3

GETTY IMAGES
All of this must be caveated, of course, by the paucity of the Belgian opposite. Brugge worked hard in the first half but had nothing left to give in the second, and this scoreline, 4-0 on the night, 7-1 on aggregate, flatters them excessively.
But you can only play the opposition in front of you and last night United compellingly played their way into the Champions League group stage. That is a meaningful achievement itself. For a club of United's standing, their one-year absence from the only game in town was bad enough. Two years, with the second so self-inflicted, would have been unimaginable. They are unlikely to win the cup this year, but they are back at the top table, which is far better than watching it on television.
More importantly than all this though, United may just have even played their way back into form.
Not every team would have wanted this tie, spreading over August, interfering with the start of a Premier League campaign, but for Manchester United it proved to be useful. Not just because a club of their size needs to be playing in the Champions League group stage, but because United, even now at the start of Louis van Gaal's second season, are still a work in progress.
Anyone who has seen United's first three Premier League matches knows that they still have issues to resolve on the pitch, when it comes to creating and taking chances. The fact that even Van Gaal conceded in his pre-match press conference that United "have to improve with the ball" shows how far they have been from his own standards, in their faltering two-goal Premier League start.
This first half last night, out on that wet pitch, was a test of that, of whether United could play in the way demanded of them. Louis van Gaal brought Ander Herrera in for his first start of the season, but at first he struggled to find his rhythm in deep midfield, mishitting passes and eventually taking his frustration out on the shins of Victor Vazquez, for which he was booked. When Herrera got into a shooting position, later in the first half, he hit the second tier of the stand.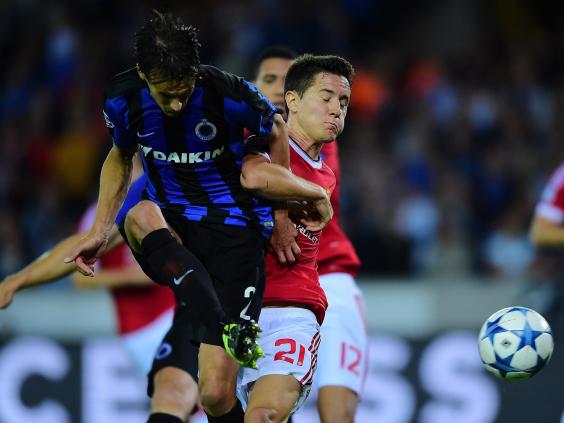 United had steady possession but they still needed someone to take the initiative, to try something, to create a chance. That is what they have lacked and it was Memphis Depay, the big money 21-year-old, who stood up and did it. Cutting in from the left, Memphis burst away from two defenders, dummying to shoot, shrugging off a shirt-pull. Rather than going for goal, he slipped the ball to Wayne Rooney, clean through, who finished calmly.
Memphis could have killed the tie soon after, racing in behind only to be tackled at the last by Oscar Duarte. After a brief Brugge flurry, United finaly thrillingly found their voice after the break. Van Gaal had withdrawn the subdued Adnan Janujaz for Bastian Schweinsteiger at the interval, buttressing United's experience in the middle of the park. The move also pushed Herrera further forward, prompting the incisive combination that ended the contest.
Depay, growing in confidence, burst forward and slid a pass to Herrera, now free to run into the box. Rather than shoot, he squared selflessly to Rooney, who converted with comfort.
This was a different United, as well as a different Rooney, and their football started to reach a new level of fluency, slicing through tired opponents. One counter-attack involved Rooney, then Herrera, then Mata, only for the final pass to be just beyond a stretching Memphis.
Brugge were finished, though, and United set about them with an ambitious ruthlessness. Rooney completed his hat-trick when he ran onto Juan Mata's clever little pass and finished gleefully into the bottom corner.  He soon could have scored a fourth, chipping just wide when through on goal.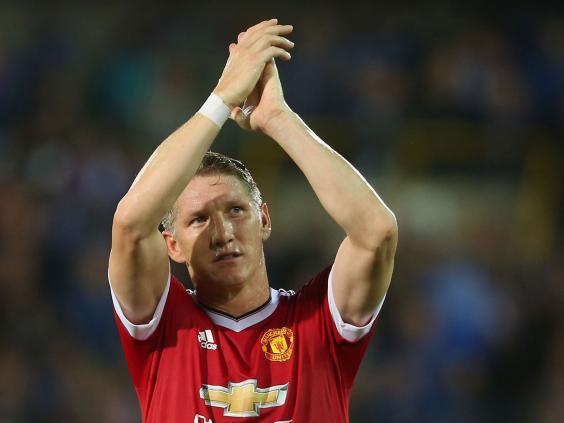 United, still pushing, did soon score again though, through Herrera, a player transformed in the second half. Schweinsteiger drove a pass through the Brugge defence – now effectively an inanimate object – and Herrera bounded onto it, slotting the ball into the bottom corner and charging away to celebrate below the travelling fans.
The one man who did not emerge from this game with confidence reignited was Javier Hernandez, who came on with 25 minutes and then found increasingly imaginative ways to avoid scoring. His first chance he headed wide at the far post, before stepping up to take a penalty kick which he sliced wide having slipped. Finally, in the last minute, he met Ashley Young's cross with an open goal but contrived to put the ball over the bar. He may still need some more work.
Reuse content