Edinson Cavani paid tribute to the victims of the Colombia plane crash that killed 71 people on Tuesday by taking off his shirt during a goal celebration to reveal a special message to the Brazilian club Chapecoense, but the Paris Saint-Germain striker was subsequently booked for the gesture.
A number of South American players turn out for PSG and featured in their Ligue 1 encounter against Angers on Wednesday night, with Brazilian Thiago Silva visibly emotional during a minute's silence before the match.
Many tributes have been made across the world, ranging from silences, the display of Brazilian flags and special messages on shirts to Atletico Nacional's incredible gesture to request that the Copa Sudamercana trophy that they were due to play Chapecoense for be given to the Brazilian side.
Uruguay international Cavani doubled PSG's lead in the 66th-minute from the penalty spot after Thiago Silva's first-half opener, and he took off his PSG shirt to reveal a white T-shirt with "Fuerza" [Stength] written underneath the Chapecoense crest.
Disappointingly, referee Frank Schneider responded to the gesture by issuing a yellow card to Cavani, despite the circumstances surrounding an incredibly tragic accident that has left the football world in a state of shock.
Some referees have in the past shown discretion with tributes underneath shirts, and have chosen not to book players when they display them if they deem the sanction unnecessary. The ruling is in place to prevent players from regularly taking off their shirts or having political or religious statements on their attire that could provoke conflict or controversy, but in this case it was simply a message of support towards the 71 that died in the plane crash.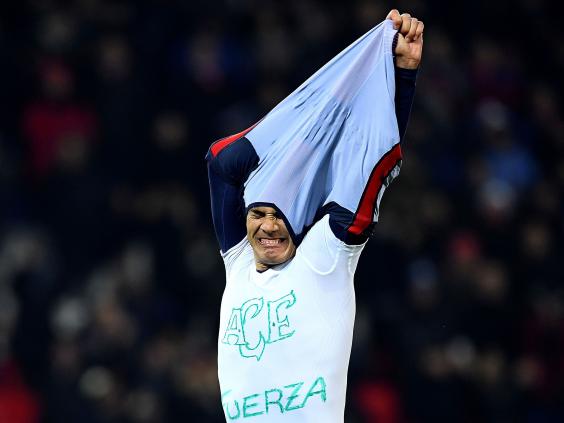 PSG hel;d on to the advantage to claim a 2-0 victory and move up to second in the Ligue 1 table after overtaking Monaco, with just one point now separating them from surprise leaders nice after 15 matches.
Reuse content