The agent of Real Madrid superstar Cristiano Ronaldo has defended the actions of the Ballon d'Or winner, who was filmed singing karaoke at his 30th birthday celebrations just hours after the 4-0 thrashing by rivals Atletico Madrid on Saturday.
Jorge Mendes says Ronaldo, who was voted the worst player in the game in a poll by Spanish newspaper Marca, was "very angry" and not in a party mood, despite the video (below) appearing to show otherwise.
"He (Ronaldo) was very angry," Mendes told Spanish radio station Cadena Ser. "Any player that loses a game and more so, Ronaldo, who is a great professional, who continues to be the best professional in the world, would be angry.
"The fact is that his birthday party had been organised more than a month ago and he had family coming from abroad. He didn't want to cancel out of respect for the people that came.
"What is inadmissible is that somebody takes advantage of a private affair to release a video. Ronaldo was devastated after the defeat and people spent two hours trying to cheer him up."
Ronaldo was last month crowned World Player of the Year for the third time in his career, and the Portugal international has enjoyed an impressive campaign so far. The former Manchester United star has scored 28 goals and set up nine more in 19 league appearances to help Real lead the Primera Division standings.
Ronaldo wore a sparkly gold hat for the party at the 'In Zalacain' restaurant in the La Finca region, and got on stage with record producer Kevin Roldan to sing Roldan's 2014 hit "Si Tu No Te Enamoras", featuring the suggestive lyrcis: "I only want something sexual and if you don't fall in love we can spend a couple of hours together".
The party was also attended by Real team-mates James Rodriguez, Marcelo, Luka Modric and others, a few of whom were also filmed singing with Roldan.
"It's very difficult to be Cristiano, honestly," Mendes added. "In life, there are good times and times when things don't go as well.
"The problem is that Cristiano has accustomed people badly because 99 per cent of the times he does extremely well. He decides games, he does everything.
"But when he goes through a spell when things don't go as well, people should stand behind him because we are talking about the best player in the world.
"He is a human being. I'm very calm because he is the best professional. Cristiano throughout these years has been an example to everyone and will continue to be.
"Cristiano will solve the situation as he always does."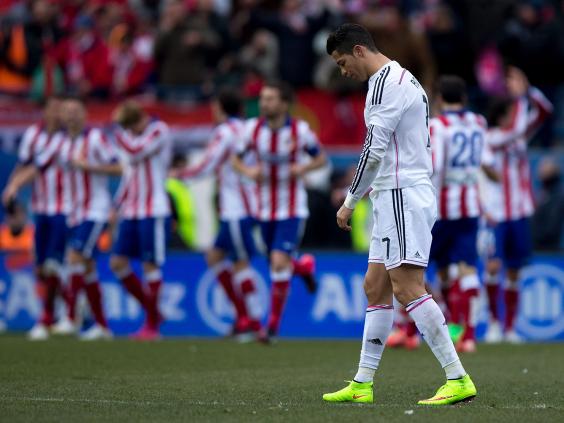 Real, who are one point clear of Barcelona at the top of the table, host Deportivo La Coruna on Saturday.
Additional reporting from PA
Reuse content