It reflected much about how routine a devastating Cristiano Ronaldo hat-trick at this kind of stage that, beyond typically calling his star "unique", Zinedine Zidane's only comments about the match-winner were regarding his physical routine; how the Real Madrid manager was refusing to take credit for resting the player so he arrives at this stage of the season in such stellar form.
"He scores," Zidane began. "For that, he's unique.
"He knows [he has to rest] every so often, with all the matches he has to play. It's an accumulation of all the tears, too, but he's intelligent and every now and then he has to rest."
And that was it. That was all that was said in the two managers' post-game press conferences about the player who had singularly decided this 3-0 Real Madrid victory over Atletico Madrid in this Champions League semi-final first leg at the Bernabeu.
Then again, what else is there to say?
It was still a comment that touched on why Ronaldo is unique, mind, and why he remains so sensational. He may not have the same mobility, he may not be able to power right through the middle of the pitch at pace and score in the way he did at his peak in 2012, but he is intelligent enough to know how to play to still hit a scarcely believe strike-rate. If his movement has become more constrained on the pitch, and his yard-coverage is diminished, his level of scoring has not.
The three goals against Atletico emphasised this. The first was - of course - a by-now trademark header in the box. The second was a brilliantly opportunistic strike from the edge of the box, after he showed the kind of force that the Atletico defenders couldn't when haphazardly they tried to clear the ball, and the third was rolled in from close range. Ronaldo was by that point merely exploiting the wreckage that he himself had created, to again leave Atletico in ruins.
But there is more to this season than that. These obviously aren't Ronaldo's first goals against Atletico in the Champions League, but there was always a bit of debate and dismissiveness about the previous two: one the fourth goal in a 4-1 win in the 2014 final, the other the fifth penalty in a shoot-out win in 2016. The gimme nature of both seemed to reflect the broader idea that Ronaldo had finally won his greatest trophies at Real without necessarily having his greatest impact, compared to previous campaigns. That was especially argued in 2016, but simply can't be argued now.
Real Madrid 3 Atletico Madrid 0 player ratings
Real Madrid 3 Atletico Madrid 0 player ratings
1/22 Keylor Navas – 7 out of 10

Rarely called into action, but did well when he was. Brilliantly quick off his line to deny Gameiro for Atleti's first real chance.

2/22 Dani Carvajal – 6 out of 10

Contributed to Madrid's dominant start down the flanks but had his evening cut short by an injury before half-time.

3/22 Sergio Ramos – 6 out of 10

Lucky to escape punishment for an early elbow on Hernandez.

4/22 Raphael Varane – 7 out of 10

Ended the night in one piece, which is always a plus, and had little else to deal with from Atletico's frontline.

5/22 Marcelo – 8 out of 10

Always a threat on the left flank, made Hernandez's first half-hour a miserable one with constant overlaps.

6/22 Casemiro – 7 out of 10

Needed to show discipline in the heart of Madrid's midfield and did so.

7/22 Luka Modric – 8 out of 10

Alongside Kroos, ran the midfield battle. Niguez and Gabi had little in response to either of them. Other than that, went close with delightful half-volley near the end.

8/22 Toni Kroos – 8 out of 10

Found himself with enough time and space to execute his passing game and control the flow of proceedings in midfield.

9/22 Isco – 8 out of 10

Always had his head up, always driving forward looking to build on his side's dominance. Substituted, though, as he picked up a yellow and was at risk of another.

10/22 Cristiano Ronaldo – 9 out of 10

The man for the big occasion once again. Only he was ever going to reach the header for the first, only he could be relied upon to finish the second so emphatically, only he was ever going to score a hat-trick tonight. Superb.

11/22 Karim Benzema – 8 out of 10

Had several chances to double Madrid's lead, going closest with a spectacular acrobatic effort. Eventually set up the second, showing brilliant strength against Godin.

12/22 Jan Oblak – 7 out of 10

Denied Madrid with several eye-catching stops but could perhaps have done better to get in front of Ronaldo's header.

13/22 Lucas Hernandez – 4 out of 10

Stepping in for Juanfran, but overwhelmed by Madrid's wing play at times, particularly during the first-half onslaught.

14/22 Stefan Savic – 5 out of 10

Lost the aerial battle with Ronaldo for the opener. Could have prevented the effort if he had been more alert for the second-time cross.

15/22 Diego Godin – 4 out of 10

Went close to equalising when Griezmann's delicate free-kick slipped him in but failed to be as ruthless in front of goal as he was in the 2014 final. Shoved off too easily in the build-up to Madrid's second.

16/22 Filipe Luis – 6 out of 10

Better than his fellow Atleti defenders, but still powerless to prevent the numerous forays forward that Madrid enjoyed in the first half.

17/22 Koke – 5 out of 10

Not his fault he's not an out-and-out winger in a game when his team needed width, but ineffectual when attempting to get forward.

18/22 Gabi – 7 out of 10

Came to the aid of his ailing defence on several occasions with the type of midfield legwork we have come to know him for, but struggled to win the battle in his own part of the pitch.

19/22 Saul Niguez – 5 out of 10

One of several Atletico creative outlets who failed to turn up. A night to forget, cut short by his substitution before the hour mark.

20/22 Yannick Carrasco – 6 out of 10

Only threatened Madrid's backline in glimpses and struggled to find his rhythm, but still a surprising candidate to be replaced when the visitors were in need of a goal.

21/22 Antoine Griezmann – 5 out of 10

Despite a few neat passes to set in his team-mates, not a performance worthy of a £100million player. Too quiet when his side needed him most.

22/22 Kevin Gameiro – 4 out of 10

Should've been more decisive when played through for Atleti's first chance. Paid the price for his wastefulness when replaced by Fernando Torres.
He has scored eight goals against Bayern Munich and Atletico Madrid, two of the four finest sides in Europe.
It is simply remarkable, and to be revered. It might mean this campaign marks his true crowning glory, his most complete campaign, if he is to be the truly decisive player in Real actually retaining the Champions League.
Then there's the awareness that underpins it on, and means he's so capable of doing this. Take the controversy over his first goal here. Ronaldo had been in an offside position when the first ball was played only to go back into an onside position when the second came in from Casemiro for his eventual header, but the Portuguese was fully conscious of this. At half-time, as record by Antena 3 he sought out Martin Atkinson to make sure it was known he wasn't interfering with play and wasn't therefore a mistake to allow the goal.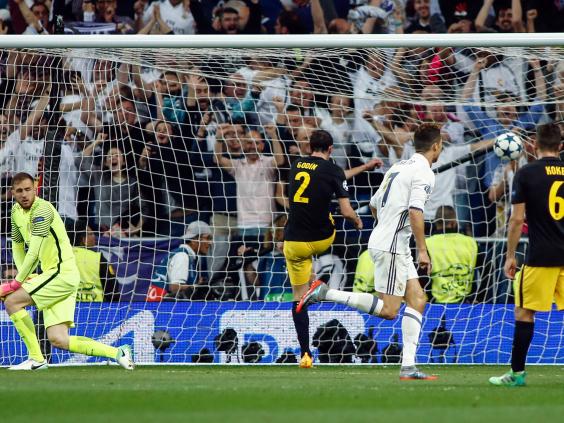 "Atkinson!" Ronaldo called, somewhat amusingly, "I didn't interfere."
Afterwards, when talking to TV, he was much less forceful; more humble. He merely said it was his turn to score, as Real went through.
It's just he almost always makes it his turn to score, and that is why Real almost always come through.
Just as typically, Ronaldo said after the game he doesn't see himself in Cardiff yet.
Everyone else can by now see the truth of this remarkable - and "unique" - goalscorer.
Reuse content