Cristiano Ronaldo admitted he had been a 'bit of a b******' to the media during a ceremony to celebrate him becoming Real Madrid's all-time top scorer.
The ceremony was held for the Portugal international following his two goals in the Champions League against Malmo in midweek. They took him either equal to or past Raul's record of 323 goals, depending on whose records are counted.
Real, and some Spanish media, believe an effort five years ago that was deemed to have been scored by centre-back Pepe should have been awarded to the Portugal captain and he therefore has 324 goals, one more than Raul.
The disputed goal came in a La Liga game at Real Sociedad in September 2010 when Ronaldo's free-kick arrowed towards the Sociedad wall, looped up off team-mate Pepe's back and over goalkeeper Claudio Bravo into the net.
Watch the goal below...
At the time, Pepe said: "Regardless of what the official match report says, the goal belongs to Cristiano. The ball hit me and then went in, but the credit should go to the player who took the free kick.
"When we are talking about that goal, I absolutely do not have a problem in awarding it to him. The ball went in and he deserves the credit for it."
Speaking at a presentation at the Bernabeu where he received a trophy marking his achievement, Ronaldo reflected on his incredible goal scoring record. 
"I would never have imagined when I put on this shirt for the first time that I would be the team's best goal scorer," 
He then went on to make thanks his managers at Real Madrid and the media, with whom he has at times had a frosty relationship.
"I am very happy, thanks to my team-mates because without them this would never be possible," he said. "Also thanks to all my coaches, [Manuel] Pellegrini, [Jose] Mourinho, [Carlo] Ancelotti, [Rafael] Benitez. They have always helped me, the equipment managers, the physios
"I also thank the media, because I know that lately I've been a little b****** with them, but it's my way of being.
"And my friends, Jorge Mendes and my mother. And the president for this event, Hala Madrid!"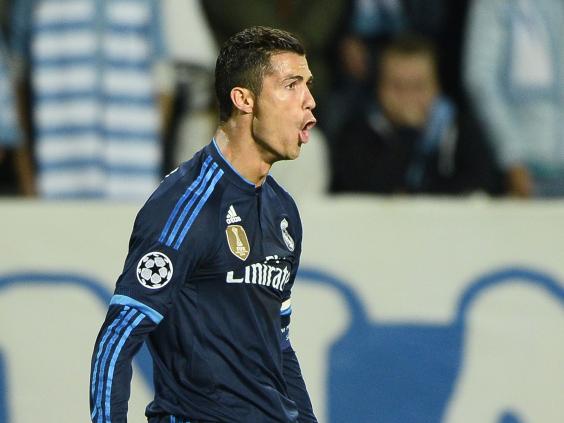 Club president Florentino Perez added: "It's a very emotional day for all Real Madrid fans. One of our own has achieved something that was considered almost impossible to achieve. Only through his talent, his hard work and his determination was this possible."