Cristiano Ronaldo's patience snapped on Tuesday over Barcelona's three amigos when it was put to him that Lionel Messi, Luis Suarez and Neymar have the edge over Real Madrid's forwards because they get on so well.
Madrid's all-time record scorer was wound up by one too many questions about his Barcelona nemesis when speaking ahead of Wednesday night's Champions League last-16 tie at Roma.  
"How do we know that [their relationship] is that way? It is only because that is what is written," he said when asked if the fact that Suarez, Messi and Neymar were friends off the pitch gave them an advantage over Real Madrid's Karim Benzema, Gareth Bale, Ronaldo front three. 
"When I was at United, I didn't speak [off the pitch] to [Ryan] Giggs, [Paul] Scholes and [Rio] Ferdinand apart from the normal 'good morning' but we won the Champions League.
"We talked on the pitch and that is all that mattered. Does it matter that I don't go out for dinner with Benzema or that Bale does not come around my house? It is not important. This thing about the little meals, the little hugs, the little kisses. To me that doesn't mean anything."
Ronaldo has kept a lid on any resentment of Messi in recent seasons but having already been irritated by questions about his own goalscoring form, he responded without holding back, surprising even his own coach Zinedine Zidane who was sat next to him in the pre-match press conference room.
The Ronaldo, Bale and Benzema forward line dominated the 2013-14 season and they won the club's 10th European Cup together, with Ronaldo scoring his 17th goal of the tournament in the final.
But the following season they were eclipsed by Suarez, Messi and Neymar who scored 122 goals between them as they won the treble.
10 most tweeted about Premier League moments
10 most tweeted about Premier League moments
1/10 Danny Welbeck scores to give Arsenal a 2-1 victory over Leicester - 51,000 TPM (14 Feb, 2016)

Welbeck returns from nearly 10 months out injured to head in the winning goal in Arsenal's 2-1 win over Premier League leaders Leicester last weekend.

2016 The Arsenal Football Club Plc

2/10 Alexis Sanchez scores to put Arsenal 3-0 up against Manchester United - 47,000 TPM (4 Oct, 2015)

Arsenal surge into a 3-0 lead over Manchester United inside the first 20 minutes at the Emirates Stadium, sending their fans into a frenzy.

2015 The Arsenal Football Club Plc

3/10 Mezut Ozil scores to give Arsenal a 2-0 lead against United - 41,000 TPM (4 Oct, 2015)

After Alexis Sanchez gives Arsenal the lead at the Emirates, Mesut Özil immediately doubles it to pave the way to victory, and giving the match a second most-tweeted –about moment of the season.

2015 Getty Images

4/10 Gabriel Paulista is sent-off following an altercation with Diego Costa - 38,000 TPM (19 Sept, 2015)

It's not all good for Arsenal on this list though, as Gabriel Paulista's red card at Stamford Bridge during the 2-0 defeat by Chelsea saw Arsenal fans fume on Twitter after the defender was adjudged to have stamped on the Blues' striker.

2015 Getty Images

5/10 Christian Benteke scores wonder goal to bring Liverpool back to 2-1 against United - 35,000 TPM (12 Sept, 2015)

He may be having a nightmare time at Liverpool this season, but it's worth remembering that striker Christian Benteke is capable of moments of magic such as this, launching a stunning bicycle kick past David De Gea at Old Trafford – in a losing cause though as United would triumph 3-1.

2015 Getty Images

6/10 Fernandinho makes it 3-0 to Manchester City as they dominate Chelsea - 34,000 TPM (16 Aug, 2015)

Manchester City's early-season domination of Chelsea saw defensive midfielder Fernandinho get in on the act and score the third and final goal at the Etihad to signal how far Chelsea had fallen since the end of last season.

2015 Getty Images

7/10 Olivier Giroud puts Arsenal 2-0 up against City - 33,000 TPM (21 Dec, 2015)

Arsenal's victory over Manchester City in late 2015 prompted fans to crown the Gunners' Premier League champions in waiting, with their French striker Olivier Giroud powering an effort between Joe Hart's legs to double the lead. Arsenal would hold on to win 2-1.

2015 The Arsenal Football Club Plc

8/10 Jamie Vardy breaks the PL record as he scores in his 11th consecutive game against United - 32,700 TPM (28 Nov, 2015)

The sensation of the season scored for an 11th-straight Premier League match in the 1-1 draw with Manchester United to break Ruud van Nistelrooy's existing record of 10 matches. Coincidentally, Vardy's feat came against the side Van Nistelrooy set the record for.

2015 Getty Images

9/10 Robert Huth gets his second as Leicester take a 3-0 lead against City - 31,000 TPM (6 Feb, 2016)

Leicester looked to be on their way to the Premier League title less than a fortnight ago when a Robert Huth double helped secure an incredible 3-0 victory over Manchester City.

2016 Getty Images

10/10 Anthony Martial scores on his United debut against Liverpool - 30,700 TPM (12 Sept, 2015)

The teenager arrived in the Premier League with a £36m price tag to live up to, but he didn't fail to disappoint in his first appearance for Manchester United as he came off the substitutes' bench to jink his way through the Liverpool defence and score the third goal in the 3-1 victory at Old Trafford.

2015 Getty Images
Ronaldo also appeared ruffled when asked about Messi's penalty assist. "I know why he did it and I am not going to say anything more than that. You can think whatever you like," he said. When his own form was questioned, he said: "I would like to continue this form that you say is so bad until the end of the season."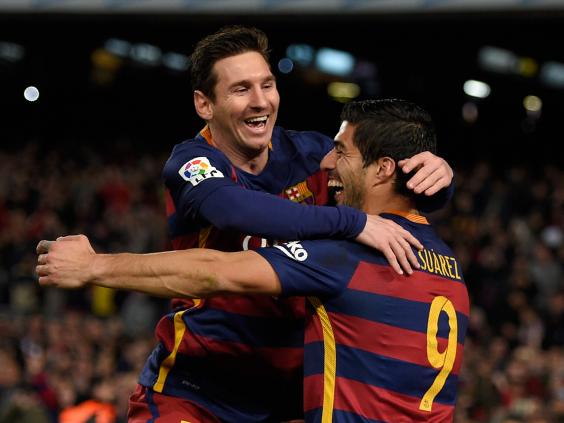 Ronaldo has scored 32 goals this season but his critics have argued he now struggles against top teams and away from home. In 30 games in all competitions he has failed to score in 15 matches and his last 16 goals have all been scored at the Bernabeu. When asked about this run ahead of Wednesday's tie in Rome, he said: "Since I have been in Spain, name one player who has scored more goals than me away from home." When no one responded, he added: "You don't have one," and left the table before his answer could be translated into Italian by the Uefa interpreter.