Former goalkeeper Edwin van der Sar has admitted he finds his new role as chief executive at Ajax far more stressful than when he played the game.
The 46-year-old began his career with the Dutch club, then moved to Juventus and Fulham before starting a trophy-packed six years at Manchester United in 2005.
Ajax and United meet in the Europa League final on Wednesday in Stockholm and, unusually, Van der Sar has found himself juggling lots of balls rather than catching them.
"The last final I did not have to do a lot, just make sure that I was fit and rested," Van der Sar told Press Association Sport.
"Now a lot of my emphasis and energy is organising how to get 10,000 people to Stockholm, getting the right people there and making sure the security is in order.
"You've got 100,000 requests for tickets and you only have 10,000, so what are you doing to deal with all of that?"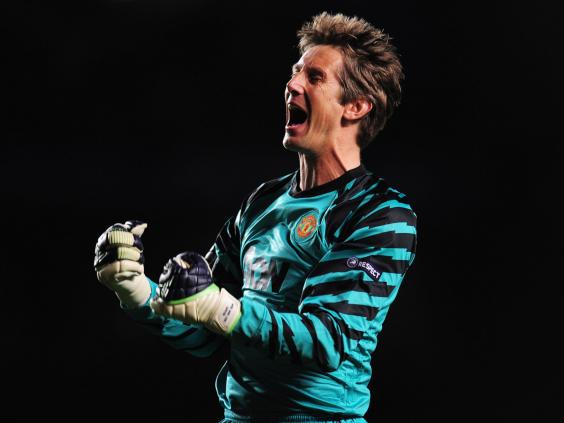 Having hung up his gloves after United lost the Champions League final to Barcelona in 2011, Van der Sar embarked on a post-retirement path to the boardroom instead of the dugout.
Last year he became chief executive at the club he helped to Champions League glory in 1995 and is currently in the midst of frantic preparations for their latest shot at European glory.
Ajax are finally flickering into life after two decades floundering on a stage they used to dominate.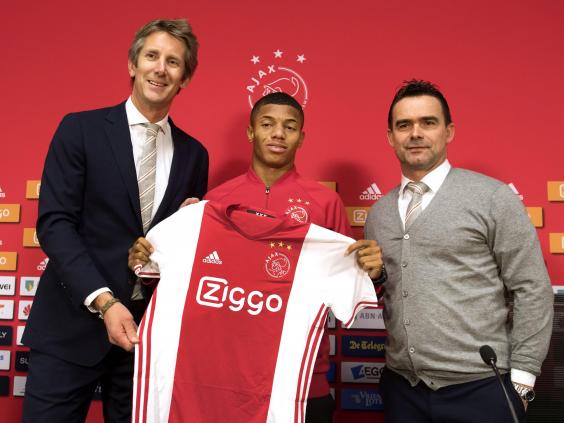 "It means the world for myself and Ajax," Van der Sar said ahead of the Europa League final.
"We have had great success in the '70s and some success in the '80s on the European front.
"In the '90s, we won the UEFA Cup and in '95 the Champions League, with a very young team and a great manager in Louis van Gaal.
"(We had) a lot of home-grown players with Frank and Ronald de Boer, Edgar Davids, Clarence Seedorf, then Frank Rijkaard who came back to give us some experience.
"The last 21 years has been very quiet on the European front and that's where our name is made: the philosophy for the club, for the real football die-hard.
"It's great to have people talking about the club again, to reinvent and get to know Ajax again."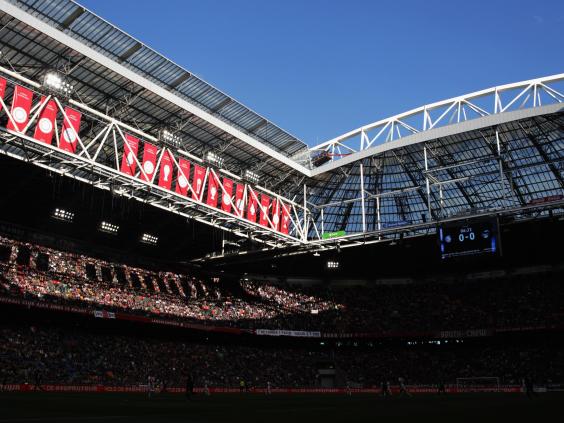 While the club is changing, the soul remains intact.
Dennis Bergkamp is among the Ajax greats coaching the next generation, while Marc Overmars is technical director.
Van der Sar initially returned in 2012 as marketing director after a year spent studying following his exit from United, for whom he played in three Champions League finals.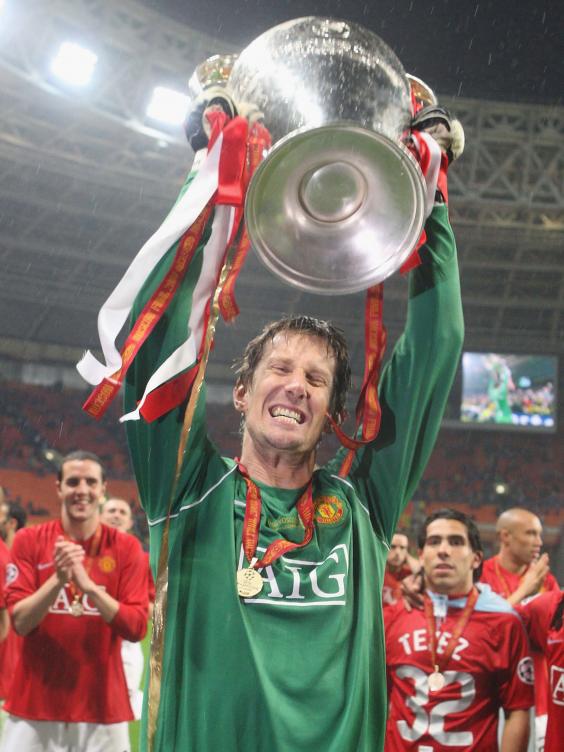 The big Dutchman saved the decisive spot-kick from Nicolas Anelka in 2008 as Chelsea were beaten on penalties in European football's biggest club match, and next month he will play with many of the team-mates from those days in Michael Carrick's testimonial.
"I get great respect from the United fans and the directors and the people who are there still when you go there," said Van der Sar, a four-time Premier League winner.
"It is a very warm club, very comparable to Ajax, only they have grown internationally amazingly. It is the work from mainly from the commercial people and the revenues they have created.
"You try and learn from clubs where you have been or actions clubs are taking to grow in certain markets and that for myself is also important.
"I am responsible for the whole club, football also, and you try and do your best also to grow the brand in different markets".
Manchester United summer transfer targets
Manchester United summer transfer targets
1/11 Antoine Griezmann, Atletico Madrid

Antoine Griezmann has long been one of Europe's most sought-after players and Manchester United are said to be frontrunners for his signature. The 26 year-old is widely reported as having an £85m release clause and United are one of the few clubs in a position to spend that. There is, though, a strong possibility that Griezmann will stay at Atletico with Simeone for another season in order to play in their new stadium, but if he decides to leave, there will be strong attempts from Mourinho to secure his prime target. Likelihood: 7/10

Getty

2/11 Gareth Bale, Real Madrid

The Real Madrid forward would be a marquee signing, the type that the Manchester United boardroom are keen to make, and The Independent has been told by sources from both United and Madrid that a deal is 'much likelier' than ever before.

Getty

3/11 Marquinhos, PSG

Aged just 22, Marquinhos has amassed a good deal of experience, making 96 appearances for Paris Saint-Germain since 2013 and playing 17 times for Brazil in the same period. Opportunities in Paris had been fairly limited due to the partnership between Thiago Silva and David Luiz but Marquinhos' ability was clear nonetheless, and with more responsibility has come growing interest from United. The Manchester club are willing to meet the player's £52m valuation and would be a significant upgrade on Jones, Smalling and Rojo, all of whom have failed to convince Mourinho. Understandably, however, PSG are extremely reluctant to let Marquinhos leave. Likelihood: 7/10

Getty

4/11 Kasper Schmeichel, Leicester City

The title winning goalkeeper could be set to follow in his father's footsteps by joining Manchester United. It would be fair to say that Leicester reached their pinnacle by winning last season's Premier League title, and a terrible start to the season this time round is sure to convince some players to seek new challenges. Should they lose De Gea, Schmeichel will be a serious option and at around £15m, United would be getting an experienced goalkeeper with a number of years left in him, who has the club in his blood. Likelihood: 8/10

Getty

5/11 Willian, Chelsea

Mourinho is a huge admirer of Willian, who he signed in 2013 while at Chelsea. The pair won a Premier League title and League Cup double together the following year and it is believed that the United manager will do his best to sign the player, who has not been a regular starter in Antonio Conte's system. Whether Chelsea will allow him to leave, particularly to join Mourinho at their rivals is yet to be seen. Any deal would cost in the region of £32m. Likelihood: 4/10

Getty

6/11 Andrea Belotti, Torino

Another of Europe's most promising players, Belotti is fast becoming a well-known name due to his outstanding performances at Torino, where he has scored 37 goals in 64 appearances since 2015. His best years are still ahead of him aged just 23, which contributes to the incredible €100m release clause, applicable only to clubs outside of Italy, negotiated into his contract by club president Urbano Cairo. The long-term knee injury sustained by Zlatan Ibrahimovic recently has compounded Mourinho's need for attacking reinforcements and Belotti will be high on his list. Having extended his contract in December of 2016 until 2021, Torino will be in no hurry to sell. Likelihood: 5/10

Getty

7/11 Kieran Tierney, Celtic

The promising left back, aged just 19, has caught the eye with brilliant performances for his club, racking up forty-six appearances since 2014. He has since won three caps for the Scottish national team and Jose Mourinho, who has been publicly critical of his only natural left back Luke Shaw, is said to be a big admirer of the player's discipline and maturity. He is valued at £10m by United, while Celtic are bound to demand more from the big spenders if they are to be persuaded to allow Tierney to leave. Likelihood: 8/10

Getty

8/11 Bernardo Silva, Monaco

Silva's teammates Tiemoue Bakayoko and Kylian Mbappe were touted as being big United targets for the summer, yet it is the Portuguese midfielder who seems likeliest of the three to join. The 22 year old midfielder is pragmatic, skilful and extremely hard working, the latter of which Mourinho is known to admire most in a player. At upwards of £60 million, Silva would be an expensive acquisition but a valuable one nonetheless. Likelihood: 7/10

Getty

9/11 Kyle Walker, Tottenham Hotspur

Walker has enjoyed seven consecutive seasons of Premier League football and while Antonio Valencia has been publicly praised by Mourinho as the best right back in the world, it is not his natural position. The Tottenham defender is viewed as an ideal option, not least because his recent fall-out with Mauricio Pochettino looks to have all but ended his time as a Spurs player. Disagreements over fitness led to Kieran Tripper getting the nod over his English counterpart in the FA Cup semi-final and North London derby, which Walker did not take well. He is aware that both Manchester clubs will be looking for full backs this summer and that he could at least double his wages at either, making a circa £35 million move likely. If United miss out on Champions League football, it is probable that the player will choose Manchester City. That said, the Red Devils cannot be discounted. Likelihood: 7/10

Getty

10/11 James Rodriguez, Real Madrid

25 year old superstar Rodriguez signed for Real Madrid for £63 million in 2014 after stunning performances at the world cup in Brazil the same summer, where he won the goal of the tournament and golden boot awards. Despite his undoubted talent, he has failed to hold down a regular spot under manager Zinedine Zidane this season, who prefers to give opportunities to Isco and Marco Asensio. Madrid will sanction a sale for the Columbian playmaker this summer and Manchester United are frontrunners to sign him for £50 million; meaning the Spanish club would make a significant financial loss on the player. Likelihood: 8/10

Getty

11/11 Cesc Fabregas, Chelsea

Fabregas' name has been associated with United ever since the club tried to convince him to join under David Moyes in 2014. The player opted to join Chelsea due to his ties to London, where he remains very settled with his family, as well as the chance to play under then-boss Mourinho. Even though Fabregas is comfortable where he is, his lack of game time with Conte has left him frustrated and the opportunity to reunite with the man who signed him for Chelsea could prove decisive. United will face competition for the £30 million midfielder from Liverpool and a number of foreign clubs, and there is also the possibility that Conte will convince Fabregas to stay by using their Champions League qualification for next season as a chance to rotate his squad and simultaneously give the Spaniard more games Likelihood: 6/10

Getty
Most players find themselves in a tracksuit rather than the boardroom after hanging up their boots, yet Van der Sar clearly enjoys being at the business end.
A focus on improving exposure and revenues was sharpened by his time at Old Trafford, although coming through the ranks in Amsterdam means the academy remains the bedrock.
Ajax would rather look to home-grown talent than a "new marketing tool", operating within different means to much of Europe's elite.
"We know we have a certain philosophy of playing and we focus on that," Van der Sar said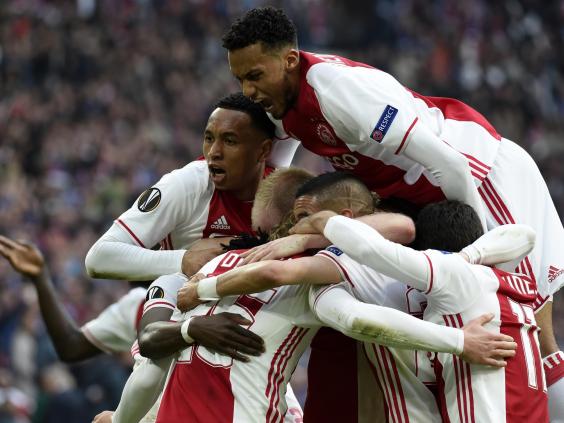 ."What United are going to do, what they are going to say or things that are mentioned in the press, we focus on ourselves.
"I think that's a strength of Ajax this year, being really committed to each other, to the team, to the philosophy and that's what I think gives the footballing world hope: not only the big clubs, the big countries can achieve something.
"I know we're a big name but in size - commercial, financial size - we're a small club that can also achieve success."
Van der Sar will have no split loyalties on Wednesday, given his Ajax position, but he would prefer the tie to have come earlier in the competition.
"I would rather have had them in the semi-final because it would have been great to take Ajax to Old Trafford and get United over here in Amsterdam to give them a nice, warm welcome," he said.
"But it didn't happen and we have to face them in Stockholm. It is fantastic - but it is only fantastic if we win the cup."
Reuse content