Football has always had its messiahs, but few have had a second coming like the one Fernando Torres experienced at the weekend when 45,000 people turned up to watch him re-sign for Atletico Madrid.
No one was more stunned than he was. When a friend sent him a message with an image of the crowd waiting for him to take to the pitch at the Vicente Calderon, he at first thought it was a wind-up – a photo of a previous home game perhaps.
But no, the ground really was full of people who had turned up to watch the man who will make his second debut tonight against Real Madrid in the Copa del Rey. Torres ran out in the famous red-and-white shirt with his two children, Nora and Leo, kicked a few footballs into the crowd and said to the crowd: "One day you will have to tell me what I have done to deserve this."
It is a huge credit to Atletico supporters that they have not forgotten Torres – 2,000 No 19 shirts were sold on Sunday alone. It is also a credit to Torres that he never forgot the club he supported as a boy. In every celebration of every major honour the striker won with Spain he always carried an Atletico flag on the victory parade.
The worst January transfer signings - in pictures
The worst January transfer signings - in pictures
1/12 Fernando Torres (Liverpool to Chelsea, £50 million, 2011)

Chelsea's record signing seemed an obvious purchase after years of impressing at Liverpool. However has struggled horribly for form for most of his time at Stamford Bridge and has never lived up to his exorbitant fee. Has slipped to the extent that people talk about 'the Torres of old' like some sort of mythical creature.

GETTY IMAGES

2/12 Andy Carroll (Newcastle to Liverpool, £35million, 2011)

On a crazy day of deals, Liverpool handed Newcastle 35 million English pounds for the services of the ponytailed striker. Not helped by injuries, Carroll never really managed to live up to his fee or show his best form and was eventually sold to West Ham this season.

GETTY IMAGES

3/12 Afonso Alves (Heerenveen to Middlesbrough, £12m, 2008)

Being a top scorer in the Dutch league seems to prove nothing. For every van Nistlerooy at Manchester United, there's a Mateja Kezman at Chelsea. And being Brazilian is no guarantee either. Perhaps Boro manager Gareth Southgate thought that one or the other would prove his huge investment in Alves right. But no - from 45 goals in 39 games in Holland to nine goals in 29 games in England, Southgate had been sold a pup.

GETTY IMAGES

4/12 Jimmy Bullard (Fulham to Hull, £5m, 2009)

Bullard was to be the player to turn Hull City from game triers into proper Premier League quality, and at £5m he looked good value for money. But his knees told a different story. Injured on his debut, he didn't play again until 2010 when he revitalised the team - before succumbing to long term injury again. A total of six games in his first year suggested that Hull didn't get value for money after all.

GETTY IMAGES

5/12 Eric Djemba-Djemba (Manchester United to Aston Villa, £1.35m, 2005)

Legendary at Manchester United for being one of Alex Ferguson's worst ever signings and a symbol of the lost years of his player recruitment (other evidence - Kleberson, David Bellion). After 18 months at Old Trafford (and 20 attempts to prove he wasn't Roy Keane's replacement) he was sold at a loss of over £2m to Aston Villa who found that it wasn't a change of scenery that was needed. A handful of appearances and a loan spell at Burnley failed to halt Djemba-Djemba's downward spiral and by 26 he was playing Qatar.

GETTY IMAGES

6/12 Andy Reid (Nottingham Forest to Tottenham Hotspur, £4m, 2005)

The chunky winger (heir apparent to John Robertson at Forest) was sold to Martin Jol's Spurs for £4m, but a lean return of one goal in 18 months and Spurs were happy to let Reid re-build his career at Charlton at a £1m loss.

GETTY IMAGES

7/12 Michael Ricketts (Bolton Wanderers to Middlesbrough, £3m, 2003)

He once played for England you know. A purple patch at Bolton Wanderers persuaded Boro to part with £3m for his services, but three goals in 32 appearances were perhaps a better indicator of his abilities, and he was offloaded on a free to Leeds (no goals in 25 appearances).

GETTY IMAGES

8/12 Fernando Morientes (Real Madrid to Liverpool, £6.3m, 2005)

It looked like a masterstroke - one of Europe's top forwards, one of Rafa Benitez's beloved Spaniards, leaving Madrid for Liverpool. What could go wrong? A terrible slump in form and confidence, that's what. A rather hapless year with just eight goals in his 41 appearances, led to him being offloaded to Valencia for half the £6.3m fee Liverpool paid.

GETTY IMAGES

9/12 Savio Nsereko (Brescia to West Ham £9m, 2009)

Meant to be the rising star who would placate Hammers fans upset by the loss of Craig Bellamy to Manchester City and outed as one of the best young strikers in Europe, his ten appearances for West Ham belied such a reputation and he was sold to Fiorentina for an undisclosed fee.

GETTY IMAGES

10/12 Ade Akinbiyi (Burnley to Sheffield United, £1.75m, 2006)

The big surprise of Akinbiyi's career may be that his transfer fee ever went up. The inelegant striker was a study in disastrous misses and muscular unsubtlety. Poor at Leicester City (who paid £5m for him!), he had found his level at Burnley (for a more reasonable £600,000). But Neil Warnock found it in himself to Panicbiyi for Sheffield United for a club record £1.75m. Three goals in 18 appearances, and he was back at Burnley.

GETTY IMAGES

11/12 Scott Parker (Charlton to Chelsea, £10m, 2004)

The poor decision making doesn't always lie with the buying club. Parker was a star at Charlton, playing each week in the Premier League and pushing his way into the England squad. But money talks and £10m persuaded a reluctant Charlton to part with Parker who, presumably enjoyed something of a pay rise himself. A year and a half in the reserves put his career into reverse, not helped by his choice of lifeboat - Newcastle United.

GETTY IMAGES

12/12 Jean-Alain Boumsong (Rangers to Newcastle, £8m, 2005)

£8m is a lot of money for one half of the Chuckle Brothers (Titus Bramble, being the other). For Rangers, it was an £8m profit - for Newcastle manager Graeme Souness, it was a disaster, and Boumsong became a byword for varying between indecision and poor decisions. He left after a year, and a £5m loss.

GETTY IMAGES
But the welcome home also fits something else that has been a feature of Torres' career – exaggeration. Everything about him has been exaggerated: how high his peak, how bad the low that followed, how important he might be to Atletico now – everything.
For two or three years Torres did one thing better than anyone else in the world – hover on the shoulder of the last defender and accelerate clear on to the ball over the top to score. He did it in the European Championship final in Vienna in 2008 against Germany to score the winner. And he seemed to do it for Liverpool every time he faced Manchester United's Nemanja Vidic.
But his brilliance during that spell owed much to the perfect conditions created by Liverpool manager Rafa Benitez, whose counter-attacking style would draw teams in to create the space for Torres to exploit. He also had a midfield of Steven Gerrard, Xabi Alonso and Javier Mascherano – one that reads even better now than it did at the time. It was only to be expected that when those factors were removed and his own fitness was affected by injury he was not the same player.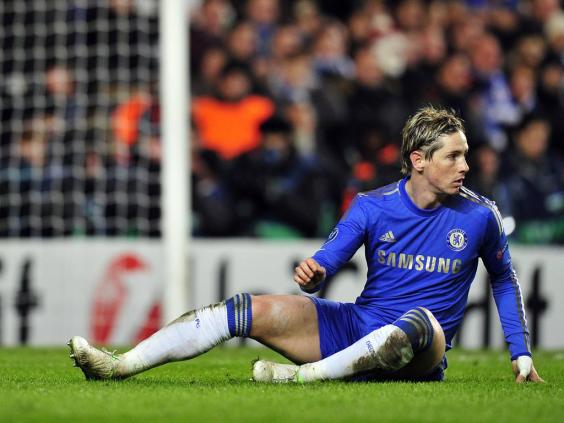 By January 2011 he was probably worth somewhere between £20m and £25m and if he had gone somewhere for that price and then scored 46 goals in 172 games (as he did at Chelsea) he would never have been seen as a massive failure. Instead Roman Abramovich decided he was worth £50m and so the greatest exaggeration of all began to take its toll.
People still ask "whatever happened to the prolific Torres?" but he has never really been a great goalscorer. At Atletico he never managed 20 goals in a season and for Spain his record of 38 goals in 110 appearances does not compare to David Villa's 59 in 97.
He might start tonight, although Atletico coach Diego Simeone has reservations about exposing someone who at times looked off the pace when on loan at Milan straight into a 90-minute battle with Real.
He arrives with €30m summer signing Antoine Griezmann having scored five goals in his last two games. The French winger is now the club's leading league scorer and as blond, baby-faced and brilliant as Torres was back in 2007. Torres will struggle to compete but he doesn't have to; he just has to complement.
"He is coming to offer his grain of sand," said defender Diego Godin. In fact he didn't even say "grain" he used the diminutive granito – "little grain". Torres just needs to be himself. He is back home aged 30 and they are still calling him "The Kid". What could be better?
Reuse content