The great English collapse in the Champions League has finally been halted, although even Jose Mourinho's team will have some work to do to go through when Galatasaray return to Stamford Bridge.
There is every chance that come the quarter-final draw next month, Mourinho's Chelsea will be the last men standing from the richest league in world football. They escaped Istanbul with a draw and that precious away goal from Fernando Torres and in three weeks' time they will be favourites to finish the job against Roberto Mancini's team in London.
Even so, as Real Madrid demolished Schalke in their first leg tie in Germany, there was a reminder that some of the other powerhouses in this competition are finding life much easier. Mourinho's former club were 6-1 winners at the Turk Telecom Arena when they played here in the group stages in September, although that was the only time that Galatasaray have lost at home in any competition so far this season.
Chelsea had the chances to put this tie beyond the reach of Galatasaray, whose defensive weaknesses were exposed in the first half. At times even the tumultuous noise created by the home fans was quelled if not silenced. With the tie Chelsea's to win, they allowed Mancini's team back into the game and tie.
Galatasaray's Italian coach rectified an imbalance in midfield and the Cameroon international John Chedjou came up with the equaliser. In that moment, Chelsea could be accused of letting their concentration slip. Otherwise this was a creditable performance. Much more astute than their opponents in the first half, Chelsea were then forced to rely on all their defensive doggedness after the break.
Mourinho admitted as much when he said that his team remain unable "to kill opponents". They had their chance, especially with Torres eight minutes after the break, but Mourinho lamented that "the last decision, the correct pass, the right movement is something that is not right at the moment." For Torres there was only faint praise for the "very acceptable season" Mourinho says he is having.
Galatasaray 1 Chelsea 1 player ratings
Galatasaray 1 Chelsea 1 player ratings
1/12 Petr Cech - 6/10

Got down well to turn Telles effort round before fine save from same player after break. Left watching as Chedjou tapped home equaliser.

Reuters

2/12 Branislav Ivanovic - 7

Assured display from the right-back, who relished challenge of former team-mate Drogba and also provided useful attacking outlet for the visitors.

Getty Images

3/12 Gary Cahill - 6

Struggled as game wore on as hosts grew in confidence. Found it hard to deal with physicality of Drogba and almost put through his own net.

AP

4/12 John Terry - 7

Booked for bizarre double-ball incident towards end of first half. Impressive showing otherwise, although lost man badly for the equaliser.

Reuters

5/12 Cesar Azpilicueta - 7

Won possession for opening goal before advancing to cut back for Torres to slot in. Never stopping running and working at both ends of the pitch.

Getty Images

6/12 Ramires - 6

Picked up nasty injury after being elbowed by Yilmaz in first half. Shot over bar from Schurrle pass but did not enjoy his most productive showing.

Reuters

7/12 Frank Lampard - 6

Veteran was a threat from dead balls and almost set up Terry to double lead. Spent most of second half facing own goal as hosts turned up the heat.

Getty Images

8/12 Willian - 6

Presented with chance by Muslera in opening minutes but lob headed clear by home keeper. Maintained improvement of last few months before fading.

Getty Images

9/12 Andre Schurrle - 6

Advanced role in first start for over a month and set move in motion for opener. Frustrated at Spaniard for not passing when through before being taken off.

Getty Images

10/12 Eden Hazard - 6

Unable to influence matters as much as he has in the Premier League. Sent Torres through after the break but let down by decision making at times.

Reuters

11/12 Fernando Torres - 7

Found net with first in six weeks and the Premier League's first in Europe in eight hours. Spurned chances to increase lead before being replaced by Eto'o.

Getty Images

12/12 Samuel Eto'o - 5

Cameroon came on in place of the goalscorer for the final quarter but had next to no impact as Galatasaray pressed for a winner.

EPA
There was to be no goal for Galatasaray from Didier Drogba to spark the conflicting emotions in the former Chelsea man. But then, he always was a lot more lethal at Stamford Bridge. The striker was substituted by Mancini before the end, and if Galatasaray are to do anything in London, then he will be crucial. Mancini said that his players now believe they can do it, doubling his side's chances of progressing from his pre-match prediction to "40%"
It was a first half masterclass from Chelsea complete with the early goal to unsettle their opponents and then a high-tempo hustle in midfield that closed down the options for Galatasaray at every turn.
Mourinho picked a team with a few surprises in it. Torres was starting his first game since 11 January and his first since his return from the knee ligament injury picked up in the home win over Manchester United. He has not been trusted in a game of this magnitude for a while.
There was no risk taken with David Luiz who was not on the bench. Andre Schurrle started in the three behind Torres. The German has started just two games in the FA Cup since before Christmas. In midfield, Frank Lampard was given the place alongside Ramires with Nemanja Matic cup-tied and John Obi Mikel on the bench.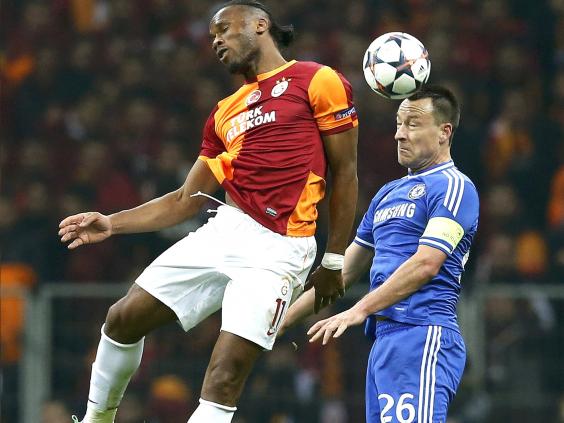 The first thing to say about Chelsea was that they looked hungry. They were ready to chase down every Galatasaray break-out from midfield and close down relentlessly. No-one more so than Willian who is becoming Mourinho's favourite soldier and the Brazilian helped to shut down the threat that Wesley Sneijder posed on Chelsea's right side.
The creation of the goal came chiefly from the impressive Cesar Azpilicueta who won the ball in his own half and fed it inside where it went from Eden Hazard to Schurrle and back to the overlapping Azpilicueta who had made up some distance down the left. He picked out the run of Torres who had far too much space in the area and rolled the ball into the goal nicely.
Mancini's team had been leaving gaps through their defence for the whole half and Chelsea ran through them at will. They counter-attacked with pace and, despite having just 43 per cent of the possession in the first half, managed easily more attempts on goal than their opponents. They almost scored in the fourth minute when Fernando Muslera, the Galatasaray goalkeeper cleared the ball straight to Willian and only just managed to head the resulting attempted lob clear.
For much of the first half, Mancini's team just defended too high. As for Drogba, he was forced to survive on very little with John Terry paying him close attention. That was an intriguing battle between the two old team-mates and Terry certainly won the first half. He did get lucky just before the interval when the Spanish referee Carlos Velasco Carballo disallowed a Galatasaray equaliser.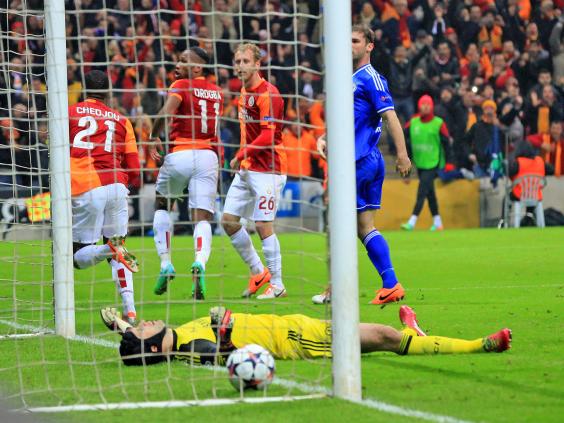 It is possible that Petr Cech had already stopped before Burak Yilmaz blasted the ball past him from the right channel. Either way, Carballo stopped the match and Terry was booked for delaying play by holding onto the ball when another had been thrown onto the pitch to restart the game.
Mancini had switched to 4-5-1 after half an hour of the game. Yilmaz was brought back into midfield and Yekta Kurtulus on for Izet Hajrovic which had a more stabilising effect in his side. They came back into the game after the break although there was one scare when Torres burst through the middle on 52 minutes.
He did not score his second of the game but it was not one of those moments of Torres despair. Rather it showcased almost everything that was good about him, once at least. Taking Hazard's pass he burst between two defenders, stayed on his feet as one tried to bounce him off the ball and got his shot on target. It would have been a brilliant goal were it not for Muslera's excellent save.
At the other end, Galatasaray were asking more pertinent questions of their opponents. Drogba urged his side on, and at times he seemed to have little patience for his former Chelsea team-mates, telling Petr Cech not to delay a free-kick at one point.
Drogba's header on 63 minutes should have been nudged in by the Galatasaray captain Selcuk Inan but somehow he managed to strike the post. Within a minute, they had their equaliser. A corner from the left from Sneijder eluded both Azpilicueta and Terry and the centre-back Aurélien Chedjou met the ball from a few yards out.
It had the effect of getting the home crowd back on side. Cech had to throw himself at a strike from the Brazilian Alex Telles. In the end, Galatasaray ran into that old Chelsea determination not to give in that has served them so well in Europe. It certainly has been missing of late in their three fellow English competitors in the Champions League.
Line-ups:
Galatasaray (4-4-2): Muslera; Eboue, Chedjou, Balta (Kaya, 45), Telles; Hajrovic (Kurtulus, 30), Melo, Inan, Sneijder; Yilmaz, Drogba (Bulut, 80).
Chelsea (4-2-3-1): Cech; Ivanovic, Cahill, Terry, Azpilicueta; Ramires, Lampard; Hazard (Oscar, 90), Willian Schurrle (Mikel, 66), Torres (Eto'O, 68).
Referee: C Verlasco Carballo (Spain)
Booked: Galatasaray Inan Chelsea Terry, Schurrle, Ramires, Cech
Man of the match: Azpilicueta
Rating: 6/10