Arsenal did not finish top of Group D but they did find something that could be far more rewarding: the return to form of Aaron Ramsey.
It has been a difficult season for Ramsey but he found his voice again on Tuesday night, scoring twice – one of them remarkable – and setting up another in a brilliant 45-minute display. He did not play the second half – there was some concern he might have tweaked his troublesome hamstring – as Arsenal coasted to victory. Saturday's defeat to Stoke and the abuse of Arsène Wenger felt very far away.
The bad, if unsurprising news, from Germany was that Borussia Dortmund drew 1-1 with Anderlecht. Had Arsenal pushed for 7-1, they would have finished top, but they did not. This leaves Arsenal with yet another second-placed finish, meaning yet another meeting with a seed when the competition resumes in February. That could well mean a futile tie with Real Madrid or Bayern Munich.
But that can wait. Arsenal's immediate priority is domestic football and they are far stronger with Ramsey at the top of his game. He was inspirational last season, before his Boxing Day muscle injury, and he still scored the winner in the FA Cup final in May.
This season, though, he has looked devoid of rhythm and fitness, picking up a hamstring injury in September and losing much of what makes him so good.There were some signs in Saturday's defeat at Stoke, in which Ramsey scored, that he was sparking back into form. But on Tuesday night, against a very accommodating Galatasaray, it all came flooding back.
 It took two minutes for it to become clear that this was a new Ramsey. Galatasaray barely looked interested in defending, not least at the start, and when Ramsey first picked the ball up in midfield he was free to carry it forward. So he did, before slipping a smart pass through to Lukas Podolski, who finished emphatically with his left foot.
Galatasaray 1 Arsenal 4 player ratings
Galatasaray 1 Arsenal 4 player ratings
1/14 Wojciech Szczesny

Very little to do but always kept his concentration. Good distribution but was far more troubled in trying to understand Ramsey's stunning volley as he held his head in his hands in disbelief. 6

GETTY IMAGES

2/14 Matthieu Debuchy

Will have feared a far greater test as he looked for match fitness but will be pleased he got 75 first-team minutes under his belt without being unduly exerted. Even if he looked tired as he felt the pace in the later stages and looked relieved to be subbed. Booked, but brave and solid. 7

GETTY IMAGES

3/14 Per Mertesacker

Easy night after his nightmare at Stoke. Superb saving challenge yards out from his line as he threw his body in front of Bulut's close range strike to deny a goal. Never troubled in the air or on the deck. 7

GETTY IMAGES

4/14 Callum Chambers

Looked far more assured than he did in the Potteries. Always determined and kept his shape well. A good experience for the youngster. 7

GETTY IMAGES

5/14 Hector Bellerin

Early challenge helped Balta pull his shot wide and always looked to push on and provide a pacy attacking option on the flank - even if he left gaps behind him at times. 6

GETTY IMAGES

6/14 Alex Oxlade-Chamberlain

Showed his trademark surging runs when he powered through the heart of the Gala defence before feeding Ramsey for his goal. Harnessed finesse and strength as he played with a point to prove. Outstanding in the first half. 8

GETTY IMAGES

7/14 Mathieu Flamini

Booked for a late challenge in the opening stages but his combative nature wasn't required as his more attacking colleague won the game in the opening half. Subbed on 45 minutes. 6

GETTY IMAGES

8/14 Aaron Ramsey

Simply majestic. Showing his impressive engine by running 40 yards to slot the ball home for Arsenal's second. Showed his impressive technique and improvisation when he volleyed into the top corner from 30 yards before the half hour. Influential and dangerous in completely bossing the midfield in the 45 minutes he played. 9

GETTY IMAGES

9/14 Joel Campbell

Offered a flash of Thierry Henry when opening his body up in a one on one with Bolat. Unfortunately the comparison ended there as his shot flew wide. Disappointing. 6

GETTY IMAGES

10/14 Yaya Sanogo

Industrious, and showed great willing, but his lack of effective movement and leggy technique saw him mired in the Gala defence. 6

GETTY IMAGES

11/14 Lukas Podolski

Showed his hammer of a left foot in the second minute which flew into the top corner of the near post giving Bolat no chance. Almost repeated the feat in the 19th minute when he powered a shot which clipped the bar, and again six minutes later when Bolat palmed another near post effort wide. Always lively and interested - rewarded by his second goal with the last kick of the game. Booked. 8

GETTY IMAGES

12/14 Gedion Zelalem

On for Ramsey for his Champions League debut playing just behind Sanogo. Showed occasional nice touches and vision. Still a lot to learn but will have enjoyed the experience. 6

GETTY IMAGES

13/14 Ainsley Maitland-Niles

Moved into Flamini's role as he reduced the team's average age significantly. Wasn't intimated and showed lots of youthful promise – but then most youngsters do who are schooled by Arsenal. 6

GETTY IMAGES

14/14 Stefan O'Connor

A centre half by trade, the 17 year-old slotted in at right back. Looked raw. 5

GETTY IMAGES
This was the confident play that had been evading Ramsey, and when Burak Yilmaz had Galatasaray's one chance to get back into the game, it was Ramsey who denied him in his own penalty area with a perfectly-timed tackle.
From that point on there was only one team competing. Alex Oxlade-Chamberlain ran down the middle of the pitch and, before he was finally challenged, he knocked the ball forward to Ramsey, running into the box. Rather than snatching at it, Ramsey  rolled the ball with his left foot into the far bottom corner. Arsenal were rampant.
Podolski hit the bar, Yaya Sanogo had a shot blocked, and Joel Campbell one deflected behind. But the highlight of their night – and perhaps their whole European campaign – was yet to come. Ramsey set up Podolski, who forced yet another corner. The ball flew back out of the box, to Ramsey, lurking over 30 yards out. With no real back-lift, he volleyed the ball left-footed into the opposite top corner of the net.
It was a remarkable strike, both the audacity and the execution demonstrating how Ramsey's confidence has returned. When he curled a free-kick in with the outside of his boot, giving Calum Chambers a free header with which he ought to have done better, it was no surprise. Wenger took Ramsey off the break. He had done more than enough.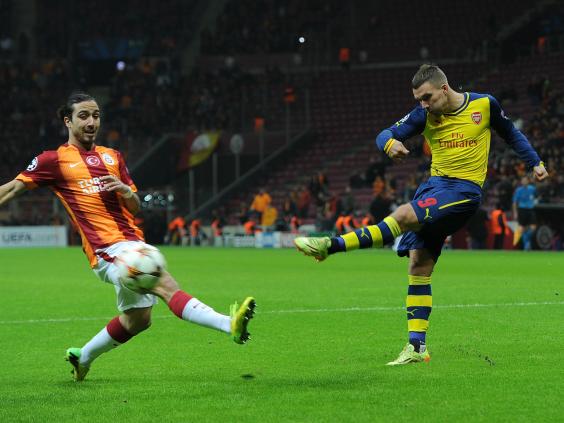 With Gedion Zelalem and Ainsley Maitland-Niles – both 17 – on in midfield, Arsenal were naturally less solid in the second half, and even had some occasional pieces of defending to do.
Bruma ought to have done better with one chance, before Per Mertesacker threw himself in front of Bulut's shot. Mathieu Debuchy, making his first Arsenal appearance for three months, made a heroic far-post header to stop Yasin Öztekin from scoring. There was time for one more debut – as Stefan O'Connor replaced Debuchy – and even for two brilliant meaningless goals in the final minutes. First, Wesley Sneijder beat Wojciech Szczesny with a free-kick into the top corner. Then, with the last action of the game, Podolski ran through Galatasaray's half before finding the bottom corner with the last kick. 
Reuse content