An Adidas store in Madrid and Gareth Bale wanders in, only to be swamped by 150 fans and with only five security guards to defend him. It's a friendly invasion – he is pawed as opposed to bitten – but it's invasive all the same and it wouldn't happen on the Tottenham High Road.
Real Madrid is like no other club in the world. Nothing prepares a player for the spotlight, and without the counter-balance of success on the pitch the fame weighs heavy. Which is where Saturday comes in. "He is ready to start a match," said coach Carlo Ancelotti after Bale's 25 minutes against Juventus on Wednesday. Not just any match. The match. El Clasico.
A storming performance that helps Real Madrid move above Barcelona in the table will silence the muttering doubters, fuelled by his lack of minutes and the world-record fee paid for him.
It's been tough so far, with only one start and still no full 90 minutes. The midweek run-out after his recovery from a back problem did him few favours. Against 10-man Juventus camped on the edge of their own penalty area there was no space; and little urgency in Madrid's play. They had the lead and after the sending-off of Giorgio Chiellini there was little suggestion that they would lose it. "He came on to the pitch but never into the game," read one Madrid match report.
The open spaces of the Camp Nou pitch, left empty by Barcelona's high defensive line, will be far more inviting than the cramped pockets spared by Juventus. Barcelona's defence looked shaky against Milan's Robinho and Kaka on Tuesday, so understandably there are concerns over facing the three-pronged attack being contemplated by Ancelotti of Bale, Cristiano Ronaldo and Angel Di Maria.
Ronaldo has been Bale's guardian in his first five weeks since arriving from Spurs. He knows all about making the switch from those high-security Premier League training grounds to Madrid's Valdebebas complex where autograph hunters swarm around players' cars as they slow down on arrival and departure.
Ronaldo has emerged this season as Real's spiritual leader. "Be patient with him," he said of Bale this week. "Give him time and you will see what a great player he is."
Ronaldo may well move to a more central position on Saturday, with Karim Benzema, whistled by many in the 77,000 Bernabeu crowd on Wednesday when he blasted over from two yards, making way.
Benzema's struggles to win over the supporters have distracted somewhat from Bale's false start. And the form of Ronaldo and Di Maria have made sure his absence has not been felt.
Di Maria set-up Ronaldo's first on Wednesday, having scored twice and provided one assist in the previous Champions League group game against Copenhagen. Earlier in the season Di Maria criticised Madrid's obsession with spending big at the expense of the players they already have, although that very policy is the reason he is at the club.
The Argentinian's sentiments might have been shared by others; especially players such as Sergio Ramos and Sami Khedira who were close to Mesut Özil and will have noticed his affect on Arsenal. But there has been no resentment.
Bale is learning Spanish and is spoken to in good English by almost all the players. Neither is this the deeply divided dressing room from last season straining under the intensity of Jose Mourinho's confrontational style. The relief at that chapter having closed has even united the squad, as has the desire to win without him.
Lifting the Champions League trophy would be the best way to do that and, after an 11-year wait and three consecutive semi-finals, there is a sense that Madrid's time may have come. No one has made a better start in competition.
Madrid president, Florentino Perez, who put all his chips on Bale in the summer, would hand the league to Barcelona now if it meant he could win Real's 10th European Cup. But that doesn't mean beating Barcelona in the league is unimportant.
Barça made their own big signing in the summer. Neymar (below) was cheaper than Bale, but the €57m (£48m) paid for him has been equally unpalatable to some because only €17m of the fee went to his club Santos while the company owned by his father claimed the remaining €40m.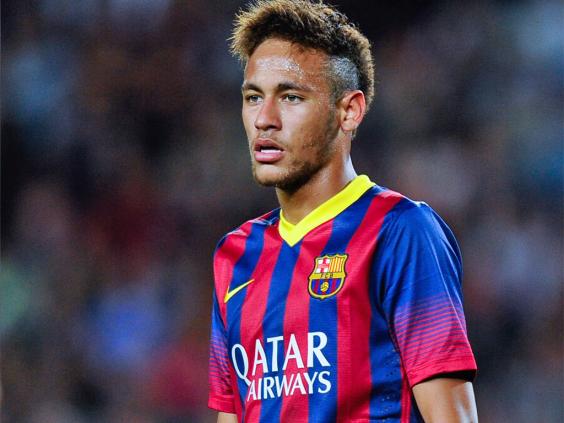 In 11 games Neymar has scored twice and provided six assists. He drifted anonymously through Tuesday's draw in Milan, but that apart has adapted well, showing an intelligence that belies the zany image projected from Brazil before he arrived.
The sight of a group of his friends taking turns to be photographed in front of the Barcelona badge at the Camp Nou the day he was presented might have had some club members fearing the worst, but the doubts began evaporating with his first intelligent assist to Leo Messi.
Even Johan Cruyff has had to come down from the high horse from which he declared the pair incompatible.
Cruyff has had his say regarding Bale, too. "Madrid are the same as always – big signings for huge amounts of money," he commented. "It creates a problem for the boy because he is never going to be judged using normal parameters. This has happened before with other players and they have had big problems. He [Bale] is a player I like a lot. He has got a good head on his shoulders, but try staying sane in this environment."
The football will save him. He just needs to be playing it regularly. But will he be able to given the news two weeks ago that Bale has suffered a disc protrusion in his back? Former Madrid captain Fernando Hierro certainly thinks so. "I have the same condition as Bale and I played until I was 37," he said recently. "Every patient is different, but in my case it was fine."
Bale has always been a player who has to be perfectly right physically in order to be right mentally in order to then play well. After September's false start he now looks fit for take-off. "He is ready," says Ancelotti.
Barcelona's full-backs – built to run forwards not backwards – will hope the Madrid manager is wrong.
Derby baptisms: El Clasico debuts
Brazilians who Neymar has to live up to
Romario scored a hat-trick on his Clasico debut – a 5-0 win for Barcelona in 1994. It was the sign of things to come – he ended the season as La Liga's top scorer with 30 goals.
Ronaldo failed to score on his Barcelona debut under Bobby Robson in 1997. With Robson and assistant Jose Mourinho on the bench Barça lost 2-0.
Rivaldo scored on his league Clasico debut in 1997 as his Barcelona team won 3-2 at the Bernabeu.
Ronaldinho emulated Rivaldo by winning at the Bernabeu in his first El Clasico. He failed to score but his Barcelona side won 2-1.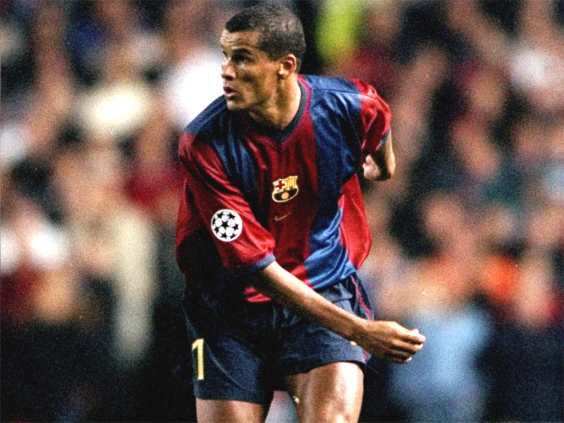 Brits Bale must beat
David Beckham was part of a famous win for Real at the Camp Nou in 2003. They had gone 20 years without a win there but Beckham played his part in a 2-1 win.
Michael Owen scored for Real Madrid in his first home Clasico in April 2005. Having been on the losing side earlier in the season at the Camp Nou, he netted in a 4-2 victory.
Steve McManaman won his first Clasico 3-0 in 2000, coming on as a second-half substitute, and in 2002 he scored a late goal against Barcelona in a Champions League semi-final.