Carlo Ancelotti has confirmed that world-record signing Gareth Bale will make his Real Madrid debut against Villarreal tomorrow night, although he refused to confirm whether or not he would start the match at El Madrigal.
The Italian manager, who took over from former incumbent Jose Mourinho in the summer, also made it clear that Bale would feature on the right side of midfield, meaning Cristiano Ronaldo looks set to continue in his role as a roaming left winger.
Having come off the bench for Wales in their 3-0 defeat to Serbia on Tuesday, Ancelotti is unsure whether to start Bale tomorrow night, or bring him off the bench as he continues his return from injury.
Bale will travel to Villarreal and will play," Ancelotti confirmed. "I'm not sure if he will start or come off from the bench."
When he was questioned further on where Bale would feature, Ancelotti replied: "On the right hand side [of attack]."
With the departure of Mesut Ozil to Arsenal, Real could have rejigged their attack to accommodate Bale on the left, meaning Ronaldo would shift to a central role, or even spearhead the side as their striker, although new signing Isco has made an impressive start to his career in Madrid and lloks likely to feature in a central attacking role.
The news will not be received well by regular right winger Angel Di Maria though, who after being constantly linked with a Real exit during the summer, now looks set to lose his starting place to the £86m signing.
There had been talk of Bale starting his career in Spain at left-back after both Marcelo and Fabio Coentrao picked up injuries while on international duty, although Ancelotti has dismissed that claim with the admission that he sees Bale on the right flank.
Bale did not feature for Tottenham in their opening fixtures after picking up an injury on their pre-season tour, and he played just 30 minutes on international football for Wales, with boss Chris Coleman claiming he is a long way short of match fitness.
However, Ancelotti has said he is in good condition and injury free, and that he has already fit into the superstar squad assembled at the Santiago Bernabeu.
"Bale came here without having a normal pre-season, but his condition is not bad. He will travel tomorrow, and he will play. He has no injuries, he is excited and very motivated.
"He's arrived full of enthusiasm and he is very happy to be at the team he wanted to join. He is a humble player who likes to be with his team-mates. He fits in well with the squad."
Ancelotti also admitted that in his opinion, Tottenham could have received even more money if they had sold Bale to another club, but he feels Real worked hard to get the fee down to what the eventually paid.
"We have paid what the market dictated," said the Italian. "I'm sure that there were teams that would have paid more money to Tottenham than us, but the player decided he wanted to come here."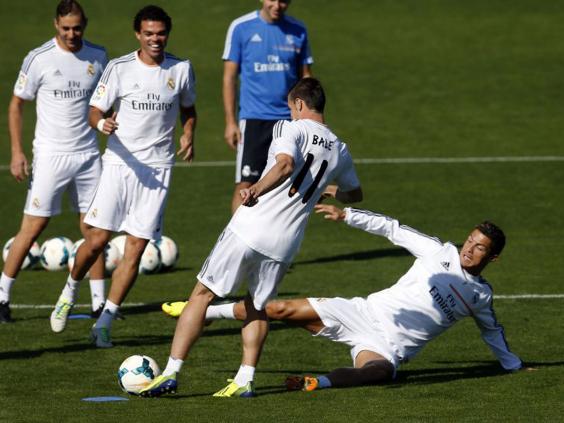 Bale said on Thursday that he felt ready to play a part in Real's campaign to wrestle the La Liga title back from arch rivals Barcelona.
"Obviously I went straight away on international duty which probably wasn't the best but I've been back in the last two days now but the boys have been very nice to me and made me settle quickly and it's just an honour to be here," said 24-year-old Bale.
"I feel good, I've been training last week with Wales. I've had two good sessions today.
"I got half an hour to 40 minutes' game time with Wales and I'm feeling good but obviously I'm a bit behind physically than everybody else but hopefully I can catch up as soon as possible.
"[Ancelotti] spoke to me but we have to wait until the match day to see whether I'm picked or not but hopefully I can get my fitness up straight away and get a place in the team."
Ancelotti also elaborated on the decision to sell Ozil to Arsenal, claiming that it was the player that wanted to leave rather than the other way around.
"It's clear that no player would leave Real Madrid if he didn't want to," Ancelotti said.
"We have played three games and he started two of them but with the arrivals of Bale and Isco the player thought he had a lot of competition and asked to leave.
"It was a technical decision and we are not lacking in anything. In my opinion it was a good offer and everyone is happy. Lots of luck to Ozil."
Reuse content