Barcelona centre-back Gerard Pique has insisted he never said to an assistant referee 'I s*** on your w**** of a mother'.
The 28-year-old defender has apologised for being sent off in the second leg of the Spanish Super Cup but has denied abusing the assistant referee.
The Spanish international lost his head after the assistant failed to flag an offside call in the 55th minute and was sent off - the official report said that he said "I s*** on your w**** of a mother". Pique is facing a ban of between four and 12 games by the Spanish football associaiton.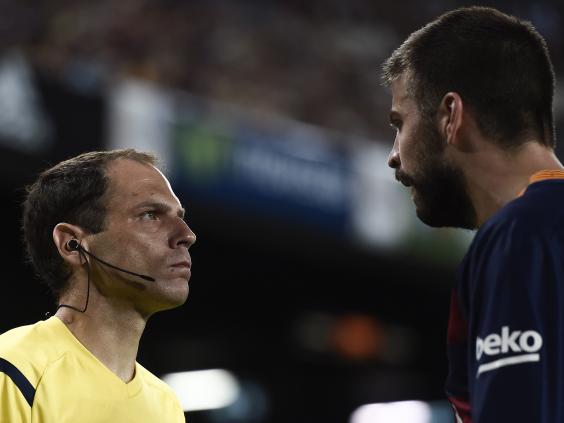 He took to Twitter to apologise for his "attitude" and received the backing of his club that he never abused the assistant.
"I want to apologise because my attitude when complaining to the assistant referee was inappropriate. It was a very tense match with a lot at stake. However, at no point did I insult him personally," he wrote.
August 18, 2015
A statement from Barcelona read: "FC Barcelona have presented arguments against the red card shown to Gerard Pique in the 58th minute of the game against Athletic Club in the second leg of the Spanish Super Cup.
"The argument put forward is that the player did not address the referee's assistant in the terms included by referee Velasco Carballo in his subsequent report."
Abusing an official will land Pique with a minimum of a four game suspension, meaning he would miss the fixtures against Athletic Bilbao, Levante, Malaga and a massive trip to Atletico Madrid in early September.
The Spanish football association (LFP) could suspend him for up to 12 matches for the offence.
Pique Isn't Happy pic.twitter.com/p1tC2QovCQ

— WorldGoalz (@WorldGoalz_) August 11, 2015
Pique was also involved in an incident (above) with an offical a week earlier, after he was elbowed by Sevilla striker Ciro Immobile in the Super Cup.
In English, Pique said "f***'s sake, mate, six refs and nobody sees it?"
Reuse content