Barcelona centre-back Gerard Pique could miss up to 12 matches for the club after a foul tirade of abuse against an assistant referee.
With Barcelona 1-0 up in the second leg of the Spanish Super Cup, the 28-year-old was sent off, ending the chance of a famous come-back - they had been down 4-0 to Athletic Bilbao after the first leg.
The Spanish international lost his head after the assistant failed to flag an offside call in the 55th minute.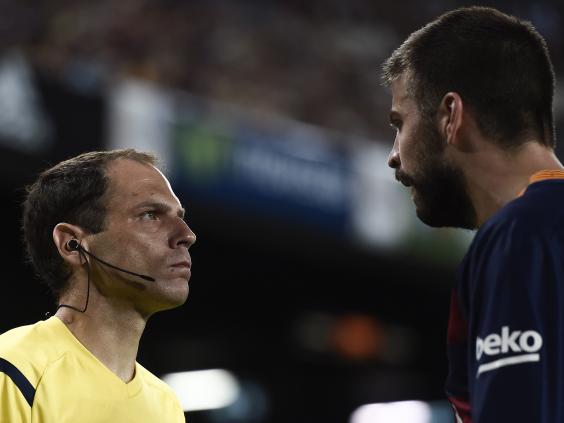 "I s*** on your w**** of a mother", he angrily told the linesman before he was dragged away by team-mates.
Abusing an official will land Pique with a minimum of a four game suspension, meaning he would miss the fixtures against Athletic Bilbao, Levante, Malaga and a massive trip to Atletico Madrid in early September.
The Spanish football association (LFP) could suspend him for up to 12 matches for the offence.
Pique Isn't Happy pic.twitter.com/p1tC2QovCQ

— WorldGoalz (@WorldGoalz_) August 11, 2015
Pique was also involved in an incident (above) with an offical a week earlier, after he was elbowed by Sevilla striker Ciro Immobile in the Super Cup.
In English, Pique said "f***'s sake, mate, six refs and nobody sees it?"