Trigger the £37m transfer clause for Mario Gotze ahead of the Champions League final? Check. Sign their unstoppable striker Robert Lewandowski on a free transfer? Check. Beat them in the German Super Cup? Ah. There are some things that Pep Guardiola and Bayern Munich just can't achieve, but then they didn't anticipate coming up against Spiderman.
At least that's who appeared after striker Pierre-Emerick Aubameyang scored Dortmund's second to seal a 2-0 win and back-to-back Super Cup victories over Bayern. The Gabon international headed a Lukasz Piszczek cross beyond Germany's World Cup goalkeeper Manuel Neuer, and he pulled out a Spiderman mask in celebration before being immediately replaced by Adrian Ramos – presumably so he could tackle crime on the streets of Dortmund as the match was contested at their home ground of Signal Iduna Park.
Having been crowns kings of Europe less than two season ago, Bayern were dominated from start to finish, and had to deal with the major blow of seeing Javi Martinez carried off with a suspected knee ligament injury. The match echoes last season's Super Cup, when Bayern went into the match having swept all before them only to lose 4-2 in the German season curtain-raiser.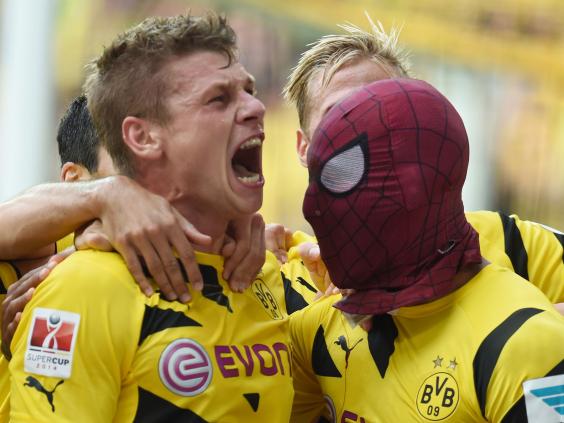 However, not a lot can be taken from this result, given that Bayern went on to win a domestic treble as well as reach the Champions League semi-finals before their demolition at the hands of eventual champions Real Madrid, and the Bayern side were largely depleted of their biggest names.
Lewandowski and Thomas Muller spearheaded and attack that was missing Arjen Robben, Franck Ribery and World Cup final hero Gotze, while Guardiola's midfield was more of a 'who?' than a 'who's who' of German football.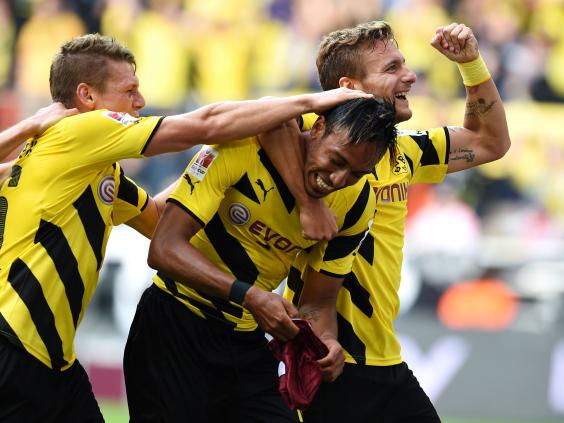 Xherdan Shaqiri was joined by squad players Pierre Emil Hojbjerg, Juan Bernat and Gianluca Gaudino, while Sebastian Rode filled the defensive role usually filled by Philippe Lahm. A back-three saw Martinez joined by Jerome Boateng and David Alaba, though the side that will face Wolfsburg next Friday in their first Bundesliga match will be more like the team we've become accustomed to seeing to dominate the German stage.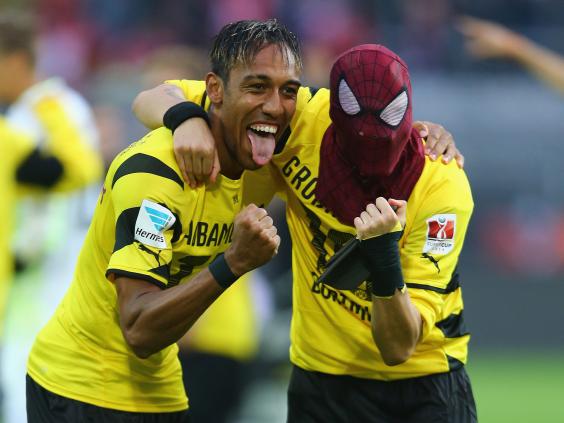 Dortmund can take a lot of heart from the victory though given that they are tasked with closing the 19-point gap that separated the two club's last season in the league. New striker Cero Immobile looked sharp and tested Neuer occasion, as last season's Serie A top scorer nearly opened his account with a 10th-minute effort that just missed the target.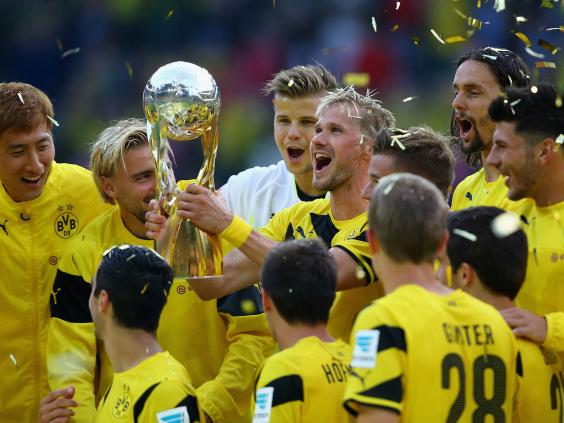 Dortmund's fans were in good voice as ever, with over 1,000 of them returning from their weekend exploits in Liverpool where they saw their side succumb to a 4-0 defeat. Despite star-striker Lewandowski now donning the red of Bayern, Dortmund will be hopeful that they can compete with Guardiola's side this season as they look to destabilise the dominating force in Germany.
Reuse content