If qualifying for the business end of the Champions League with a game to spare was something of a triumph for Manchester City, it did not feel like it.
As he faced the television cameras in the wake of the 1-1 draw against a Borussia Monchengladbach side that last won a home game in the Bundesliga two months ago, Kevin De Bruyne confessed he would rather talk about the result than the performance.
"It was not nice to see but we are through and that is the most important thing," he said. "It was very tough and, even before they scored, Monchengladbach just wanted to defend. We can do better but that was not the most important thing here."
It says something that, De Bruyne apart, nobody else in Pep Guardiola's side felt the need to discuss the night with the media. Ilkay Gundogan, whose family were watching at Borussia Park, said before the match that the 3-1 victory over Barcelona was now the standard by which Manchester City would be judged. This was an adequate evening against a Monchengladbach side that greeted their qualification for the Europa League with an ovation. It was no Barcelona.
When, in 1968, Manchester City first made it to the European Cup, their coach, Malcolm Allison, who was held up as a tactical innovator in much the same way Guardiola is now, said they would now unleash their considerable flair on "the cowards of Europe." They were knocked out in the first round by Fenerbahce. City have flattered to deceive before.
On their own turf, City have been what Guardiola imagined they could be. Monchengladbach were swept away inside the Etihad Stadium while Barcelona succumbed to tactics they once thought of as their own.
Abroad, it has been different. Guardiola went through the three away games, arguing that the 3-3 draw at Celtic was too crazy for analysis and that they had competed well enough at the Nou Camp before Claudio Bravo's dismissal caused their roof to cave in. In front of a German audience who clearly adore him, he was far more complimentary about Borussia Monchengladbach than De Bruyne. He had failed to beat them in any of his last four matches as Bayern Munich manager and this was another thread in the pattern.
The fact remains that in those three away games Manchester City conceded eight times, picked up two points and were behind in both the matches they drew. They actually performed better at Monchengladbach under Manuel Pellegrini last year, when after once more falling behind, Sergio Aguero snatched victory at the death.
Aguero played again on Wednesday night but he was strangely anonymous and but for De Bruyne, who created the equaliser for David Silva and might have fashioned another for Gundogan, City might still be waiting to qualify.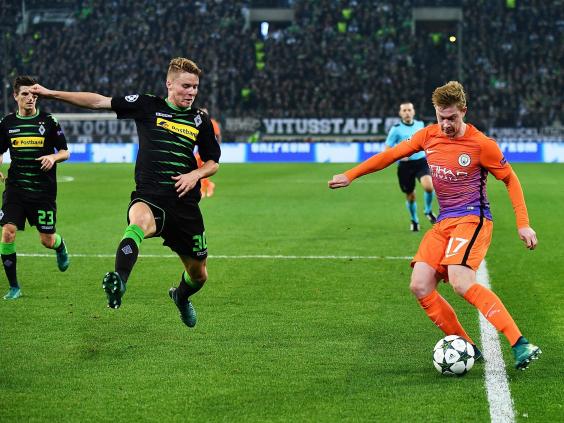 Guardiola's arrival seems to have dampened rather than sharpened the Argentine's skills. Aguero has not yet signed a new contract, although the club is hopeful that matter will be resolved. It may be a fleeting loss of form or it may be something deeper.
Before the game, a Nigerian journalist stood up at the press conference in the team hotel and asked a very pointed question about Kalechi Iheanacho's future. Guardiola offered no assurances and there have been fresh stories linking the young forward with Barcelona.
He is, however, unlikely to have more game time at the Nou Camp than at the Etihad Stadium and any transfer stories around Iheanacho must be qualified by the number of people claiming to be his agent.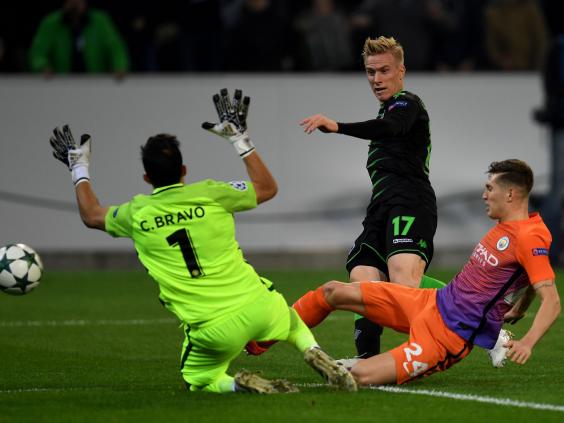 However, it is in defence where Manchester City look most vulnerable. Guardiola employed three at the back for the first time away from home and the results were indifferent. Roy Keane, analysing the game for BT Sport, complained that John Stones had been "knocked off the ball like a child" in the move that led to Monchengladbach's goal. But for Bravo, Monchenglabach would have gone two up.
Vincent Kompany, who at 30, was never said to be part of Guardiola's long-term plans was in Spain rather than Germany, receiving treatment for another injury. It is possible and very cruel to think Kompany may never play in the Champions League for Manchester City again.
That would deprive City of a great, if ageing centre-half but most of all, it would deprive Guardiola of something he has too few of – a leader.