When Henrikh Mkhitaryan explained the difference between playing for Manchester United and Borussia Dortmund, he remarked that appearing at Old Trafford "means being part of a great story."
It might not have seemed so in southern Russia. Dortmund's last European away fixture had been to Lisbon's Stadium of Light. Rostov may be an engaging, friendly club but their soon-to-be-abandoned ground is utterly devoid of glamour and Mkhitaryan called the playing surface "an awful thing".
It was something Mkhitaryan and Ander Herrera adapted to far better than Paul Pogba, who seemed affronted he was being asked to play on a pitch where the ball sometimes behaved bewilderingly.
Rostov vs Manchester United player ratings
Rostov vs Manchester United player ratings
1/11 Sergio Romero - 5 out of 10

Could have stood much taller against Aleksandr Bukharov and perhaps prevented the goal.

2/11 Chris Smalling - 4 out of 10

Almost as culpable as Jones for the goal. Some simple communication between the pair would have prevented Rostov's goal.

3/11 Phil Jones - 4 out of 10

Cost his side when he failed to track Bukharov's run over his shoulder. Too easily beaten by the long ball out the back.

4/11 Marcos Rojo – 6 out of 10

United's best defender, though that is not saying much. Produced an important, last-ditch tackle to deny Rostov on the break late on.

5/11 Ashley Young - 6 out of 10

Showed purpose from wing-back in the first-half but ultimately lacked a telling end-product.

6/11 Daley Blind - 5 out of 10

Left with too much responsibility as a lone man on the left flank. Struggled to offer United the width they required to penetrate.

7/11 Marouane Fellaini - 7 out of 10

One player who suited the adverse conditions underfoot and repeated balls over the top. Combined his physicality with a rare bit of technique in the build-up to Henrikh Mkhitaryan's goal.

8/11 Ander Herrera – 5 out of 10

Game for the rough tackling that defined the first half hour but offered little more.

9/11 Paul Pogba – 4 out of 10

Failed to impose himself on a game once again. Jose Mourinho is trying to play him into form but he remains some way off.

10/11 Henrikh Mkhitaryan – 7 out of 10

A promising return to the side, curtailed by his second-half substitution. There at the right place at the right time to put away the opener.

11/11 Zlatan Ibrahimovic – 6 out of 10

A sublime assist for the opener, then too quiet after it, but rarely received service in the right areas.
There are some great sportsmen who demand conditions to match their ability. Don Bradman never appreciated having to change his game on a difficult surface. "Nobody," said the world's greatest cricketer, "thinks Joe Davis (then the world's finest exponent of snooker) ought to play on a bumpy table."
The surface would have been familiar to Mkhitaryan from his days learning the game in Armenia. Wayne Rooney, another highly-skilful street footballer, would have backed himself on that surface in a way Pogba never did.
Although Manchester United became the latest European aristocrats to fail to beat Rostov in their little proletarian stadium, the 1-1 draw should be enough to see Jose Mourinho through to the Europa League's quarter-finals. Bayern Munich may have lost 3-2 here but they still thrashed Rostov 5-0 in the Allianz Arena.
The precious away goal that Mkhitaryan clipped home ensured he became the first Manchester United footballer since Rooney in 2010 to score in three successive European matches. Rooney's goals came at San Siro, the Allianz Arena and at Old Trafford against AC Milan. Mkhitaryan's were put away against Luhansk, St Etienne and Rostov. It is a sign of Manchester United's times.
"They were nothing special besides the goal," said Mkhitaryan of Rostov. "I was happy to score but, unfortunately, we conceded and everything changed. Maybe we were not as focused in the second half. It was not a very interesting match but we played as well as we could on that pitch and for both sides the pitch was an awful thing."
Mkhitaryan saw the last of it just after the hour mark on Thursday night. Mourinho had agreed beforehand he would not play a full game, partly because the 28-year-old was not fully fit and partly because he might need him for Monday night at Chelsea.
When the draw was made for the FA Cup quarter-finals immediately after Manchester United's 2-1 win at Blackburn that featured a pass from Mkhitaryan to set up Marcus Rashford's equaliser that might be the ball of the season, Mourinho was furious.
Not because of the scheduling but because United's record against the big beasts this season has been dreadful and their record at Stamford Bridge amounts to two wins in 15 years.
Mkhitaryan did not play in October's 4-0 humbling. He was still recovering from the trauma of making his debut in the previous month's Manchester derby and being substituted during the interval.
He will probably feature on Monday, not on the flanks where he failed entirely against City, but as a number 10, the role he played at Dortmund and the one he played in Rostov behind Zlatan Ibrahimovic, who is suspended against Chelsea. However, the combination of Mkhitaryan and Rashford - Anthony Martial, like Pogba, was nondescript in Russia - might be an interesting test for Chelsea's three-man defence.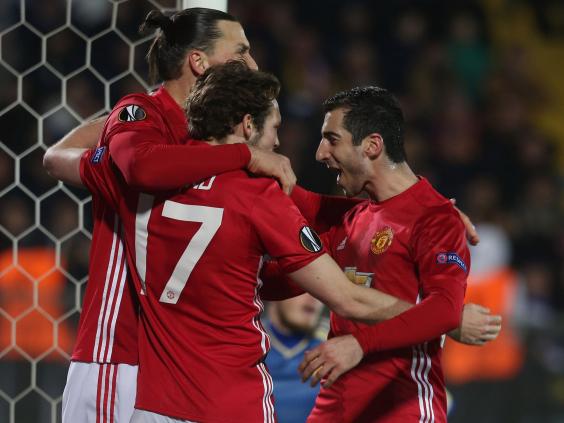 In many ways Mkhitaryan had a lot to thank Pogba for. With all the focus on the world-record £89m fee Manchester United paid to bring Pogba back to Old Trafford, the money they shelled out for the other midfielder was overlooked – and Mkhitaryan made a far worse start.
The German newspaper Bild, which has strong links to the Armenian, estimated the deal cost Manchester United £85m – a £6.8m signing fee, a £35.7m transfer fee to Dortmund and an annual salary of £10.5m over the course of a four-year contract.
That kind of money demands more than goals against Luhansk and Rostov but, if they earn Manchester United the Europa League title and with it a place in the Champions League, a lot of those millions will have been paid back.  
Reuse content