Real Madrid ended a 12-year wait for their 10th European Cup this season but the man who won their ninth and would, according to many, have won 'la decima' way before this year was Vincente del Bosque. Without Del Bosque it took Real six coaches and four seasons to win anything other than a single Spanish Supercopa. Real spent seven years unable to get beyond the last 16 of the Champions League. Here is an edited extract from Graham Hunter's 'Spain: The Inside Story of La Roja's Historic Treble' on the parting of the ways:
"When Florentino Perez won a substantial majority in Real's 2000 presidential elections, the new man in charge of the club was unexpectedly stuck with someone who was already a club legend, who had just won their eighth European Cup and who was safe in a new contract. The two men had only one thing in common: their feelings for Real Madrid. Politically, philosophically, strategically and in sporting and human terms, they were poles apart.
The uncomfortable truth for Perez was that while the Salamancan kept winning trophies Del Bosque could not be sacked. However, the division grew. Del Bosque's background as a union organiser stood in opposition to the politics of Perez; Fernando Hierro became a loud voice on behalf of the players, often in opposition to the president.
Steve McManaman
"The last game of the 2002-03 season was the final straw. There were some disputes and when the club ordered us to go to the cathedral and the town hall because the city council demanded it, but then denied permission to follow tradition and hang a Madrid scarf on the Cibeles fountain, the dressing room decided that it was all off. We had player meetings for hours until around 3am. Then, by 6am, it was all reinstated again. It was a shambolic period."
This situation opened the door for the board to sack the best on-pitch leader and the most successful Real coach since the zenith of Puskas, Gento and Di Stefano. The next evening his wife, Trini, drove Del Bosque to the Bernabeu, as she thought, for him to meet with the president about renewing his contract. Halfway there, the mobile rang. It was Hierro. He had been kicked out of the club.
"Look out, boss."
"I suspect I'm going the same way as you in a few minutes."
His wife was as shocked as the rest of the Madridistas when he returned to the car having been told he was out, despite seven trophies in three-and-a-half seasons.
Vicente del Bosque [2003]
"I had suspected this might be coming and I go proud of our work, our victories and in the knowledge that I have not committed any felony."
Jorge Valdano [sporting director, 2003]
"We simply told the squad: 'Vicente won't be continuing.' I know it is a decision which flies in the face of what the man in the street wants, what the dressing room wants, but those who govern a club have to govern it."
Florentino Perez [2003]
"Real Madrid needs someone with a less out-of-date training manual."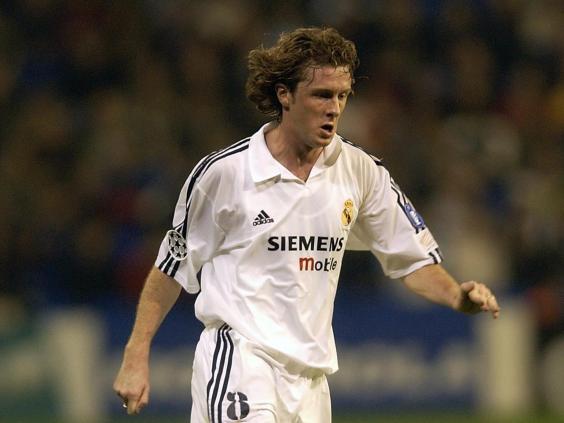 McManaman
"If that group of Del Bosque, his staff, Hierro plus Makélélé and [Fernando] Morientes, who should never have been pushed out by Perez, had stayed together they would have won more and more. The deterioration started immediately and it went so far south that it was incredible. There should be statues of Del Bosque in every Spanish city given what he has achieved for that country, but most of all in Madrid."