Samir Nasri has labelled Jamie Vardy a 'cheat' and accused the Leicester City striker of failing to 'act like a man', after his role in the Sevilla attacking midfielder's sending-off on Tuesday night.
Nasri was shown a second yellow card by referee Daniele Orsato after appearing to butt heads with Vardy, who peeled away from the incident claiming to have been hurt.
The 29-year-old former France international was furious with Vardy's reaction to the clash of heads and had to be ushered off the pitch by his teammates.
"For me he's a cheat because if he was a foreign player, you the English press would be saying he's a cheat. For me he is a cheat," Nasri said. "They were winning 2-0. Play the game like a man. You are not better than us but you are winning 2-0 and will qualify, just play the game."
But was Vardy right to exaggerate the contact in order to get Nasri sent-off? Our chief sports writer Ian Herbert and sports reporter Luke Brown have their say...
Disgraceful act takes the sheen of Leicester's accomplishment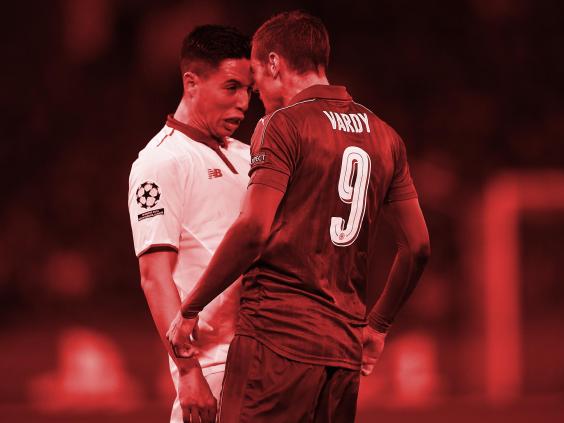 For once, it was more than a case of the footballer losing it in a moment of juvenile fury. Samir Nasri's rage really did have a component of rationale and genuine indignation about it.
He was sent off 20 minutes before the end of Sevilla's defeat to Leicester and yet as the players processed  off he was waiting near the dressing rooms for Jamie Vardy, determined to have this thing out with him. He was prevented from doing so. The home team's French Arab players, Riyad Mahrez and Islam Slimani saw him, wandered up, and walked him away from a possible flashpoint. It had been Slimani who had reasoned with Nasri as he refused to walk off the pitch.
Nasri is not generally a defensible character because he has that uncanny knack of behaving like an idiot. He Spanish drug testing authorities are currently in no rush to rule on whether he broke doping rules by visiting the Los Angeles intravenous therapy clinic 'Drip Doctors.'
Leicester vs Sevilla player ratings
Leicester vs Sevilla player ratings
1/22 Kasper Schmeichel 9 out of 10

Made a superb early save from Nasri which set the tone for Leicester's historic performance. Became the hero of the hour when he saved N'Zonzi's late penalty. Undoubtedly the man of the tie given his equally impressive performance in the first-leg.

AFP/Getty Images

2/22 Danny Simpson 7/10

His distribution left a lot to be desired – just under half of his 18 passes ended up being intercepted – but he made two crucial interceptions and linked up nicely with Mahrez.

Getty Images

3/22 Wes Morgan 7/10

Leicester's captain became the first ever Jamaican to score in the Champions League when he bundled in the opener. Made several crucial clearances and appears utterly transformed from the player that was struggling so desperately under Claudio Ranieri.

Getty Images

4/22 Robert Huth 7/10

Put in a tremendous shift alongside Morgan. Although the thought of the pair of them trying to keep the likes of Lionel Messi, Cristiano Ronaldo and Paulo Dybala is nothing short of terrifying.

Getty Images

5/22 Christian Fuchs 8/10

Fantastic. A real danger going forward, combining nicely with Albrighton, and he had two good chances to get on the score-sheet. Equally impressive at the back where he relentlessly pressed Vitolo, preventing the Spaniard from flourishing.

Getty Images

6/22 Wilfried N'Didi 7/10

Another valiant performance from N'Didi in the middle of the park. Got the better of Steven N'Zonzi and almost got the better of Vicente Iborra, too. Stayed in defensive positions and allowed Drinkwater to get forward.

Getty Images

7/22 Riyad Mahrez 7/10

Repeatedly cut inside from the right-wing where his passes in-between the Sevilla defence impressed. Assisted Morgan's goal, and should have assisted a counter-attacking goal for Islam Slimani, but took too long to pick his pass.

Getty Images

8/22 Danny Drinkwater 6/10

Missed a fine chance to score in the first-half but ultimately a good performance. His passing could have been better, though.

Getty Images

9/22 Marc Albrighton 8/10

A superb performance from the left-winger. Overlapped with Fuchs nicely down the left, so much so that Sampaoli was forced into an early double substitution. Scored a lovely second goal, bringing the ball under control and rifling a low shot past Sergio Rico.

AFP/Getty Images

10/22 Shinji Okazaki 7/10

Did what he usually does. Ran hard, pressed high and never allowed Sevilla's defence the opportunity to build their attacks from the back.

Getty Images

11/22 Jamie Vardy 7/10

Back to his industrious, tenacious, relentless best. Didn't get on the scoresheet but kept creating opportunities for himself. Did well not to react to Samir Nasri's provocations in the second-half, too.

Getty Images

12/22 Sergio Rico 6/10

There was little he could have done to keep out Wes Morgan's header from close range. And Rami should be blamed for Leicester's second, not Rico.

AFP/Getty Images

13/22 Nicolás Pareja 5/10

Not a particularly good night for the Argentinian. Made several important clearances but his distribution left an awful lot to be desired. Too often passed the ball straight to a Leicester player.

Getty Images

14/22 Gabriel Mercado 5/10

Sevilla struggled down the right, with Albrighton and Fuchs both causing a number of problems, and Sampaoli responded at half-time by hauling off his largely ineffective right-back.

AFP/Getty Images

15/22 Adil Rami 6/10

Had been one of Sevilla's better players up until the second goal, which he was at fault for. His headed clearance didn't have enough on it and was directed straight at the feet of Albrighton, who promptly lashed a low shot past Rico.

Getty Images

16/22 Sergio Escudero 6/10

Didn't look as threatening as he in the first-leg in Andalusia. Was incredibly unlucky not to level the score in the second-half, though, with an unconventional, dipping strike which rattled the underside of the crossbar.

AFP/Getty Images

17/22 Steven N'Zonzi 4/10

Typically good in the air, playing in the heart of Sevilla's midfield alongside Iborra. But his passing left a lot to be desired and he looked uncomfortable in possession whenever pressed. Missed a late penalty, his low effort struck nervously and far from the corner.

AFP/Getty Images

18/22 Vicente Iborra 6/10

Calmer and more composed in possession than N'Zonzi. Won a number of crunching tackles and stopped a mazy run from Albrighton early in the second-half with a well-timed challenge.

Getty Images

19/22 Pablo Sarabia 5/10

Posed little threat to Fuchs down the right. Struggled alongside Mercado playing behind him, and was also withdrawn by Sampaoli in a bold double substitution at the break.

Getty Images

20/22 Samir Nasri 5/10

The good: His repeated running in behind Leicester's defence and his range of passing. The bad: Stupidly picking up a second yellow late in the second-half for an altercation with Jamie Vardy before attempting to get the English forward sent off. The ugly: An incandescent Martin O'Neill slamming the Nasri on BT Sport for being overweight.

AFP/Getty Images

21/22 Vitolo 5/10

It tells you everything about the winger's all-action performance that he made the highest number of tackles of any Sevilla player (5). Will have been disappointed not to offer more going forward, however.

AFP/Getty Images

22/22 Wissam Ben Yedder 5/10

Looked dangerous in flashes but was ultimately on the ball too few times to truly threaten. On the occasions he did shoot, he failed to test Schmeichel. Missed a sitter of a rebound in the second-half.

AFP/Getty Images
But there were two sides to the story this time and Nasri's is the convincing one. For over 18 months now, we have become more accustomed to that habit – evident again on Tuesday – of Vardy hooking out a leg to ensure a defender or goalkeeper catches it and clips him, so winning a free-kick. If every act of simulation brought a caution, Vardy would have been the one taking an early walk on Tuesday night.
And that was before the impression of a man touching a 1,000 volt cable he gave after the French player brought his head down to Vardy's. Contrary to some of the stories doing the rounds on Wednesday, Vardy had not repeatedly insulted the midfielder's family. Nasri's testimony revealed that he had spoken first after the off-the-ball shove on him from Vardy which the cameras picked up. But as game-turning devices go, it was, frankly, a disgrace: an act which takes the sheen off Leicester's accomplishment. And yes – Nasri is most certainly right in his assessment of the incident which is published on Thursday: if a foreign player had employed such a strategy against any British club's player, he would be condemned the length and breadth of the country.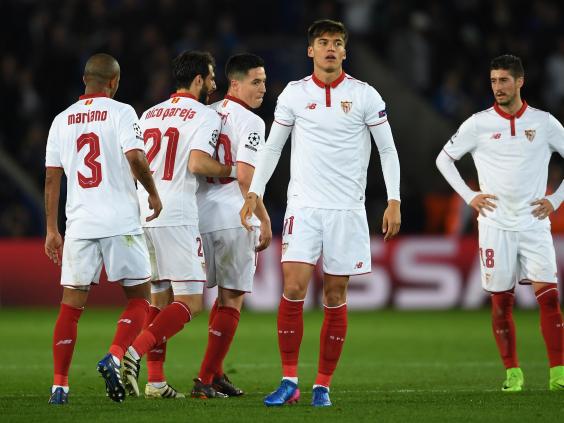 Gamesmanship in football is as old as the hills. When Liverpool and Nottingham Forest were England's standard bearers in the 1970s and 1980s, they would spot a physically weak opponent and bully him out of the game. Liverpool once got a taste of their own medicine when the two sides faced each other in a 1979 tie, and Terry McDermott was silenced by Forest's hard men. Almost all of that was sneaky – a surreptitious kick here or there when no-one was looking. But there was no squealing. You dished it out and you took it back.
In very many ways, Tuesday night in Leicester was a throwback to those great European Cup years, with an atmosphere which Manchester City and Arsenal fans could do worse than witness. Champions League nights in their grounds can't carry a torch to the atmosphere on what some around the east Midlands club were on Wednesday describing as the very best night – if not the best – in the club's history. To a man, the jubilant players stopped to talk as they processed out, though not Vardy. He knew what he had done. Ian Herbert.
Vardy would have been a fool not to go down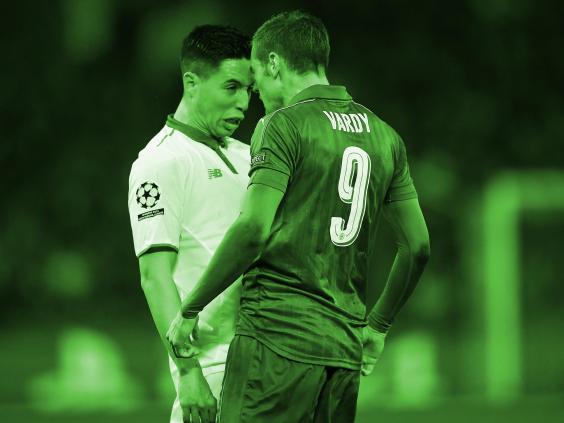 Earlier this season, Raheem Sterling failed to go to the ground when shoved in the penalty area by Kyle Walker during Manchester City's 2-2 draw with Tottenham. When asked about the incident after the match, Yaya Toure did not even attempt to hide his disappointment in his younger team-mate.
"He is too honest," Toure sighed. "He wants to be proper in these sort of games. But if you have a bit of experience, like me, you would maybe dive in that situation. That's what you have to do."
Toure's point was a simple one: Sterling may want to be honest and proper in the spotlight's glare, but his primary allegiance is to his team-mates, rather than his reputation or his sense of fair-play. Instead, Sterling had revealed his naivety by staying on his feet, costing his club all three points.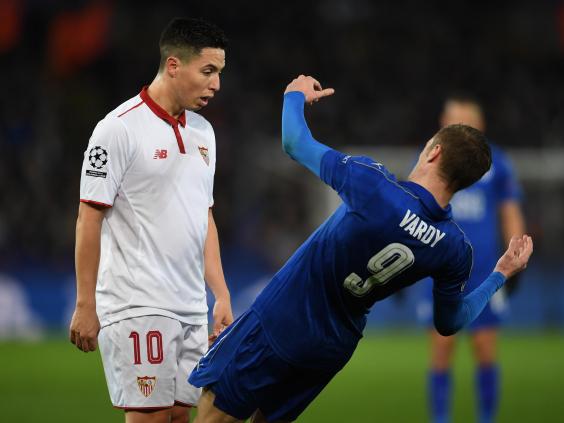 Jamie Vardy could have cost his club much, much more than three points had he not made the most of Samir Nasri's impetuous jerk of the head in Leicester's 2-0 win against Sevilla in the Champions League. The Frenchman had been Sevilla's best player until that point but allowed his frustration to get the better of him when he retaliated to Vardy's light shove as the pair jostled for position.
Only the most partisan of Leicester supporters would argue Vardy did not make the most of it. Indeed, Vardy demonstrated significantly greater resilience when he went on to punch himself in the face several times after shooting over the bar moments later. But there was no shame in his decision to exaggerate the contact, and he should not be castigated for choosing to do so. A failure to exaggerate the contact would have been a failure to capitalise on an advantage. Almost any other player on the pitch would have done the same.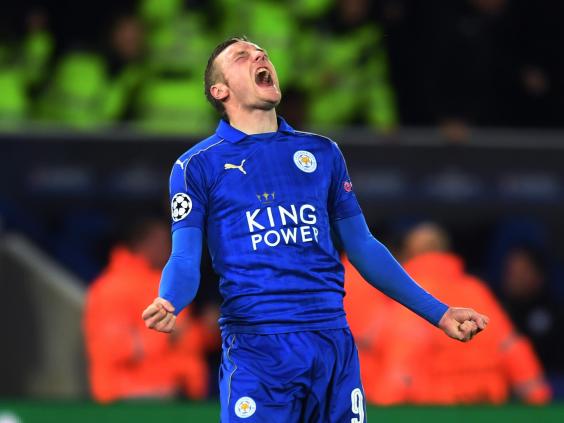 After all Nasri, let us not forget, has his own history when it comes to simulation and has been publicly criticised by Harry Redknapp, Tony Pulis and Steve Bruce for diving to win penalties while at Arsenal and Manchester City. Does Nasri's frustration over this particular incident really stem from Vardy 'not acting like a man?' Or rather from the fact that Vardy collapsed to the turf before him?  
An understandably aggrieved Nasri has also suggested that Vardy has escaped condemnation for his actions because he is British, whereas a foreign player would be no doubt vilified. Can the opposite argument not also be made?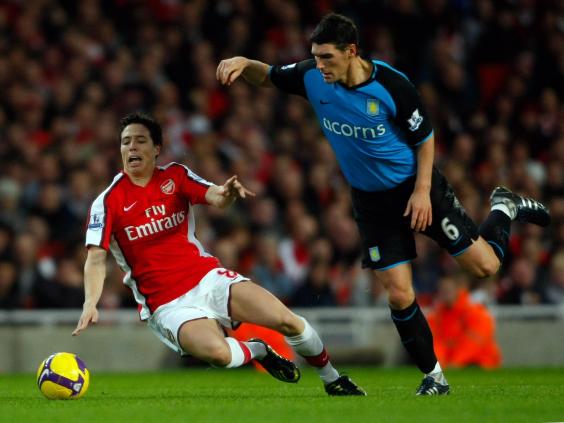 Luis Suárez, for one, appears to have a far more flexible interpretation of the rules than Vardy. And Suárez cheated in a far more blatant fashion when he dived in the box to win Barcelona the penalty which led to their fifth goal, in their 6-5 aggregate victory over PSG last week. His dive did little to dampen the hysteric appreciation of that result, so why should Vardy's in any way dampen Leicester's achievement, as equally remarkable but for so many different reasons?
One more thing: Nasri's angry claim that Vardy had failed to play football 'like a man' rankles when simulation remains a comparative rarity in the women's game. Just another example of how Nasri's bitter post-match rant should not be taken seriously and should not detract in any way from the scale of Leicester's achievement. Luke Brown   
Reuse content