He may have taken Manchester United to two cup finals but Jose Mourinho admitted that, unless the Europa League is won, his first season at Old Trafford could be counted a failure.
After a semi-final victory against Celta Vigo that was far tighter and more nervous than anyone imagined, the United manager confessed that were he a journalist, he would be critical if the club failed to overcome Ajax in the final in Stockholm.
"You the media, you have the right to say it," said Mourinho when asked if Manchester United had to win the Europa League to be judged a success. "I think it makes sense to say it. But I don't feel like that. I don't want the players to feel like that. I don't think the board feels like that.
Manchester United vs Celta Vigo player ratings
Manchester United vs Celta Vigo player ratings
1/11 Sergio Romero – 7 out of 10

Continues to deputise well. Deserves to start the final, despite suggestion that Jose Mourinho could reinstate David de Gea.

2/11 Antonio Valencia – 6 out of 10

Quieter than we have come to expect, perhaps still feeling the effects of fatigue, but the occasions did not demand his marauding runs from full-back.

3/11 Eric Bailly – 4 out of 10

The red card is debateable but to raise his hands was daft. Misses the final.

4/11 Daley Blind – 4 out of 10

Looked extremely uncomfortable for most of the evening, but particularly in the opening exchanges. A poor showing at centre-back.

5/11 Matteo Darmian – 6 out of 10

Guilty, like Blind, of a nervy start but unlike his team-mate he recovered well. Still caught out on occasion.

6/11 Ander Herrera – 5 out of 10

Spoiled a decent display by needlessly leaving Facundo Roncaglia for Celta's equaliser.

7/11 Marouane Fellaini – 7 out of 10

That he should score the goal sealing United's place in a Europa League final nicely sums up the last few years of life at Old Trafford but in all fairness, did well on this occasion.

8/11 Jesse Lingard – 5 out of 10

More peripheral than the other members of United's attack.

9/11 Paul Pogba – 7 out of 10

A good display, featuring several moments of neat creative play in the first half.

10/11 Henrikh Mkhitaryan – 6 out of 10

Not at his best, but showed neat feet in the build-up to Fellaini's goal. Failed to track much of Celta's threatening wing-play.

11/11 Marcus Rashford – 8 out of 10

Superb cross to set up Fellaini's opener and arguably should have had two of his own.
"We have worked very hard. I have probably worked this season harder than ever. When I analyse I don't think that way but, if I were in your chair, then maybe.
"We won a League Cup, we won a Community Shield, then the injuries arrived and we fought for the Premier League top four. We had a fantastic record of 25 unbeaten matches.
"We did things at this club that nobody has done in their first season – like winning a trophy, like having the unbeaten record for Manchester United in the Premier League, like reaching a European final. We have these things.
"But, if I were on your side – and you are always looking for these kinds of capital letters and big headlines – then I would accept it, if you said it."
Mourinho was right to say that no Manchester United manager had won a trophy in his first season. However, in terms of the basic requirement of a Manchester United manager – to ensure that the world's biggest football brand finishes in the top four of its own league – he has disappointed.
Sir Alex Ferguson finished second in his first full season at Old Trafford; Ron Atkinson took Manchester United to third in his. Louis van Gaal qualified the club for the Champions League.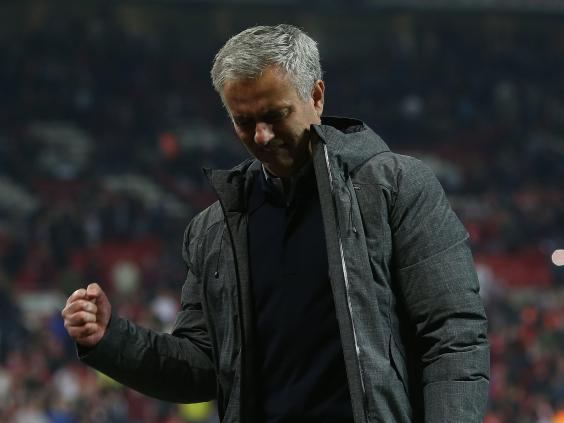 Mourinho's unbeaten run from October to May was more of a jog, clogged by draws against teams who once considered themselves beaten in Old Trafford's tunnel.
The draw with Celta Vigo was United's 11th at home and had Manchester City's one-time forward, John Guidetti, not fluffed his shot at the climax, the little club from the wild coast of northern Spain would have gone through on the away goals rule.
As it is, Manchester United will take the same kind of weakened team into their final game at White Hart Lane as they did when facing Arsenal last Sunday.
Manchester United summer transfer targets
Manchester United summer transfer targets
1/10 Gareth Bale - Real Madrid

The Real Madrid forward would be a marquee signing, the type that the Manchester United boardroom are keen to make, and The Independent has been told by sources from both United and Madrid that a deal is 'much likelier' than ever before. The player himself though is happy in the Spanish capital. Likelihood: 5/10

Getty

2/10 Alvaro Morata - Real Madrid

The Real Madrid forward fits the mould of the out and out No.9 Mourinho is looking for. Strong, quick and good in the air Morata figures to fit well in United's system in Ibrahimovic's place. A £60million deal could be done soon. Likelihood: 9/10

Getty

3/10 Andrea Belotti - Torino

Another of Europe's most promising players, Belotti is fast becoming well-known after his outstanding performances at Torino, where he has scored 37 goals in 64 appearances since 2015. His best years are still ahead of him aged just 23, which contributes to the incredible €100m release clause, applicable only to clubs outside of Italy, negotiated into his contract. Torino are in no hurry to sell and will drive a hard bargain with any deal likely to start at upwards of £70m. Likelihood: 7/10

Getty

4/10 Victor Lindelof - Benfica

United have been monitoring Lindelof for over a year with a deal now closer than ever. The young Swede nearly made the switch from Benfica back in January but United are confident the move will finally be completed soon. Likelihood: 9/10

Getty

5/10 Ivan Perisic, Inter Milan

United want to spend £35m on Perisic but Inter are holding out for closer to £50m. That said, Mourinho is a big fan and may be willing to go the extra mile to get him. Likelihood: 7/10

Getty

6/10 Willian - Chelsea

Mourinho is a huge admirer of Willian, who he signed in 2013 while at Chelsea. The pair won a Premier League title and League Cup double together the following year and it is believed that the United manager will do his best to sign the player, who has not been a regular starter in Antonio Conte's system. Whether Chelsea will allow him to leave, particularly to join Mourinho at their rivals is yet to be seen. Likelihood: 4/10

Getty

7/10 Fabinho - Monaco

An extremely versatile player Mourinho sees him more as a defensive midfielder and could be used to give Paul Pogba, last summer's big addition, more freedom. Monaco aren't in any rush to lose any more first team stars this summer though and are likely to demand a hefty fee. Likelihood: 7/10

AFP/Getty Images

8/10 Michael Keane - Burnley

Once seen as the ideal signing due to his Premier League experience and the presence of a buy-back clause which effectively gives United a 25% discount, interest in Keane has cooled with Lindelof now the preferred central defensive option. Likelihood: 5/10

Getty

9/10 James Rodriguez - Real Madrid

Rodriguez signed for Real Madrid in 2014 after taking over the World Cup in Brazil the same summer, where he won the goal of the tournament and golden boot awards. Despite his undoubted talent, he has failed to hold down a regular spot under Zinedine Zidane this season and Madrid will sanction a sale this summer. Likelihood: 3/10

Getty

10/10 Marquinhos - PSG

Mourinho is in the market for defensive additions with Jones, Smalling, Blind and Rojo all largely failing to convince. But, understandably, PSG are extremely reluctant to let Marquinhos leave and would demand in excess of £50m. Likelihood: 4/10

Getty
Eric Bailly, suspended for the Europa League final because of his fisticuffs with Celta's goalscorer, Facundo Roncaglia, will play the three remaining league games. Mourinho confirmed that Sergio Romero will start in goal against Ajax in Sweden.
After 14 matches, Mourinho was right to argue that Manchester United should be proud of reaching the Europa League final against an Ajax side that will have 10 days to prepare. United will have two.
Amid the triumph, it may have been churlish to point out that nine years ago Bayern Munich reached a Uefa Cup semi-final and regained the Bundesliga by 10 points. That was the sort of performance a club of Manchester United's size ought to have aimed for. Mourinho, however, was just grateful he could see the finish line.
"I just feel sorry that my boys have to go to their national teams after the final," he said. "These guys should go to a spa after almost 70 matches." 
Reuse content