In previous years Wayne Rooney's fitness doubts would have been the big story, a countdown timer on which Manchester United's fate hinged.
But with the 31-year-old ruled out after experiencing "bad feelings" in his ankle, all pre-match talk was instead focused on security after Borussia Dortmund were attacked by suspected would-be terrorists on Tuesday.
And Jose Mourinho, who expects a tough game in Brussels, urged United's players to focus on the job at hand and not be distracted by security fears, however difficult that may be. 
"I try not to think too much about it," he said.
"I try to focus on our job and to focus on why we're here to play. This is a quarter-final, we have to be focused on it and that's what we try to do.
"Obviously, we have solidarity with what happened yesterday with the players that cannot play today, with the people that were scared.
"We have to believe that the match will be what people want it to be - a very good game.
"We have to trust the people who are working with our security."
European football's governing body Uefa pledged in a statement on Wednesday that it would review security arrangements for the week's games and said "procedures will be enhanced accordingly wherever needed"
Anderlecht also insisted that they are doing everything possible to help, with the host team's press officer telling their pre-match press conference "we are prepared".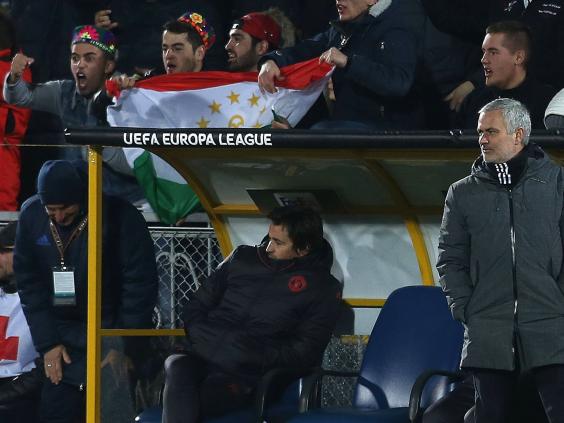 And the Belgian giants' midfielder Massimo Bruno added: "We are footballers and we must go on playing.
"We have to think of something else and stick together and hope everything will be safe here tomorrow."
Brussels has been subject to higher security since March 22 last year, when coordinated attacks in the city killed 32 and injured many more.
Increased measures mean the city and all public events within it are subject to enforced security procedures, including army presence, extra security sweeps and controls.
Manchester United arrived in the Belgian capital on Wednesday afternoon and, as with every European trip, had been in close contact with the Consulate and local authorities.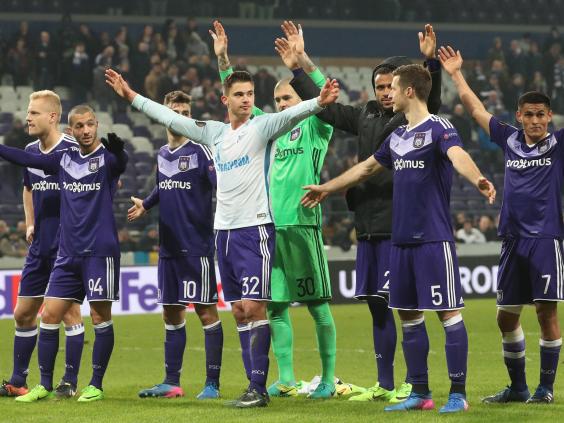 The mood around Anderlecht's Constant Vanden Stock Stadium is calm on the eve of the quarter-final clash and United fans were advised of increased security measures before the attack in Dortmund.
The message to travelling supporters on the club's official website read: "No bags at all will be permitted inside the stadium, including handbags.
"Unfortunately there are no storage facilities at the stadium, so we advise you not to travel with bags.
"This strict policy has emanated from concerns over terrorist incidents and will be very strictly enforced."
Who could replace David De Gea at United?
Who could replace David De Gea at United?
1/12 Who could replace David de Gea?

David de Gea has been linked with a return to Spain this summer. But who could United sign to replace the talented 26-year-old?

Getty

2/12 Samir Handanović

The experienced Slovenian has long been linked with a move to these shores and would be available for significantly less than many of the other names on this list. A solid, if slightly unspectacular, choice to replace De Gea.

Getty Images

3/12 Gianluigi Donnarumma

The 18-year-old is regarded as the best young goalkeeper in the world, having broke into the AC Milan first-team last season. The player is represented by Mino Raiola, which is a promising sign for United.

Getty

4/12 Keylor Navas

Real Madrid's original plan to buy David de Gea involved sending Keylor Navas to Old Trafford, something which could well transpire this summer.

Getty

5/12 Kasper Schmeichel

The Leicester goalkeeper has enjoyed another superb season even as his team has struggled and would be a popular signing, given his father's history with the club.

Getty

6/12 Hugo Lloris

Spurs wouldn't let their captain leave without a fight, but Lloris recently refused to rule out a move away from White Hart Lane, claiming he would only stay at the club for as long as Mauricio Pochettino was coach.

Getty

7/12 Jan Oblak

The Slovenian international is widely regarded as one of the finest goalkeepers in the world. However it is difficult to see Atletico selling both Oblak and Antoine Griezmann to United this summer.

Bongarts/Getty

8/12 Jasper Cillessen

Repeatedly linked with a move to Manchester during Louis van Gaal's reign, Cillessen has made just 1 La Liga appearance since quitting Ajax for Barcelona. Would likely be a more affordable option.

Getty

9/12 Ederson

Manchester City are thought to be leading the race to sign Benfica's Ederson. But with United also in need of a new keeper, it would not be surprising if United attempted to hijack the deal.

Bongarts/Getty Images

10/12 Bernd Leno

Still only 25, Leverkusen goalkeeper Leno is regarded as the eventual heir to Manuel Neuer in goal for Germany. A fine shot stopper.

Bongarts/Getty

11/12 Diego Alves

The 31-year-old has repeatedly been linked with a move to Untied over the years. If Jose Mourinho is unable to land other targets, he may well turn to the Brazilian veteran.

Getty Images

12/12 Jack Butland

Butland's brilliant form at the end of 2015 saw him tipped to replace De Gea at United. An ankle injury meant he dropped off the radar somewhat, but with the player close to a return to action, United could make their move this summer.

Getty Images
United fans were told they will be "searched on arrival, at the turnstiles by police" and ticket checks will take place at various points.
The information also said: "Fans without tickets are being told not to travel as they will not get into the stadium.
"Belgian police advise that all supporters without tickets on the territories of Anderlecht will be administratively arrested, by decision of the Mayor."
Security is high but, on the field, the stakes are too. With United having won every Europa League home game so far, a draw in Belgium could be enough but, for Mourinho, blocking out the noise around the game is the key. 
"I focus on the football," he concluded. 
Additional reporting by Simon Peach
Reuse content