After his team had been so admirably resolute, Max Allegri was fittingly - and surprisingly - restrained. "To not concede in two games against FC Barcelona is no small achievement," the Juventus manager said of his side's 3-0 aggregate Champions League win over the Catalans.
The defeated Gerard Pique had a different description for it, one that went a lot further in terms of the size of the task - at least for Barca.
"They built a mountain," the centre-half said. His team could not get around it, over it or through it and there a number of stats that further emphasise the stature of Juve's feat.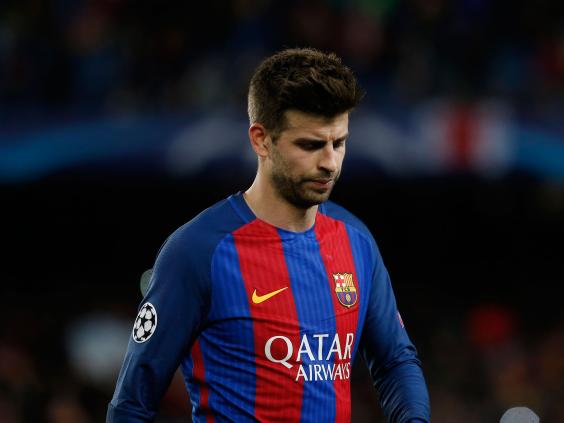 Before you even get to the fact they just completely shut out the whole Barca team for the entire 180 minutes of a European tie, for example, there is the more immediately impressive achievement that they are the first team to completely shut out that front three of Leo Messi, Luis Suarez and Neymar for the 180 minutes of a European tie too. Juve are also the first team to avoid defeat at Camp Nou in a continental match since Atletico Madrid's 1-1 draw in a similar vaunted end-of-an-era night back in 2014.
The fact they followed that specific Spanish opposition feels all the more pointed, since they might well have followed Atletico as the finest defence in Europe. There's certainly an argument from this quarter-final, and even more of an argument from their domestic records. While Atletico have conceded 24 in 32 this season, it's a mere 20 in 32 for Juve.
It is going to be a real battle to just score against them, and thereby beat them.
The semi-finals could actually offer up enticing clashes of styles in that regard, in the individual and collective attacking brio of Monaco and Real Madrid against the defensive brilliance of Atletico and Juventus.
The wonder is what will happen if the latter two meet, but then it would also be wrong to think they are all that similar.
While one of the sources of Atletico's fine defensive record is how Simeone is genuinely evolving defensive tactics amidst a few other more fundamental factors, Juve's strengths feel much more traditional, much more rudimentarily effective - and that is by no means meant as a criticism. It is a compliment.
Barcelona 0 Juventus 0 player ratings
Barcelona 0 Juventus 0 player ratings
1/22 Marc-Andre Ter Stegen – 6 out of 10

Up to the task on the few occasions Juventus called him into action, but on the whole had little to contend with.

2/22 Sergi Roberto – 6 out of 10

Attacked with purpose down Barcelona's right but could not repeat his heroics of the last round.

3/22 Gerard Pique – 6 out of 10

Did well to deny Cuadrado in the first quarter of an hour, but will have hoped to have made a more telling contribution at the other end.

4/22 Samuel Umtiti – 6 out of 10

Another Barca defender who largely coped with what he was tasked to do, but his side's problems lay up front.

5/22 Jordi Alba – 5 out of 10

Should have connected and scored after Messi's beautiful lofted pass early on.

6/22 Ivan Rakitic – 5 out of 10

An underwhelming display, with no notable moments of invention on a night when Barca needed his vision and creativity.

7/22 Sergio Busquets – 6 out of 10

Did the simple stuff in the centre of the park, as you might expect, but it would take more than that to break down the Juventus defence.

8/22 Andres Iniesta – 6 out of 10

Showed the most of any Barca midfielder, but that's not saying much. A devilish first half cross was one of the few to get the better of Chiellini.

9/22 Lionel Messi – 6 out of 10

A few neat touches, but we've come to expect so much more. Unusually wasteful in front of goal, the best player in the world had a night to forget.

10/22 Luis Suarez – 5 out of 10

Uncharacteristically quiet. Chiellini successfully shackled his old foe.

11/22 Neymar – 8 out of 10

Barcelona's best performer, the player most likely to make things happen, but appeared to let his frustration with the officials get the better of him at times.

12/22 Gianluigi Buffon – 6 out of 10

Lucky not to be punished by Messi when he failed to collect a corner. Otherwise, was his usual dependable self.

13/22 Dani Alves – 7 out of 10

His defensive capabilities were doubted in his final days at the Nou Camp, but showed he can still be relied upon here.

14/22 Leonardo Bonucci – 9 out of 10

Chiellini's equal. Put himself between almost every Barcelona effort and his goal.

15/22 Giorgio Chiellini – 9 out of 10

There is perhaps no other current defender you would want in your side when protecting a three goal lead at the Nou Camp. Predictably excellent.

16/22 Alex Sandro – 6 out of 10

Weakest member of Juventus' stubborn backline, but still a creditable display. Owes Khedira after the midfielder bailed him out of a failed attempt to nutmeg Suarez.

17/22 Sami Khedira – 7 out of 10

Good defensively, but made the wrong decision while in possession on several occasions when his team were countering.

18/22 Miralem Pjanic – 9 out of 10

Hardly put a foot wrong throughout. Known for his creativity, but put a shift in when his side needed him here.

19/22 Juan Cuadrado – 7 out of 10

Full of running and energy, posed a constant threat down Juventus' right, but his team-mates failed to make enough use of him.

20/22 Paulo Dybala – 6 out of 10

Did not sparkle like in the first leg but did not have to. Contributed to his side's dogged rearguard effort.

21/22 Mario Mandzukic – 6 out of 10

Has adapted well to his new left-midfield role, chipping in defensively when required.

22/22 Gonzalo Higuain – 6 out of 10

Had the chance to steal an unlikely lead for the visitors on the half volley early on but fired high.
There is no sophisticated tactical manipulation of space under Allegri in the way there is under Simeone, beyond top-class defenders just instinctively knowing exactly where to put their bodies and what to do with them. An otherwise hugely magnanimous Pique did somewhat resort to cliche in praising these apparently innate qualities of Italians. As is often the case with such statements, though, there is usually some degree of substance to it.
"They are Italians and know how to defend well," he said. "They are specialists in this."
There is a line of this. At one moment in the second half, for example, Giorgio Chiellini offered an intervention that we have seen an infinite amount of times before in everyone from Claudio Gentile to Fabio Cannavaro, in the way he just looked to get any bit of his body on a Messi attempt to thereby just do enough to get it away. It of course succeeded. And it was of course relished by Chiellini.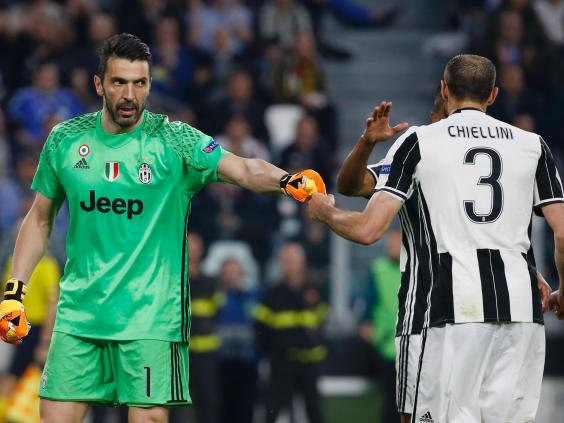 That was the other conspicuous feature of this masterclass feat. The Juventus players like Chiellini and Leo Bonucci were fully enjoying the challenge. They savoured it.
This was great defending distilled, and to be highly respected, especially in a football world where most modern centre-halves are primarily ball-players rather than ball-winners and the general tone of the game is so much more open. The rareness of this kind of resilience can therefore be a significant advantage; an unusually unused weapon in the arms race the Champions League is. Barca didn't really know where to go against Juventus, and it was telling that so many of their best opportunities were actually from outside the box or close to it, like either of Messi's two efforts that just went wide. And while it might have changed things had either of those or the few more close-range opportunities gone in, Juventus just never looked like would panic. Their lead was too great, their assurance too great.
That was no doubt aided by another key quality and point about this Juventus. They are far from just a strong defence, and have a hugely potent attack, that they consciously looked to pin Barca back with at the start of the game. That no doubt helped in taking some of the sting out of the Catalans, and ensuring there was even less of a chance of them hitting the tone-changing early goal that they did against Paris Saint-Germain.
We started attacking because we knew it was the most important part of the game," Allegri explained. "We then sat back and had our chances."
It also meant there was always something to fear, even if Paulo Dybala wasn't at his sensational best.
That alone shows Juve can be even better than this, more complete. Allegri feels they are more complete than two years ago, when Barca of course beat them in the final itself.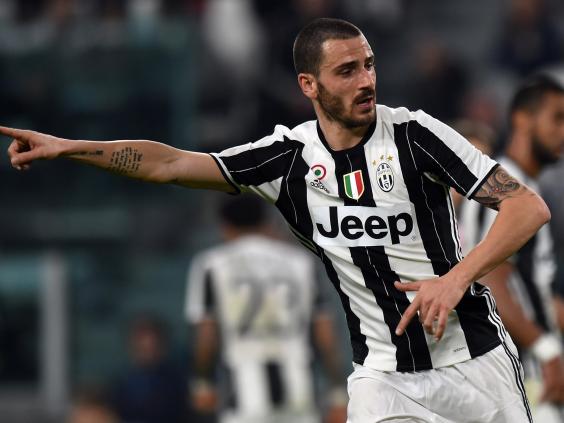 "There's been a growth at Juventus in general. In the atmosphere. Juve needs to get used to playing with serenity. One year can go well, another bad. You need to go into these games with the idea you can win. You need to play games, try to improve."
They certainly played with serenity in that defence, and it looks like it is going to cause a lot of frustration for anyone else.
It may well mean they make that last great step forward, to at last become European champions again.
This defence does not rest.
Reuse content