Juventus are going to the Champions League Final.
Thanks to a difficult and intense battle against reigning holders Real Madrid, Turin's grand Old Lady is now just one game away from a stunning triumph. Perhaps discounting the quarter-final match-up with AS Monaco, few gave Juve hope of progressing through each of the knockout rounds, yet they have continued to advance against the odds and amid huge doubts over their ability to compete.
There was a time in the late 1990s that this accomplishment would not be as shocking as it is in 2015, but this is a club who are unrecognisable since their last appearance in the showpiece of European football's elite competition.
Real Madrid 1 Juventus 1 player ratings
Real Madrid 1 Juventus 1 player ratings
1/22 REAL MADRID: Casillas 7

The Spaniard was excellent when called upon tonight and showed his experience to keep the back four composed as Juventus pressed for an away goal. Couldn't do anything about the goal.

2/22 Carvajal 7

Carvajal was steady tonight and looked to get forward whenever he could to help the attacking cause. Provided great deliveries from wide positions.

3/22 Varane 7

The young centre back improved hugely from his dismal display in the first leg. He didn't give Morata a moment's peace and showed his potential on the big stage.

4/22 Ramos 7

Looked more comfortable in his familiar centre back position and held his own well against the in-form Tevez. Showed his importance at the heart of Madrid's defence.

5/22 Marcelo 7

After a night to forget in Turin, Marcel was back to his best at the Bernebeu. Defensively sound but gave great support to Ronaldo on the left flank.

6/22 Isco 7

The young Spaniard showed his class tonight, pressing high on the Juventus midfield and finding space in front of the back four on a regular basis.

7/22 Kroos 7

As always, Kroos was assured on the ball and looked to get things going from deep. Finally filled the void left by Luka Modric in the midfield.

8/22 James 7

He may have gone down easily for the penalty but the Colombian was a nuisance in his favoured central midfield role. Found the gaps constantly.

9/22 Bale 6

Although he wasn't at his majestic best, Bale showed some improvement on his first leg performance. Still seemed quiet and low on confidence though.

10/22 Benzema 7

Benzema showed Madrid what they were missing in the first leg; a focal point. Stretched the Juventus back four and linked up well with the midfield.

11/22 Ronaldo 7

Constantly tried to get Madrid going even if it didn't come to fruition. Scored the first goal and but cut an incredibly frustrated figure in the second half.

12/22 JUVENTUS: Buffon 7

The Italian veteran had another vintage display tonight. Pulled off countless world class saves to keep Juventus in the tie.

13/22 Lichsteiner 7

The full back struggled to deal with Ronaldo defensively but showed his attacking prowess with some mazy runs down the flank.

14/22 Bonucci 6

Didn't make a single tackle in the first half and it showed. The experienced defender was overrun in the second leg and should've been punished more often.

15/22 Chiellini 6

Ridiculous challenge on Rodriguez for the penalty but recovered well in the second half to give his side some sort of control.

16/22 Evra 6

Showed that he can still play at this level marking Bale out of the game for much of the second leg. Looks to be a key figure in the Juventus squad.

17/22 Marchisio 7

His industrious work ethic and perfectly timed runs from midfield made him a nuisance for the Madrid defence. Should've had a brace to himself.

18/22 Pirlo 6

Wasn't at his best tonight but gave Juventus what they needed when holding onto their lead; composure in possession. Made up for his lack of legs with his positional intelligence.

19/22 Pogba 7

The Frenchman held his own at the Bernebeu and showed the world what he's all about. Did his bit for his team's defensive effort but didn't show as much creative prowess as we've grown accustomed to seeing from him.

20/22 Vidal 7

Worked tirelessly in a trademark performance for the Chilean. Kept the ball well when others around him were feeling the pressure.

21/22 Tevez 8

The diminutive forward continues to take his game to another level. Led most of Juventus's counter attacks even if he was more of a provider than a direct goal threat.

22/22 Morata 8

The ex-Madrid man played his part in both legs and tonight put the final nail in the holder's coffin. Great finish under pressure.
Indeed, since losing on penalties to Milan back in 2003, Juventus have been stripped of two league titles and relegated to Serie B. They won promotion within a year of that punishment – imposed as they were identified as the main beneficiaries of the Calciopoli scandal – and even finished as runners up in their first season back in the top flight. Sadly the club and it's ageing squad were grossly mismanaged, relying far too heavily on the likes of Pavel Nedved and Alessandro Del Piero who could no longer carry them as they once had.
There were brief flurries of course – a 2008 win at the Bernabeu foremost among the glimpses of that undeniable talent – but the drastic changes needed to transform them back into a genuine force never arrived. The management and boardroom structure underwent a huge overhaul in the summer of 2010, but as the club lurched to its second successive seventh-place finish the following season, few could predict what was to follow.
Antonio Conte's arrival as coach was perfectly timed, coinciding with not just the opening of Juventus Stadium but also the maturation of a number of key players. Leonardo Bonucci, Claudio Marchisio and Giorgio Chiellini were ready to form the spine of a title contender, and the addition of Arturo Vidal alongside Andrea Pirlo gave them an injection of real quality in midfield. With no European football to distract or tire them, they went through the entire campaign undefeated to clinch the first league title of this new era.
Two more titles have followed and as the best sides always do, they strengthened along the way with the likes of Fernando Llorente, Patrice Evra and Paul Pogba, but no player has had more impact than Carlos Tevez.
Leading scorer in each of the last two seasons and an undeniable force each time he steps on the field, that he wears the number 10 shirt once so synonymous with the class of Del Piero should be jarring. Yet there have been none of the problems or issues which previously littered the career of the Argentinian star as, simply put, Tevez has been a revelation.
A genuinely gifted player who never receives the praise his talent deserves, his incredible workrate somehow overshadows his ability and reputation rather than enhancing it. His arrival could not prevent the strange juxtaposition that last season became however, the club meekly crashing out of the Champions League at the Group Stage while romping to a record points tally (102) in Serie A.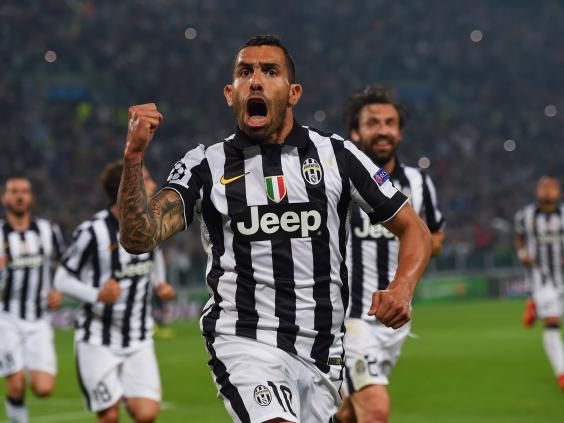 Believing Juventus lacked the necessary financial strength to compete with the continent's truly giant clubs, Conte walked away, famously quipping that the Bianconeri "could not eat at a €100 restaurant with just €10 in their pocket." As an analogy it was fantastic, but it was one his players chafed at, and its impact upon this season's results has perhaps been somewhat overlooked, the former coach inadvertently providing one last inspirational message to the squad he left behind.
Max Allegri was appointed the very next day, a stunning decision given he had been sacked by Milan just six months previously, but Director General Beppe Marotta and his colleagues were convinced the Livorno native was the right man. The coach understandably retained many aspects of what made the side so successful before his arrival, but added some tactical wrinkles of his own which have delivered incredible results.
Still able to deploy the defensively solid 3-5-2 formation which defined the team under his predecessor, Allegri allied that with what he labelled a "4-3-and then we'll see" framework which gave much greater freedom in attack. New signings Alavro Morata and Robeto Pereyra have thrived under a system which has also brought an even greater contribution from Tevez, who now has 50 goals in 93 appearances for Juventus.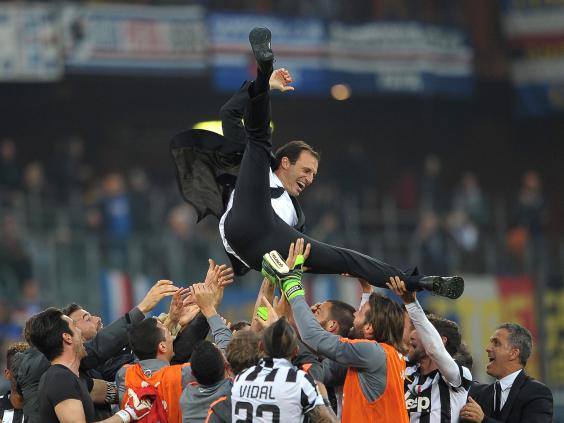 They remain resolute at the back, with Cristiano Ronaldo's penalty marking just the seventh time Gianluigi Buffon has been beaten in the Champions League this term, but the strength of this side remains in midfield. Providing cover for the defence and always contributing to the attack, the speed at which Marchisio, Pogba and Vidal can transition between those two phases often stuns opponents, many finding themselves overwhelmed by their lethal combination of skill and athleticism.
Supporters had initially railed against the new coach, but as Allegri slowly won them over, it was clear that a number of key figures believed they could achieve something truly special thanks to his guidance. "The change of coach gave Juventus something more, because in the first two months of the season we wanted to prove that we were still the best," veteran defender Chiellini told reporters after they eliminated Borussia Dortmund from the Champions League.
"We are grateful to Conte and recognise everything he did here, but we also want to prove to everyone and, above all, to ourselves that we are a great team."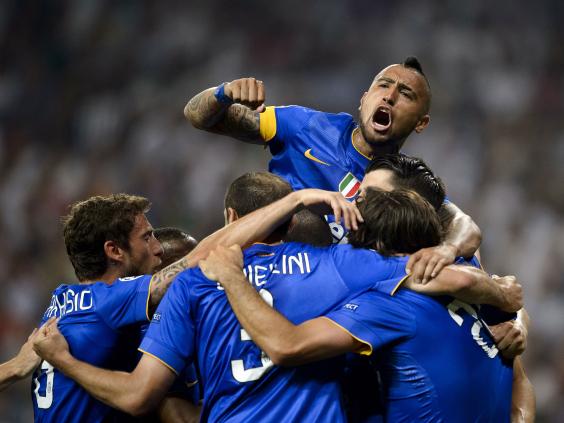 They have now done that, clinching a place in the Coppa Italia final and winning their fourth consecutive Serie A crown, with Wednesday's 3-2 aggregate victory over Real Madrid keeping their hopes of a remarkable treble alive. The Italian giants will rightly be underdogs once more when they kick off against Lionel Messi and Barcelona on 6 June, but they have players who know just what it takes to deliver on the biggest of occasions.
Victory over Real Madrid seems to have almost completed a number of circles, with Carlo Ancelotti having been in charge of the Milan side which bested the Bianconeri in their last final appearance, while Uefa's choice of this year's venue could not be more apt. As Calciopoli rocked the domestic scene in that fateful summer of 2006, the likes of Buffon, Pirlo and Andrea Barzagli helped Italy lift the World Cup at the Olympic Stadium in Berlin.
They will now return, and as he spoke to the media on Wednesday night, the club captain is intent on now winning the one trophy missing from a glittering career. "It seemed like destiny, but it really did go the way we hoped," a delighted Buffon told reporters.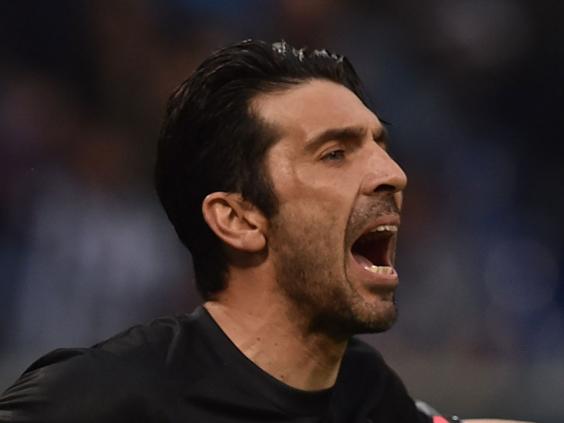 "Mind you, we mustn't go there to be tourists. We are there to play a game that means a huge amount for all of us. "I am so proud of my team-mates, of all the work we've done and the journey we've made." It's not over yet, as Max Allegri and his players have one last trip to make in a season which has exceeded all expectations.
Reuse content