Patrice Evra says that he will shake Luis Suarez's hand tonight before Juventus face Barcelona in the Champions League final, and is not interested in any apology from the Uruguayan striker after being racially abused by him four years ago.
Back in October 2011, Suarez, then of Liverpool, was charged with and found guilty of racially abusing Evra, then of Manchester United, in the 1-1 draw at Anfield.
The striker was banned for eight games and fined £40,000 for the incident.
Then a week after Suarez had returned from his ban, when the teams met at Old Trafford on 11 February 2012, Suarez refused to shake the hand of Evra during the traditional pre-match handshake.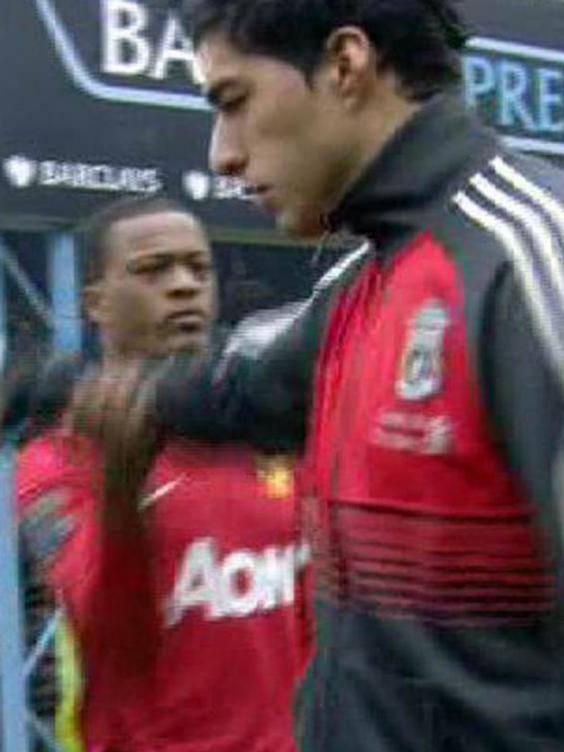 Evra, however, says that he will shake Suarez's hand tonight, and does not want an apology. 
"I don't want his apologies," Evra told ITV. "It doesn't matter, it's no problem for me. But when we are going to play the game, I will shake his hand. He will never be my best friend, but this is not a problem.
"The past is the past. I am really proud of my colour and I will shake his hand like I did with Manchester when we play against Liverpool. My game is against Barcelona, it is not against Luis Suarez, but I will make sure he will feel me on the pitch.
Juventus vs Barcelona combined XI
Juventus vs Barcelona combined XI
1/11 GK: Gianluigi Buffon

The veteran keeper, 37, is still one of the world's best and has again been a mountain of strength for Juventus this season. The Champions League is just about the only medal missing from his glittering career. Marc-Andre Ter Stegen is a huge talent, but has a long way to go to reach Buffon.

Getty Images

2/11 RB: Dani Alves

It seems odd that Barcelona would get rid of their rampaging full-back, his bursts forward from the right have been a signature of the team's style since 2008. Stephan Lichtsteiner provides a similar role for Juve (in both style and temper) but isn't close to the Brazilian's level.

3/11 CB: Leonardo Bonucci

Just look back to his towering performances in the two semi-finals against Real Madrid for evidence that he is among the elite in his position. Bonucci is a ferocious defender and without Giorgio Chiellini, will need to be even better to keep out Barcelona. Javier Mascherano has again been utterly superb for Luis Enrique's team, but Bonucci gets the slightest of nods.

4/11 CB: Gerard Pique

After a period out of the team and seemingly more interested in his fame off the pitch, Pique has returned to his perch as one of the world's best. Perfect for this team, his only weakness is a slight lack of pace. Andrea Barzagli is an extremely willing defender, but is on the decline at 34 and may not have played but for Chiellini's injury.

Getty Images

5/11 LB: Jordi Alba

Patrice Evra remains as strong-willed a competitor as there is in football, but he is ageing and not the force he once was. Alba on the suffers appears a bit of a weak link, but he is lightning quick when recovering and a canny defender. Would probably play as a winger in lesser teams such is his talent as an attacker.

6/11 CM: Andrea Pirlo

A hard decision between the ugly necessity of Barca spoiler Sergio Busquets and the majestic beauty of Andrea Pirlo - that's a serious point, Barca couldn't function without their No 5. But Pirlo is just so good on the ball, so brilliant a passer that he has to be in the team, even though he can't run.

Getty Images

7/11 CM: Arturo Vidal

Many people will plump for Paul Pogba in this spot and there is a huge case to be made for the Frenchman, probably the best young player in the world. But whilst Pogba is the future, the tenacious, maniacal Vidal is the present. He absolutely never, ever gives up and gets around the pitch so much there seems to be more than one of him. Not only does he lead this team with his work rate, he makes up for Pirlo's age and also has great talent on the ball.

Getty Images

8/11 CM: Andres Iniesta

The little master is an automatic choice, even if some think he has fallen down a level in the last 18 months. He still possesses the ability to go past a player and find that killer ball like no other - it may not show up in the assist or goal charts but Iniesta is the man that makes this team tick. Ivan Rakitic has been excellent for Barca this season as well.

GETTY IMAGES

9/11 FW: Lionel Messi

Nothing to say beyond perfection.

Getty Images

10/11 FW: Luis Suarez

After some teething problems (mind the pun) at Barcelona, the striker has settled in so well at the Nou Camp, revolutionising the way the team plays. He works as any player in world football and has an unselfishness that has allowed both Messi and Neymar to flourish again.

Getty Images

11/11 FW: Carlos Tevez

It would be very tempting and perfectly reasonable to keep Barca's front three together but Juventus will live and die in the final with Tevez. He is the soul of the Old Lady and their first option. Neymar is a stunning talent, of course and the trio have 120 goals (!) between them this season - direct your fury in the comments box below, if you so wish.

GETTY IMAGES
"I didn't say to the judge [of the race row case] that Luis Suarez is a racist person," Evra continued. "I just say in that moment he have some racist comment.
"I didn't go there and say now 'you have to punish him, he is a racist person'. I don't know that because I don't know Luis Suarez very well to talk about it.
CHAMPIONS LEAGUE FINAL: FIVE BEST BETS
"But I controlled myself, I behaved myself, because in that moment I remember, it was like a voice inside my head – "don't do nothing stupid, don't do nothing stupid, don't punch him or do something stupid because a lot of people are watching this game". For some kid, you have to show the example.
"If I do something wrong, maybe today I won't be playing the final of the Champions League – I will get maybe a three-year ban or something like that. Sir Alex Ferguson after the game, and all my team-mates, they saw my face. I was in another galaxy in that moment.
"A lot of things were happening in my head. It was a really difficult day, but I was really proud of myself."
Reuse content