Leicester winger Riyad Mahrez insists the Foxes can handle any Champions League pressure as they bid to reach the last 16.
The Premier League defending champions, who sit top of Group G, host Club Brugge on Tuesday needing just a point to qualify for the knockout stages.
Mahrez scored twice in September's opening 3-0 win in Bruges after which boss Claudio Ranieri said the Champions League music had woken him up after a slow start to the season.
The Algeria international is yet to recreate his European form - where he has three goals and one assist - in the Premier League though as he and the club struggle with the Foxes just two points above the bottom three.
They have lost twice as many games, six, as they did in last season's title-winning campaign but Mahrez is relaxed about their Champions League hopes even if they are without the injured Islam Slimani for this match.
He said: "I don't think we feel the pressure, we just have to perform to win the game. Whether it be Champions League or Premier League, it's the same.
"I enjoy the Champions League like the Premier League. When I was younger we wanted to play in the Champions League and now we are playing in this and we are doing well.
"There is no special game for me because all the games are important and I enjoy all the games.
"We are winning the games in the Champions League. Obviously when we win there are some players who come on to the team and score goals. Islam scores goals and we defend very well with zero goals conceded, so when we start to win in the Premier League as well everyone will be better."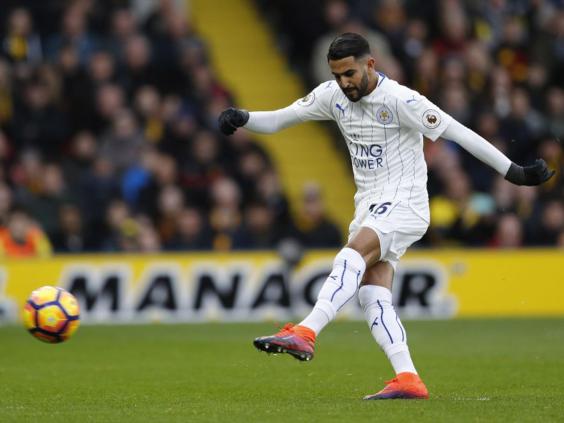 Mahrez was linked with a move away from Leicester after they won the title last season but signed a new four-year deal in August and insisted he was happy at the King Power Stadium.
"Yes, I'm good," he said. "Even when there was speculation I didn't follow the newspapers too much.
"If I wanted to stay in Leicester it's because I wanted to grow up with this team, play the Champions League and carry on. I'm happy to be here. If you listen too much to people saying, 'Riyad is good', you don't play football you'd just listen to people."
Brugge are bottom of Group G having lost all four games and former Middlesbrough forward Jelle Vossen feels they are being treated as a laughing stock.
He said: "It's never nice to be on zero points, overall we deserve more than that. It's a pity we are on zero points, it's something some people are laughing at and it's something we want to get rid of soon."