Everton's goalless draw with Lille was overshadowed by violence before the match which resulted in French police targeting fans with tear gas in the city's main square, ahead of their Europa League match.
A spokesman for Merseyside Police, which has liaison officers in Lille, said trouble had started when French police chased someone into the square where Everton supporters had congregated. The chase led to a confrontation and riot police were deployed, he said.
The spokesman confirmed CS gas canisters had been fired, but said reports of rubber bullets and baton rounds appeared to be inaccurate.
Images also appeared on Twitter of supporters having congregated en masse at the square prior to the trouble, and of the French police then arriving and gas having been set off.
It is understood the police later withdrew from the area and the atmosphere in the square became relatively harmonious once again.
The incident came after two fans were hospitalised following an attack on Everton supporters by a group of men at a bar in Lille on Wednesday.
A statement issued by the club this morning said: "The club has been made aware of an isolated incident on Wednesday evening in which a number of Evertonians were attacked by a group of around 50 local men.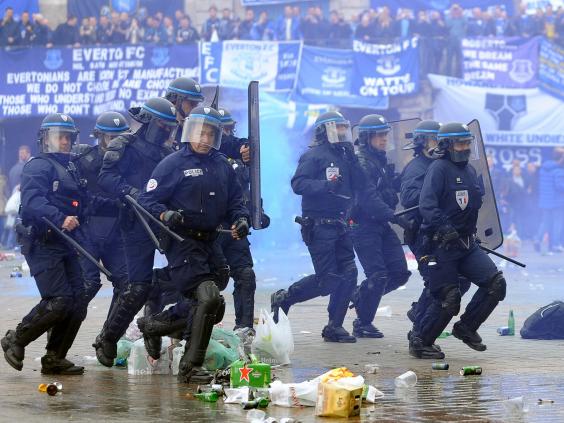 "The club understands that two Everton fans suffered minor facial injuries and were taken to the local hospital and that this was the only incident in what was otherwise a  good-natured evening in the city centre.
A doorman for the bar, who said the attack had been unprovoked and suggested the group instigating it consisted of up to 100 people, told the Liverpool Echo: "The Lille hooligans just appeared from the Place Louise de Bettignies across the road, from a side street, and just ran at the pub.
"There were some Everton fans outside smoking and they got caught cold. The hooligans picked up chairs we had stacked up outside and attacked them, while others used them to smash windows and try to get inside."
After the game the Everton manager, Roberto Martinez, was full of praise for the club's fans. "I heard something was reported, but don't know any details about it," he said, alluding to the trouble. "I can only speak from my point of view and the first thing I feel is immense pride and an incredible feeling of seeing what we are as a football club.
"The support doesn't stop amazing me day to day – it is incredible. I have seen full families coming across, some without tickets just wanting to be near the hotel and wish the players well.
"It really meant something for thousands of them, and you keep getting closer to understanding what the Evertonians deserve.
"I would say this will be an incredible memory and that we will be talking about this trip for a long time."
Everton remain top of Europa League Group H after this stalemate. Lille nearly took the lead in the first half when Idrissa Gueye shot wide. Aiden McGeady went closest to breaking the deadlock for the visitors when his effort spun off the hosts' goalkeeper Vincent Enyeama and was cleared.
Lille Enyeama; Beria, Basa, Kjaer, Souare, Balmont, Gueye,Mavuba (Martin, 86), Corchia, Rodelin (Mendes, 73), Origi. Substitutes not used Elana, Frey, Sidibe, Rozehnal, Roux.
Everton Howard; Hibbert, Jagielka, Distin, Baines, Barkley (McCarthy, 89), Barry, McGeady (Atsu, 82), Pienaar (Lukaku, 64), Besic, Eto'o. Substitutes not used Robles, Gibson, Coleman, Alcaraz.
Referee M de Sousa (Portugal).
Reuse content