Manchester City were last night given grounds for encouragement in their vital Champions League clash with Barcelona after the Spanish side's coach Luis Enrique refused to defend Lionel Messi and Gerard Pique over a late-night casino visit made hours before their flight to England.
Pique last night asserted his right to be with Messi and Cesc Fabregas at the casino, in the basement of the Hotel Arts building on the Barcelona sea front. "It is my private life. We just had a nice time there," the defender said. 
Messi's justification for visiting a casino 11 hours before the Barça squad's flight to Manchester is thought to be that he was visiting Fabregas, the Chelsea player, who has an apartment in the complex. While this is not likely to become a disciplinary issue, the coach was clearly not happy to be confronted with it on the eve of the most important game of the season so far.
Asked about the casino visit, Enrique initially poured scorn on his questioner, who was British, suggesting that he might be from one of the two Spanish radio  stations which he considers to be trouble-makers. The coach then asked: "What did the player say?" When told of Pique's defence, he said: "I concentrate on football not stuff outside it. I am not interested."
Manchester City vs Barcelona - combined XI
Manchester City vs Barcelona - combined XI
1/11 GK: Joe Hart

England's No 1 has undergone another mixed season under Pellegrini, but just takes this spot because Barcelona have a bit of confusion between the sticks. Claudio Bravo tends to start in the League and Marc-Andre Ter Stegen in the cup competitions; whether this continues into the last-16 is not yet known.

2/11 RB: Pablo Zabaleta

The city right-back is easily in the top five at his position in the world. Equally capable in defence or attack, Zabaleta plays with a lot of heart and courage, making him a firm favourite among City fans. At one time Dani Alves was considered the best in the world, but the Brazilian has always been a bit of a liability defensively and, at 31, his influence as an attacker is just starting to dwindle.

Getty

3/11 CB: Vincent Kompany

The Belgian has certainly declined from his dominant peak a couple of years ago, but he is certainly good enough to get into a Barcelona team that has used converted midfielders Jeremy Mathieu, Javier Mascherano and Sergio Busquets in defence at times this season.

GETTY IMAGES

4/11 CB: Gerard Pique

Pique remains Barcelona's best defender, though he too is a shell of the player that was arguably the world's best a few years ago. The Spaniard has been in and out of the team this season but usually saves his best performances for the biggest matches.

Getty Images

5/11 LB: Jordi Alba

Jordi Alba is a supreme attacking threat and is now more influential to this side than Dani Alves. Gael Clichy is good enough for City in the League but will be seen as a weak point by the visitors.

Getty Images

6/11 CM: Javier Mascherano

He may not be quite as good as Roy Hodgson (who voted him first in the Ballon d'Or) thinks he is, but Mascherano is still one of the very best defensive midfielders in world football. He also plays a crucial role in Luis Enrique's 3-4-3, acting as another defender when Barca are under pressure. Much better than either Fernando or Fernandinho.

Getty Images

7/11 CM: Ivan Rakitic

If Yaya Toure were not suspended for the first game then this would be his spot but City will have to do without their most influential player for the first leg. Rakitic has been so good this year that the decline of Xavi, who will likely start from the bench, and loss of Cesc Fabregas has barely made an impact.

Getty Images

8/11 CM: Andres Iniesta

Another tough decision to include Iniesta over Samir Nasri, who has been brilliant in recent weeks. The Spanish maestro has been far from his best in this season but still has enough in the tank to be a potential match-winner.

Getty Images

9/11 LW: David Silva

This is where it starts to get tough. Neymar is finally living up to his huge hype and has 24 goals in 30 matches already this season. The Brazilian scored 10 goals in Barca's recent 11 match winning streak, providing a brilliant foil to Lionel Messi. With Toure out, David Silva now has to become City's main creator - his performance will define the first leg. City fans will be hoping he can reproduce what he did against Newcastle.

Getty

10/11 RW: Lionel Messi

Probably the easiest choice in this side, Messi is undoubtedly one of the top two players in the world. There wouldn't be many who don't select Messi in their dream team.

Getty Images

11/11 ST: Sergio Aguero

Last season, choosing Aguero over Luis Suarez would have been blasphemy. But the Uruguayan has really struggled at Barcelona, scoring just seven goals in 22 matches this season and generally failing to gel with his star-studded team-mates. Aguero appears to have gotten over his small slump to fire three goals in his last two matches.

Getty
Enrique's press conference revealed his irritation with questions about Barcelona's morale. When asked about the strength of team spirit, after the defeat to Malaga on Saturday  which followed 11 successive wins, he replied: "Very nice friendly question, on the same lines as always."
Yet his relationship with Messi has certainly been strained, with the three times Ballon d'Or winner declaring last month that his future might lie beyond Spain. Enrique, 44, a club legend during an eight-year career as a midfielder at the club, did not agree with the view – voiced by Messi last week – that an improved atmosphere behind the scenes has improved Barcelona's form. "I am not interested in creating problems and so I am not going to discuss it further," he said. "If he thinks that way then it is fantastic."
 Enrique admitted at last night's press conference that harmony at the Nou Camp was difficult to maintain. "This is just the environment we find ourselves in," he said. "[It] is the fans, the surroundings of the club, ex-players, it is difficult to evaluate that…. You sometimes need extra things at this club to decorate the tree of life. I just need to concentrate on football. Everyone has their own strategy."
Enrique's press conference shattered the usual serenity which accompanies Barcelona on occasions like this. Midfielder Samir Nasri said earlier in the day that his side had shown Barça too much respect in losing last season's Champions League round of 16 game 2-0 at the Etihad and that they were "not going to be scared" this time around.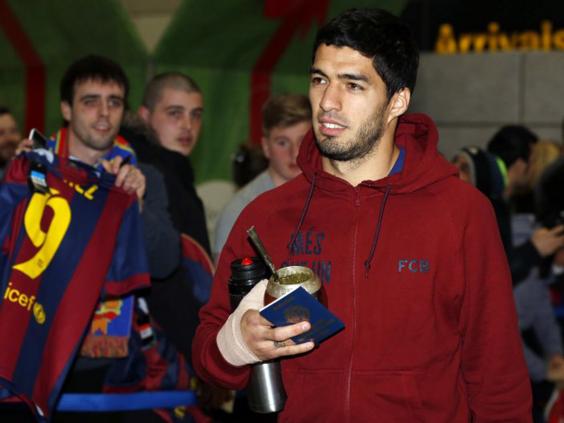 City manager Manuel Pellegrini, who said James Milner would be fit, denied that he been tactically too cautious in that game. But Nasri disagreed, insisting that the club must show more ambition and less respect as they faced the same opposition at the Etihad.
"Yeah, I think we respected them too much but at the same time last year we were not experienced to compete with a club like this," Nasri said. "With their history, they know how to play in these kind of games and know how to win the Champions League. For us it was the first time that we went through the group stage and I think it was too much of a big game for us and we were not ready yet. I think that this year is totally different because we know what we are capable of. We are going to respect them as a club but we are not going to be scared, we're just going to play and try to win."
City have never beaten a top European side in this competition when there has been something at stake for the opposing side and Nasri said that they needed to defeat Enrique's side to engender a love of the Champions League for their own supporters. He admitted City fans had not fallen in love with the  competition.
Reuse content