He's the best player in the world right now, earning in excess of £300,000-a-week plying his trade at the Nou Camp.
But while he is an absolute artist on the pitch, the kind of player you can't keep your eyes off, Lionel Messi's fashion sense leaves a lot to be desired.
Pictured after playing a starring role in his team's crucial 2-1 victory over fierce rivals Real Madrid in El Clasico on Sunday night, Messi posed for a picture alongside team-mates Adriano, Douglas, Dani Alves, Neymar and Rafinha.
But while his five teams at least appeared to be trying with their fashion choices (Dani Alves' gold shoes get a big thumbs down), Messi looks like he is a spotty-faced teen who got dressed by his mum for a big meeting with the school careers advisor.
From the bottom up his shoes look way too bulky, baggy trousers haven't been cool since about 2001 and his black jumper/grey shirt combo is a classic 'my mum bought this' look.
The Independent's online fashion reporter Linda Sharkey cast her eye over the picture for us Neanderthals on the sport desk - and she actually preferred Messi's 'boring' look compared to his recent Ballon d'Or fashion faux pas.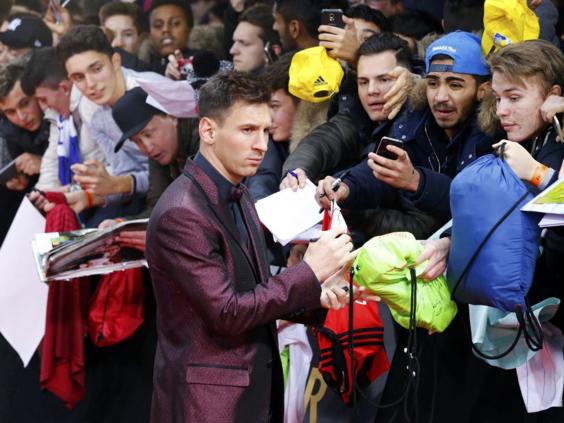 She said: "This group shot is confusing, there is so much going on… Maybe these were the only garments left in their lockers and had to mix everything up?
"The golden shoes on Dani Alves are impossible to ignore, and so is that tight denim blazer on Adriano (is blood circulating through those arms?), but it is Messi who fails to impress.
"And in this case, that's a good thing. The Argentinian star's fashion sense has always been questionable and besides that maroon tuxedo he wore for the Ballon d'Or (above), he rarely dares to play with his wardrobe. He might be too young to wear such boring attire, but I'd rather go for a simple grey look, than red trousers and shiny shoes."
Reuse content