The debate has been raging for almost a decade.
Seemingly nothing can separate Lionel Messi and Cristiano Ronaldo, two of the best players to ever play the game of football.
Both have comparable goal scoring records, both have won numerous titles and both have a number of individual honours.
In fact, the only real way to separate them seems to be by personal opinion, or by their form over recent weeks.
Lionel Messi vs Cristiano Ronaldo - all-time stats
Lionel Messi vs Cristiano Ronaldo - all-time stats
1/6 Career club appearances

Cristiano Ronaldo: 636

Lionel Messi: 492

Getty Images

2/6 Career club goals

Cristiano Ronaldo: 449

Lionel Messi: 418

Getty Images

3/6 International record

Cristiano Ronaldo: 123 caps, 55 goals

Lionel Messi: 105 caps, 49 goals

GETTY IMAGES

4/6 Ballon d'Or

Cristiano Ronaldo: Three-times winner

Lionel Messi: Four-times winner

Getty Images

5/6 Career honours - Cristiano Ronaldo

League titles (England, Spain): Four Domestic cups (FA Cup, League Cup, Copa Del Rey): Five Champions League: Two Club World Cup: Two Uefa Team of the Year: Nine Premier League player of the season: Two Spanish player of the year: One Ballon d'Or: Three

Getty Images

6/6 Career honours - Lionel Messi

League titles: Seven Domestic cups (Copa Del Rey): Three Champions League: Four Club World Cup: Two Uefa Team of the Year: Six Spanish player of the year: Five Ballon d'Or: Four

Getty Images
After Barcelona's win against Real Madrid everyone thinks Messi is the best in the world again, but back in October when Real Madrid dominated Barca on their way to a 3-1 win, Ronaldo ruled the roost.
But now The Economist has entered the row and seemingly found an answer to the question of who is better.
In a nutshell, their argument is thus: "... not all goals are created equal: their value depends entirely on the context in which they occur. Some land in the 90th minute of a 1-1 tie and secure a win all by themselves; others are tacked on at the same point in a match once a team is already up 3-1."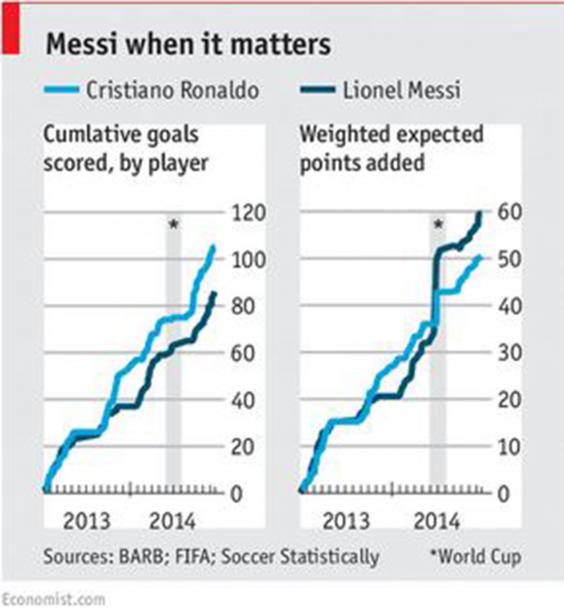 The full article argues that scoring the winning goal in a tightly contested match is of more value than a bonus goal with your side already heavily up - and that over the last two years (their sample size) Messi's goals have been 'worth' a lot more than Ronaldo's, even though the Portuguese has scored 105 to the Argentinian's 86 (goals from La Liga, Champions League and the World Cup).
Using their 'EPA' metric, Expected Points Added, which boils down the minute a goal is scored, the importance of the match and the context of the match (whether the goal was important) into a percentage and then a single number, each of Messi's goals are worth more - 59.5 EPA, compared to 50.4 for Ronaldo.
The article stipulates that goal scoring, of course, is not the only aspect of a match that decides its outcome, defensive play and the ability to create for team-mates has not been taken into account.
But from a purely goalscoring perspective, it would appear that Messi has the upper hand, even if on paper it appears as if Ronaldo has scored more in recent years.
Reuse content