For Rafa Benitez, reliving the occasion in his book Champions League Dreams, it was "the first great European night I experienced at Liverpool". It was the night of 8 December 2004 – 10 years ago on Monday – and it was the last time Anfield witnessed the kind of win-or-bust scenario that awaits Brendan Rodgers' side against Basel on Tuesday evening.
Benitez's team kicked off their final group game against Olympiakos needing to win by two clear goals to reach the Champions League's knockout stage. The following May's final in Istanbul was not even a pipe dream for a side labouring in seventh place in the Premier League and three points behind Olympiakos, who had beaten them 1-0 in Greece.
Liverpool's task was made all the harder when a Rivaldo free-kick flew through a gap in the defensive wall after 27 minutes, meaning that, as would happen so famously against Milan in Istanbul, they went in at half-time requiring three second-half goals. Yet what followed, says Florent Sinama Pongolle, one of the heroes of a fightback that set the tone for Liverpool's improbable journey, "was the perfect night".
It is a night best remembered for Steven Gerrard's brilliant 25-yard goal that capped the comeback but the contributions of substitutes Sinama Pongolle and Neil Mellor underline how Liverpool's fifth European Cup win was very much a squad effort. Gerrard in his autobiography speaks of Benitez's "magic touch with subs" and it was Sinama Pongolle, a pacy, wide attacker replacing the full-back Djimi Traoré at half-time, who got Liverpool's first goal within 120 seconds.
Speaking to The Independent from Miami, the Frenchman remembers it as "probably my best" Liverpool performance. "I was 20 years old and thinking [Benitez] has put me in to change the game. [I felt] no stress, no pressure. The younger you are, the better it is because you just play without thinking."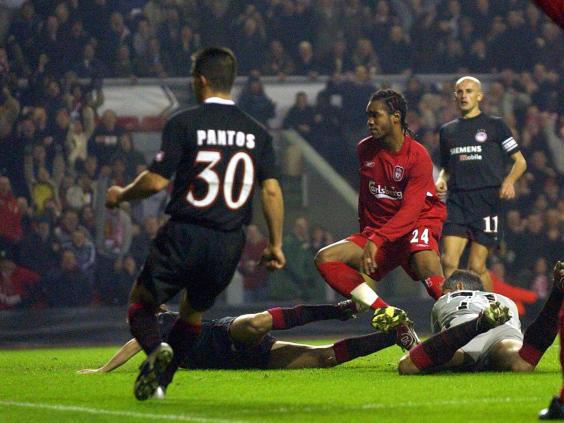 Sinama Pongolle, signed by Gérard Houllier after France's 2001 Under-17 World Cup triumph, only ever scored four league goals for Liverpool yet, crucially, was in the right place at the near post when Harry Kewell crossed low into the six-yard box. Often told off by his coaches for his wrong choice of runs, he had "thought I need to go there or I'll get into big trouble". His next thought? "Wow, 47 minutes gone, anything is possible."
It was one of those nights with Liverpool when that really did feel the case. "The atmosphere was just crazy," Sinama Pongolle continues, and Mellor has a similar memory. "We were attacking The Kop and you felt like everyone was urging you on," he tells The Independent. "The energy in the stadium was something quite unique."
Mellor also struck within two minutes of his arrival, in his case as a 78th-minute replacement for Milan Baros. A prolific scorer for the reserves, the 22-year-old had hit his first league goal 10 days earlier – a last-minute winner against Arsenal – and scented another. "At half-time I remember Jamie Carragher going around, saying 'Come on, we can do this'. I was thinking 'I can't wait to get on because I know there's going to be a chance'." When Sinama Pongolle crossed and Olympiakos goalkeeper Antonis Nikopolidis blocked an Antonio Nuñez header, Mellor buried the loose ball.
"Nuñez probably should have scored at the back post, the keeper saved it and it fell nicely," says Mellor, who then teed up Gerrard's decisive 86th-minute drive with a cushioned header. At half-time Benitez had identified space to exploit outside the box and Mellor can "remember nodding it down into space knowing that Stevie could come on and have a shot".
Gerrard was a source of inspiration, adds Mellor, as "his standards were so high you had to raise yours to a level to try and get close" and a decade on he expects the Reds' captain to play a central role once more against Basel. "This is a new experience for many of [Rodgers' team] and he will certainly be a big help on the pitch and also in the changing room before."
On Monday Liverpool's website featured a top 10 of Gerrard's last-gasp goals – but for his two fellow scorers there would be no repeat of their heroics. Neither figured again on the road to the final and both were injured spectators in the stands in Istanbul. For Sinama Pongolle, still only 30 and seeking a club after his release by MLS side Chicago Fire, Istanbul was a bittersweet moment. After a career that has included stints in Spain, Portugal, France and Russia, so too is the memory of what he had at Liverpool. "[I have] a lot of pride as I was part of it but also the wish to be back at the top, where I knew [nights like] this." 
Mellor, now an analyst for Sky, scored just one more Liverpool goal and ended up retiring because of a knee problem at 29, after spells at Preston and Sheffield Wednesday. He is simply glad to have lived that famous night a decade ago. "Throughout my career that was the moment which was the most enjoyable; that was the best atmosphere I ever experienced." Liverpool will need something similar tonight.