Liverpool's Europa League campaign began much as their brief season in the Champions League had done, with a narrow win and a goal from Mario Balotelli.
In September, the Italian's goal against Ludogorets Razgrad had proved the fakest of false dawns but five months on, Balotelli is beginning to look like he belongs at Anfield. When, with time all but drained away, Jordon Ibe broke through Besiktas's impressive defensive lines and was brought down inside the area, Balotelli took the ball from his captain, Jordan Henderson, and placed it on the spot. He would not have done so had Steven Gerrard been leading the side.
On the other side of Stanley Park, Everton's Kevin Mirallas had done something similar against West Bromwich Albion last month and missed. But however wretched his form has been in Milan or Manchester, Balotelli has always been lethal from a dozen yards and now he celebrated with a shrug of the shoulders.
Despite the result, this was a performance that, for his manager Brendan Rodgers, had more echoes of Liverpool's indifferent Champions League displays than with their recent reinvention in the Premier League.
They will be favourites to go through to the round of 16 but not by very much. Slaven Bilic, with his pullover, open-necked shirt, lived-in features and cigarettes in his pocket, patrolled the touchline like a private detective agonising over his case. He had never beaten Liverpool as a player with West Ham and Everton and he was not to do so last night. He came mighty close to an impressive shut-out.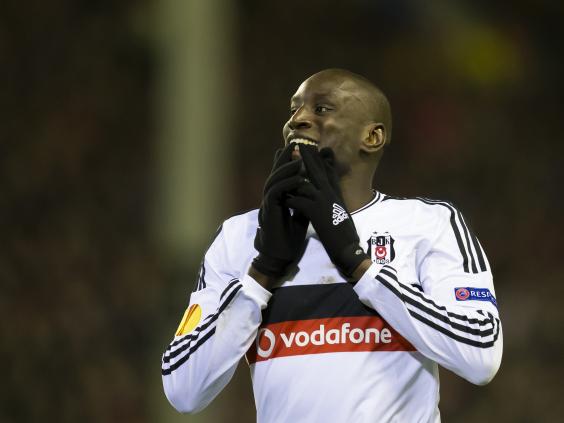 Besiktas defended with such discipline that their manager must have hoped to return to Istanbul with a draw. Nevertheless, Liverpool will have to go to the Ataturk Stadium, where they won the European Cup a decade ago, and perform considerably better than they did here.
Liverpool were not, as they would have liked to have been, competing for what Gerrard called "the cup with the big ears" but the one that looks like a very ungainly vase. In its various forms, the Uefa Cup – which is what this is – has been as much a part of Liverpool's history as the European Cup.
It was the only European trophy Bill Shankly won and there is a poignant photograph of him sitting alone in the dressing room and staring intently at it. By 1973, Liverpool had gone six years without silverware and now the club had been relaunched. It had taken a tremendous effort and, within a year, Shankly would be gone.
When discussing the match in the Anfield Trophy Room that the old man had done so much to fill, Rodgers talked the kind of talk Shankly would have recognised. Liverpool were hungry for trophies and would go out to win the Europa League. Rafa Benitez had done much the same with Chelsea and it had transformed his reputation and that of the club he briefly managed.
This was not, however, the Besiktas that had come to Anfield in November 2007 and conceded eight, while Liverpool, for all their recent transformation, do not compare to the team Benitez took to two European Cup finals. Bilic had promised Besiktas would show "respect but not fear" and his players were true to their manager's word. They contained Liverpool for half an hour, then opened out.
The sight of Demba Ba sprinting towards goal will probably haunt Simon Mignolet forever. Last season, his goal for Chelsea cost Liverpool everything. This time the wound would not have been as deep, even had the shot struck the same net beneath the Kop. Mignolet's outstretched glove ensured it did not.
Moments before, Besiktas had come almost as close when their Austrian international Veli Kavlak's powerful header met Jose Sosa's corner and sent it whistling just the wrong side of the intersection of post and crossbar.
The question Bilic must have asked himself was whether Liverpool would carry their uncertain form from the Champions League into the Europa League. One of Rodgers' principal arguments to explain Liverpool's indifferent showing among the elite was that this would be Daniel Sturridge's European debut, more than two years after his arrival at Anfield.
He had the one early chance Liverpool created. It says a lot for Ibe's progress that Rodgers started with the teenager when there were safer, more conservative options. His ball sent Sturridge through on the Liverpool right. His progress appeared to have blocked by Ersan Gulum but he turned his marker and sent his shot, from the tightest of angles, crashing into Cenk Gonen's chest.
For the next 20 minutes, Besiktas's keeper was barely tested playing in front of a wall of impassioned Turkish support – when Liverpool had last travelled to Istanbul, the sound of Besiktas's stadium, the Inonu, was among the most intimidating their players had heard. He made one stunning save before the interval, tipping over Alberto Moreno's shot that arrived from nowhere.
There were also two free-kicks: one from Sturridge, delivered with the instep of a silver boot, went just over the bar; another, from Henderson, skippering the side in Gerrard's absence, went just past the post. Liverpool were getting closer but they required something more than close.
They kept going close. At the interval Rodgers clearly told his players to up the pace and, in Ibe, they possessed someone with the speed and arrogance of youth to go straight for the Turkish defence. Mostly, however, Bilic's back four held firm and with more than an hour gone, Rodgers brought on Balotelli.
A few weeks ago, this would have been the kind of move the Liverpool manager would barely have contemplated – and if he had, it would have been a move rooted in despair or desperation.
Lately, however, Balotelli has looked something like the footballer Rodgers imagined him to be, "a calculated risk" rather than a ridiculous one.
Reuse content