This was not one of Anfield's great European nights but it was one of Anfield's great European 10 minutes.
A match that had seen Liverpool try and fail to break down a wonderfully determined team from the backwaters of Bulgaria appeared settled the moment Mario Balotelli, taking down Alberto Moreno's cross with surprising delicacy and forcing his way through two defenders, slammed his shot into the net beneath the Kop.
With eight minutes remaining, that seemed to be that, but Ludogorets are a team shot through with resolve and in the last minute of normal time Dani Abalo skipped past Dejan Lovren, rounded goalkeeper Simon Mignolet, and clipped home the equaliser his side deserved.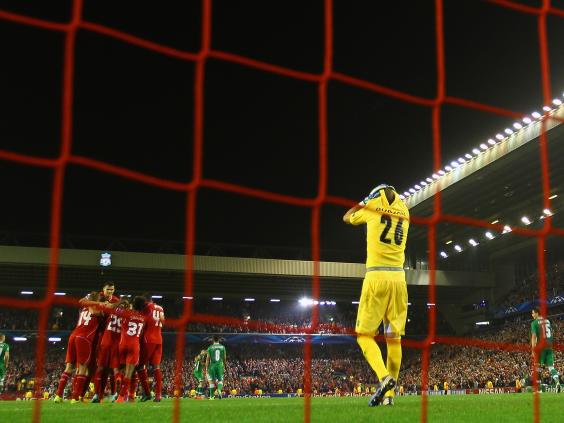 However, in virtually the last attack of the game, their keeper, Milan Borjan, needlessly brought down Javi Manquillo, who was running away from goal and conceded a penalty. Steven Gerrard, the lead actor in so many Liverpool dramas, drove home the spot-kick. As the teams embraced on the final whistle, Borjan, who had only joined the club at the weekend and had played superbly, walked off alone, a victim of football's essential cruelty.
The Champions League is football's grand theatre and Anfield is its Old Vic. As the Tannoy played the Champions League theme, a sound that Gerrard said he craved to hear, the Kop held up cards depicting the club's five European Cups.
Liverpool 2 Ludogorets 1 player ratings
Liverpool 2 Ludogorets 1 player ratings
1/11 Simon Mignolet

Collected a couple of dangerous crosses but at fault for Ludogorets goal. 5

GETTY IMAGES

2/11 Javi Manquillo

Didn't offer as much going forward as on the other flank, and when he did get into a scoring position blasted over the bar. Played a great first-time ball which Gerrard should have scored. 5

GETTY IMAGES

3/11 Alberto Moreno

Crucial tackles and clearances. Was a constant threat with pace down the left although his deliveries were mixed. At the other end, made some crucial tackles, with a particularly vital intervention late on. 7

GETTY IMAGES

4/11 Dejan Lovren

Threat from set-pieces and solid at the back with some strong headers and timely interventions. 6

GETTY IMAGES

5/11 Mamadou Sakho

Dutiful performance. Made a key tackle inside his own box just before half-time. 6

GETTY IMAGES

6/11 Steven Gerrard

Made some important tackles although not his most influential of nights until his late penalty. Should have scored header from close range. 6

GETTY IMAGES

7/11 Jordan Henderson

Sharp, tidy passing and showed eagerness to get things moving forward. Should have at least got a free header opportunity on target. 6

GETTY IMAGES

8/11 Philippe Coutinho

Busy, well involved. Good link up play with Sterling but struggled to really open things up. 5

GETTY IMAGES

9/11 Raheem Sterling

Usual, zippy self and a constant threat to the Bulgarian visitors without making as many in-roads as his energy deserved. 6

GETTY IMAGES

10/11 Adam Lallana

Constantly made runs beyond Balotelli and showed some skills. Couldn't get his shot away when in a great position. A little rusty. 5

GETTY IMAGES

11/11 Mario Balotelli

Showed willingness to get involved, even tackling back at times. Slipped over a little too often. Looked like it was going to be a frustrating night but broke the deadlock with his stabbed finish. 7

GETTY IMAGES
Like Dortmund's Westfalenstadion, Anfield is a stadium of banners as their return to the European elite was marked by a vast, traditional one, the kind that could have been unfurled against St Etienne in 1977 that said bluntly: "We are Liverpool."
Beneath it was one depicting Brendan Rodgers and the words "Boss". For all his considerable achievements in taking Liverpool back to the heights of English football, it was rather premature. Rodgers would know that Liverpool managers are measured in silverware. He walked to the home dressing room for the interval having made plenty of notes and not all of them would have been positive.
The only way this night resembled the one against St Etienne (one of so many wondrous European occasions recalled in the run-up to the grand return) was in the colour of Ludogorets' shirts.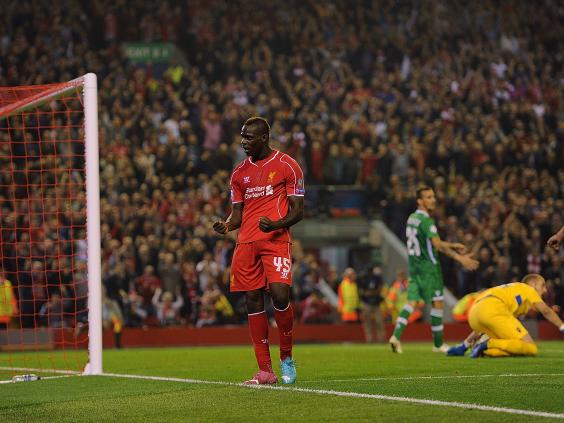 The men in green had their own, rather more recent, stories to sustain them, not least the penalty shoot-out which beat Steaua Bucharest in their qualifying tie.
Borjan was not unduly tested in the first hour. There was a double save, a low, somewhat easier one from Balotelli and a fabulous flowing move that would have been the very epitome of the football Rodgers wants Liverpool to play, featuring first-time touches from Raheem Sterling and Philippe Coutinho. Adam Lallana's finish did not quite match the approach work. After the restart, Borjan did enough to put Javi Manquillo off his shot when the full-back seemed likely to score.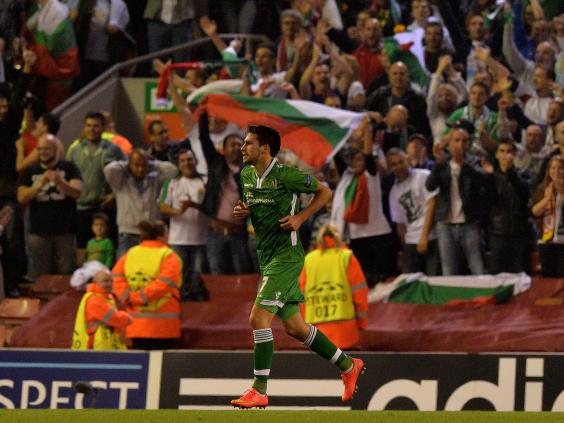 Defensively is where Liverpool are weak. Before the game, Lovren had said that poor communication between himself and Mamadou Sakho, which he put down to poor English, might have been the reason why Liverpool went into the evening with just one clean sheet. Lovren's English is fluent and Sakho looked forever to be teetering on the edge of a calamitous error.
It was, however, from left-back that Liverpool appeared most dangerous. Alberto Moreno exploited the space the Bulgarian champions offered him and produced one run that echoed the one at Tottenham that had brought him what even in May will be one of the goals of Liverpool's season. This shot disappeared into the Anfield Road End.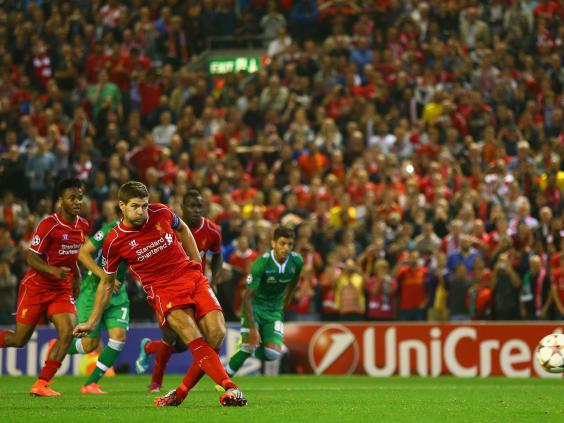 The expectation was that Ludogorets would be brushed aside as easily as Basel were in the Bernabeu. However, Liverpool's game-plan at home under Rodgers is based upon the early goal to force the opposition out. When it does not come, the flow can seize up. Rodgers made a double change, removing Lallana and Coutinho for Lucas Leiva. Within a minute of coming on, the Italian had forced Borjan to tip his header acrobatically into the Kop.
Ludogorets, their team sprinkled with Brazilians, are a fairytale team from a small town in northern Bulgaria made bigger through a benefactor's money. There were some fairytale performances. Defender Cosmin Moti made several vital challenges. When their centre-forward, Roman Bezjak, anticipated Marcelinho's throw and shot on to the roof of Simon Mignolet's net, there were suggestions that the fairytale might have a Disney-style ending. But for the width of the post that Bezjak shot against moments later, it might have done.
Given that roughly 10 per cent of Razgrad's population was in the stands, the near miss was greeted with quite a noise. As was their team's late equaliser before Gerrard's final intervention.
Reuse content