Manchester City failed to match Tottenham Hotspur's all-time record with eleven successive victories at the start of the season having been held to a 3-3 draw by Celtic in Glasgow on Wednesday.
Pep Guardiola's team now prepare to travel to White Hart Lane to face Spurs on Sunday aiming to prove that the result in Scotland was no more than a minor blip.
But with Celtic manager Brendan Rodgers developing the game-plan to stop City, have the Scottish champions now shown the Premier League how to deal with Guardiola's all-star team?
SUFFOCATE THE SPACE:
From the first whistle to the final kick on Wednesday evening, Celtic chased down every ball and denied their City opponents the time and space to dictate the tempo of the game.
It was a shock to the system for Guardiola's players, who have quickly become accustomed to their possession-based game overcoming opponents in the Premier League.
Rodgers sent his players out with the instruction to suffocate the space around the City players and it was a lesson learned from Manchester United's 2-1 defeat against their neighbours, when a failure to press high up the pitch and close down City's defenders contribute to the opening goal at Old Trafford.
With time and space, City have shown their ability to be ruthless, but Celtic were almost super-human in their efforts to pressurise Guardiola's team.
Scott Brown and Mousse Dembele were hugely impressive in this, but every one of Rodgers' players stepped up to the plate.
Celtic vs Manchester City player ratings
Celtic vs Manchester City player ratings
1/22 Craig Gordon: 7 out of 10

Couldn't do anything about any of the goals but cleared the ball well into the channels and made some important saves.

2/22 Mikael Lustig – 7 out of 10

Couldn't afford to lose concentration once as City swamped forward.

3/22 Kolo Toure – 8 out of 10

Backs against the wall defending all night with City looking dangerous every time they got near Celtic's box but was immense.

4/22 Erik Sviatchenko – 7 out of 10

Like Toure he had to chase Aguero all night and did well to keep him quiet in the first half despite all the chaos around him.

5/22 Kieran Tierney – 7 out of 10

Did brilliantly to maraud forward for Celtic's second and showed a huge amount of desire. The goal may have be taken off him but it didn't deserve to be.

6/22 Scott Brown – 8 out of 10

A typical Brown performance – full-hearted and left nothing on the pitch as he never stopped running.

7/22 Nir Bitton – 7 out of 10

Did a great job breaking up play and shielding the defence against the ever-moving City forwards.

8/22 James Forrest – 6 out of 10

His clever late run and cushioned volley cross to Dembele set Celtic on their way after only two minutes.

9/22 Tom Rogic – 6 out of 10

Rogic was fantastic in the first half and won the midfield battle against City's superstars but tired and his influenced waned before he was replaced after 57 minutes.

10/22 Scott Sinclair – 8 out of 10

Looked like a man on a mission in the early stages against his old club but appeared to tire as the game wore on.

11/22 Moussa Dembele – 9 out of 10

Worked tirelessly up front and made up for his mistake for City's second with two goals of his own.

12/22 Claudio Bravo – 6 out of 10

Look nervous at the start but made a fine stop from Toure after five minutes to stop Celtic going two ahead.

Getty Images

13/22 Pablo Zabaleta – 6 out of 10

Exposed for Celtic's second goal, leaving Tierney in too much space.

AFP/Getty Images

14/22 Nicolas Otamendi – 6 out of 10

Strong in the air and did well to keep up with the pace of Dembele and Sinclair.

AFP/Getty Images

15/22 Aleksandar Kolarov – 4 out of 10

Not as impressive at centre-half as he has been previously as he struggled with Celtic's attack. Dreadful air-kick to gift Celtic their third.

Getty Images

16/22 Gael Clichy – 6 out of 10

Lost in the pace of the game initially but grew into it as the match progressed.

Getty Images

17/22 Fernandinho – 7 out of 10

Did his usual shift of winning the ball and launching attacks. Scored a vital goal to equalise the first time City looked dangerous.

AFP/Getty Images

18/22 Ilkay Gundogan – 7 out of 10

Not at the high standard he set in his first Champions League game for City but still came close on a couple of occasions and even rattled the crossbar.

AFP/Getty Images

19/22 David Silva – 8 out of 10

He was the main creator with De Bruyne out and his slick passing and movement was a constant threat to Celtic.

Getty Images

20/22 Raheem Sterling – 8 out of 10

Continued his amazing start to the season with a beautifully taken goal. Also had the own goal against his name but showed good work-rate just to track back.

Getty Images

21/22 Nolito – 7 out of 10

Had a couple of efforts from the left hand side but nothing too threatening until he followed up well to grab City's third equaliser.

Getty Images

22/22 Sergio Aguero – 5 out of 10

An unusually quiet night for Aguero, especially considering there were six goals scored in total at Celtic Park.

AFP/Getty Images
USE PACE AND POWER TO TORMENT CITY'S CENTRE-HALVES:
Guardiola chose to leave John Stones on the bench at Celtic, preferring to start with Nicolas Otamendi and Aleksandar Kolarov at the heart of defence, but both players were tormented by the incessant running and power of Mousse Dembele.
Kolarov's mistake directly contributed to Celtic's third goal and calmness was only restored once Stones was introduced late in the second-half, allowing Kolarov to revert to his more familiar role at left-back.
City have not faced a striker with the work-rate and tenacity of Dembele in the Premier League this season, but the French youngster's success in causing havoc for the City back-four and goalkeeper Claudio Bravo will have been noted by Premier League coaches.
Much of City's play begins at the back and too many domestic opponents have allowed them to do this.
Celtic pressed high, though, and Dembele was the key to this, with Scott Sinclair also contributing on the flanks.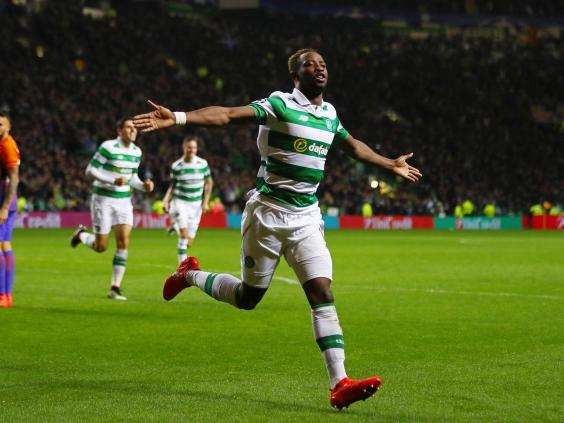 TARGET THE FULL-BACKS WITH WIDTH:
Despite their previously flawless start to the season, with ten wins from ten before the draw at Celtic, City's full-backs remain an area of weakness.
Pablo Zabaleta has been a great servant, but is now showing his age, while Gael Clichy continues to be prone to positional frailties against better quality opponents.
Celtic enjoyed great success down the flanks with Scott Sinclair, James Forrest and Kieran Tierney, their impressive young left-back, repeatedly targeting Zabaleta and Clichy.
With the centre-halves pre-occupied by the powerful Dembele, Zabaleta and Clichy were also exposed and pulled wide by Celtic and gaps appeared at the back.
Whether Premier League teams can match Celtic for work-rate remains to be seen, but energetic, attack-minded wide players have now shown that they can cause serious problems for City's defenders.
ATTACK FERNANDINHO:
No player has been more impressive for City this season that Fernandinho, with the Brazilian midfielder emerging from Yaya Toure's shadow to showcase the talents he has had to stifle while partnering the Ivorian during his three previous seasons at the club.
Fernandinho makes City tick, he sets the tempo of their game, but against Celtic he was given absolutely no time to conduct the play in front of him.
Scott Brown and Tom Rogic pulled Fernandinho out of position, forced him to make mistakes in possession and pretty much buzzed around him to the point of distraction.
It was like watching two hyenas torment a lion and the hyenas won.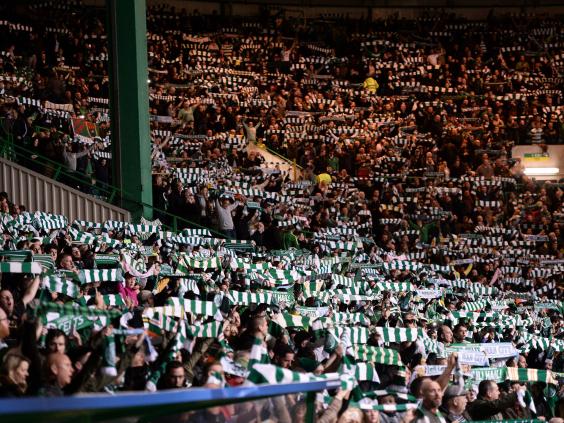 PUMP UP THE VOLUME:
Make no mistake, the incredible atmosphere inside Celtic Park inspired Rodgers' players and drove them on for ninety minutes on Wednesday night.
They were a raucous twelfth man, but while they made Celtic's players grow taller, they also unnerved Guardiola's team.
The Etihad Stadium is repeatedly cited as an arena lacking in noise and passion, particularly on a European night, but City's home ground is not alone in providing a sterile atmosphere in the Premier League.
Guardiola's players have not encountered such hostility and backing for the home team on their travels this season, but Celtic's supporters showed what a difference it can make when the volume is pumped up in the stands.
If more Premier League stadiums can become bear-pits like Celtic Park, it will make it much more difficult for visiting teams – not just City – to dominate away from home.
Reuse content