An analysis of Manchester's extraordinary modern economic development in the Financial Times at the weekend cited the £1bn Abu Dhabi investment in Manchester City and Beijing's 20 per cent stake in the local airport's development as indicative of overseas investors' love of the metropolis and its economic individualism.
The point made about the Abu Dhabi United Investment Group and Beijing Construction Engineering was that they are long-term thinkers, who "appreciate 10-year plans".
That felt like a highly optimistic view of the football club owners' approach to progress. City have staggered back to the knockout stages of the Champions League, where the round of 16 brings them up against Barcelona for a second season running tonight, and though Sheikh Mansour bin Zayed al Nahyan's executives have tasked manager Manuel Pellegrini to take them one step further than last time – there is, of course, no conviction about lifting the trophy – they understandably have expectations.
This is the trophy Abu Dhabi covets to bring them that global status they sought when they bought the club in the first place. This is the one that has persuaded them to commit to what is currently the second highest wage bill in Europe (behind Manchester United) and to have spent over half a billion net in the transfer market since 2007-08.
Despite all that outlay, City remain a second-tier outfit by Champions League standards: a team who have still not beaten a leading side in the prestige continental competition when the opposition has had something to play for. Samir Nasri spoke well at City's press conference yesterday but his description of Lionel Messi being in "a different galaxy" to all the rest somehow reinforced a pecking order.
Manchester City vs Barcelona - combined XI
Manchester City vs Barcelona - combined XI
1/11 GK: Joe Hart

England's No 1 has undergone another mixed season under Pellegrini, but just takes this spot because Barcelona have a bit of confusion between the sticks. Claudio Bravo tends to start in the League and Marc-Andre Ter Stegen in the cup competitions; whether this continues into the last-16 is not yet known.

2/11 RB: Pablo Zabaleta

The city right-back is easily in the top five at his position in the world. Equally capable in defence or attack, Zabaleta plays with a lot of heart and courage, making him a firm favourite among City fans. At one time Dani Alves was considered the best in the world, but the Brazilian has always been a bit of a liability defensively and, at 31, his influence as an attacker is just starting to dwindle.

Getty

3/11 CB: Vincent Kompany

The Belgian has certainly declined from his dominant peak a couple of years ago, but he is certainly good enough to get into a Barcelona team that has used converted midfielders Jeremy Mathieu, Javier Mascherano and Sergio Busquets in defence at times this season.

GETTY IMAGES

4/11 CB: Gerard Pique

Pique remains Barcelona's best defender, though he too is a shell of the player that was arguably the world's best a few years ago. The Spaniard has been in and out of the team this season but usually saves his best performances for the biggest matches.

Getty Images

5/11 LB: Jordi Alba

Jordi Alba is a supreme attacking threat and is now more influential to this side than Dani Alves. Gael Clichy is good enough for City in the League but will be seen as a weak point by the visitors.

Getty Images

6/11 CM: Javier Mascherano

He may not be quite as good as Roy Hodgson (who voted him first in the Ballon d'Or) thinks he is, but Mascherano is still one of the very best defensive midfielders in world football. He also plays a crucial role in Luis Enrique's 3-4-3, acting as another defender when Barca are under pressure. Much better than either Fernando or Fernandinho.

Getty Images

7/11 CM: Ivan Rakitic

If Yaya Toure were not suspended for the first game then this would be his spot but City will have to do without their most influential player for the first leg. Rakitic has been so good this year that the decline of Xavi, who will likely start from the bench, and loss of Cesc Fabregas has barely made an impact.

Getty Images

8/11 CM: Andres Iniesta

Another tough decision to include Iniesta over Samir Nasri, who has been brilliant in recent weeks. The Spanish maestro has been far from his best in this season but still has enough in the tank to be a potential match-winner.

Getty Images

9/11 LW: David Silva

This is where it starts to get tough. Neymar is finally living up to his huge hype and has 24 goals in 30 matches already this season. The Brazilian scored 10 goals in Barca's recent 11 match winning streak, providing a brilliant foil to Lionel Messi. With Toure out, David Silva now has to become City's main creator - his performance will define the first leg. City fans will be hoping he can reproduce what he did against Newcastle.

Getty

10/11 RW: Lionel Messi

Probably the easiest choice in this side, Messi is undoubtedly one of the top two players in the world. There wouldn't be many who don't select Messi in their dream team.

Getty Images

11/11 ST: Sergio Aguero

Last season, choosing Aguero over Luis Suarez would have been blasphemy. But the Uruguayan has really struggled at Barcelona, scoring just seven goals in 22 matches this season and generally failing to gel with his star-studded team-mates. Aguero appears to have gotten over his small slump to fire three goals in his last two matches.

Getty
The 5-0 hammering of a very ordinary Newcastle United side in the Premier League on Saturday cannot disguise the domestic stand-still since City last headed into a home match with Barcelona, in February last year. Back then, they were three points off the top of the Premier League with 56 points and 68 goals. Now they are two points off the top of the Premier League, with 55 points and 56 goals. It has not felt like progress.
Tonight provides a measure of whether Pellegrini is any nearer to taking this club into football's elite of the elite, with the caution he displayed on 18 February last year in the 2-0 defeat to Barça – leaving Alvaro Negredo looking like a very isolated sole striker – something Nasri said must change.
Yet this tie should also be viewed as a measure of the progress delivered by City chief executive Ferran Soriano and director of football Txiki Begiristain – the two former Nou Camp executives hired by the Abu Dhabis to create a Barcelona in east Manchester.
Soriano has a very serious work ethic and has made some big statements across the globe in the past few years by creating a network of clubs under what they now call the "City Football" brand. From New York to Melbourne via Manchester: the sun no longer sets on City. But while all that has been going on, there has been a serious problem closer to home.
It is that City have signed only one player in the past three and a half years – the Brazilian midfielder Fernandinho – who you could say takes them closer to world-class status. The heartbeats of the side – David Silva, Sergio Aguero, Yaya Touré, Nasri and Vincent Kompany – all pre-date those men arriving from Barcelona to make a club in the Catalan image.   
The notion of bringing another club's culture to Manchester has always seemed a questionable one. Touré's agent Dimitri Seluk has come out with some bizarre comments in the past 18 months, though his observation on Sunday that "there can only ever be one Barcelona; City should be looking to establish their own identity, not dream about becoming Barça Mark II," was one of the wiser.
Ironically, the Barcelona brand of football which the two executives arrived to inculcate is a now redundant model. The Spanish club has converted to a more direct type of football. As midfielder Sergio Busquets described it yesterday, they are "defined by its forwards rather  than midfielders" – and the change reflects how any side must always evolve as opponents figure out their way  of playing.
It is the pains of the Catalan metamorphosis that give City their big opportunity. Barcelona's 1-0 defeat to Malaga on Saturday needs to be seen in the perspective of the 11 straight wins that preceded it, but some of the invincibility has certainly gone. Even though Luis Suarez has been added, it is not a better Barcelona than the one City faced 371 days ago. Internal rancour does not seem far away. Coach Luis Enrique was palpably irritated last week about Messi's claim that Barcelona were better because the "atmosphere" on the inside had improved. Soriano has always felt that the prospect of signing Messi – the man who he tried in vain to persuade to speak English in public when they once attended a Golden Boot ceremony together – was unthinkable. It now feels a little less so.
That absence of harmony is not all that City can hold on to heading into this match. Though Pellegrini's press conference offered as little insight as ever into the approaching match, Nasri's declaration that City have less to fear this time around – "this year is totally different because we know what we are capable of" – was an important one and certainly far more than propaganda. The round of 16 is no longer alien territory for this team. They can take comfort from that.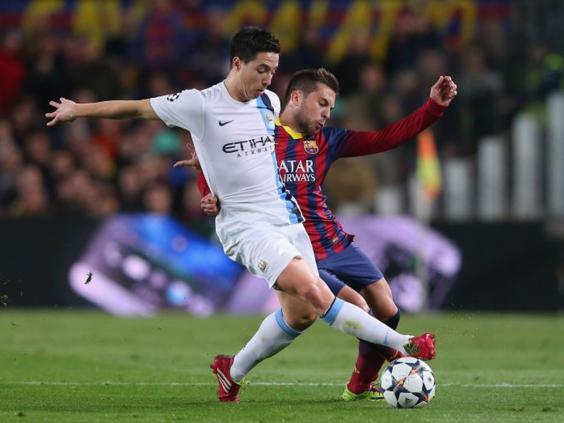 City's smaller workload in the winter months might also make a significant difference, in the narrow margins on which these occasions can turn. City's 12 games in the two months from Boxing Day to today, compared with 15 in the same period last year, equates to the difference between playing every five days and every three and a half days. And more a significant difference between last year and this is the figure of Aguero – absent for all but 45 minutes of the two legs last season but fully fit now. City were desperate without him last time and actually improved in the home tie when they had been reduced to 10 men by Martin Demichelis' sending off, as Edin Dzeko arrived in place of Negredo.
Pellegrini rejected any suggestion that his tactics last year – symbolised by Aleksandar Kolarov's presence in midfield – had been unduly defensive, though that was not how it seemed from the sidelines. It is time for him to at least set up his side to play with more of the self-expression that he always says is their way. "It's not an obsession to win the Champions League," he said. "We can do it but next year the target would be the same to try to improve every year in the competition." The Abu Dhabis will view things more intensely than that. Soriano has told them that freak outcomes in knockout competitions demand that City be in the semi-finals for perhaps four or five years, if the cards are finally to fall in their favour and they are to win it. The owners won't want to wait a decade for that process to start.
Reuse content