They had talked of their greater wisdom and their lack of fear this time, in the way that players do, but the cold truth of another sobering night in Europe for Manchester City is that they still cannot walk in the company of the elite.
They ought to be capable of that, and the gulf between them and the Spanish club they aspire to be was shocking to behold in the 45 minutes when the course of the evening – and probably the tie – was set.
This is the club with the second-highest wage bill in Europe, whose owners have committed over half a billion pounds net in the transfer market since 2007-08, and yet during that first period they were brought to their knees, denied a kick and, to all intents and purposes, so much as a shot.
There was a recovery of sorts and perhaps some kind of hope in the sight of Joe Hart leaping to stop Lionel Messi's penalty, awarded when the game had 15 seconds to run, and diving to head the rebound wide.
Manchester City 1 Barcelona 2 player ratings
Manchester City 1 Barcelona 2 player ratings
1/3 BARCELONA: Marc Andre ter Stegen

The young German, who hasn't made a league appearance this season, was rarely tested – but when he was he did not always look completely comfortable. 6

Getty Images

2/3 Dani Alves

The marauding full-back is not the dynamic attacking threat he once was, but he was still able to find acres of space in which to run. 7

Getty Images

3/3 Lionel Messi

Had been the best player on the pitch before pulling rank late on to deny Luis Suarez a hat-trick – but missed the penalty and the follow up. 8

Getty Images
However, for a side on which so much has been spent to fail to place a tackle when it mattered was desultory and when the dust settles on all this, the question of why their proprietors have failed in the past three and a half years to buy a single world-class player might be addressed.
There was a premonition of all that was to follow in the evening's opening minute, the first 58 seconds of which were taken up exclusively by Barcelona possession, and even when City finally did acquaint themselves with the ball they only did themselves damage with it.
The defensive midfielder Fernando was signed for the buttress he would provide on big European nights like this but his chronic stray pass in the game's second minute – straight to the feet of Messi – foretold what a weak link he would prove to be.
That first period would quickly evolve into a horror story for Vincent Kompany and Martin Demichelis, though it was Fernando's failure to deny the opposition the chance to build in the final third which played its part.
It took the best of Kompany to clear up following that first error, as Neymar lurked behind him. The same midfielder was also throwing himself into hopeless challenges on Messi and Ivan Rakitic in the moments before the second goal.
But the problem, as Barcelona seized the game and the tie by the throat, was more profound and structural than the club's failure to spend all that TV money more wisely. Manuel Pellegrini has been answering questions all week about his defensive outlook against these opponents last year but his bold decision to deploy two strikers instead of one proved fatal – giving the Spanish the extra numbers in midfield with which they wreaked havoc.
It might have been different if one of that attacking pair had dropped back into midfield. The secret of a successful 4-4-2 is that it morphs to 4-5-1 when the exponents are out of possession. But no one dropped and City sank. Never have fluorescent kits been as unnecessary. Barcelona could have moved the ball with their eyes closed.
There was actually an element of misfortune about the first goal on 16 minutes. The ball Messi levered in from the right could have fallen anywhere after it had struck Kompany but happened to drop at the feet of Suarez, whose slash at the ball with his left foot happened to be the sweetest imaginable.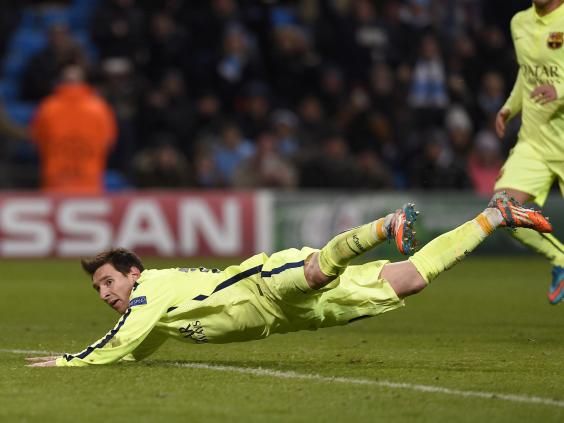 There was nothing but beauty about the second. When Messi had taken Fernando for a fool and weighed a pass to Jordi Alba, advancing down the left, there were fully six City players in their own area. None of them moved when Alba threaded the ball between Kompany and Demichelis for Suarez, whose run was late and rapid and whose strike was a rapier blow to the notion that City are better and wiser than a year ago.
This immobility at the back had become a well-established fault line by then. Neymar, whose duel with Pablo Zabaleta was a match-up made in hell for the Argentinian, had rolled a similar pass for Suarez moments before the second goal came, though Hart advanced rapidly enough to take the shot on the inside of his left thigh.
Dani Alves had also hit the crossbar before half-time and City were shocked into life – in that familiar way of theirs in Europe. There was a strike on goal for them at last, Samir Nasri latching on to a ball that Sergio Aguero had rolled into his path in the last minute of the first half, though Marc-André ter Stegen's save was unduly theatrical. The ball was hit straight at him.
It was a shift in intensity level, rather than a change in formation, that brought some life into Pellegrini's players in the second half – the night's enormous question being why they could not have located that energy in the first place.
Edin Dzeko headed narrowly wide from a David Silva corner, Javier Mascherano blocked another Nasri effort and Dzeko missed a header from six yards out – criminal in the circumstances.
A Dzeko goal could have been deeply significant, given that City soon found the net, when Gaël Clichy stole possession from Messi and delivered a ball which, after substitute Fernandinho's touch, Aguero burst on to in the area and blasted home, with echoes of the title-winning finish of nearly three years ago.
Barcelona do give you chances. Their defence is by no means impregnable. But just when City found some hope it was ripped away from them by Clichy's dismissal for a high challenge on Alves, his second yellow card after an earlier foul on Ivan Rakitic.
More was demanded of Hart, who touched a deflected Messi shot on to the roof of the net, and the Argentinian's penalty – awarded as Zabaleta tried hopelessly to deter him – summed up a night of huge imbalance. City are as adrift of the elite as ever.
Reuse content