The way it finished - Fernandinho and Yaya Toure being dismissed within 13 minutes of each other as the Manchester mist thickened and the fans sang of the Champions League being 'bent' - encapsulated everything about this Manchester City team in this competition.
Their defeat, on a night when they produced defending of comical proportions and looked less likely to trouble the CSKA Moscow goal as the game went on, left them with a Champions League home record of two wins in nine. There will be talk of the referee's robbery; an injustice compounded by Sergio Aguero being denied a penalty at the death, which left the City players surrounded the Greek official. You feel that the chants of 'you can stick Uefa up your arse' were just the start.
But there was no penalty. Aguero was not infringed. City were not cheated. They have lacked the structure, imagination and dependability to cope with the 90-minute examination which Champions League football brings.
Manchester City 1 CSKA Moscow 2 - player ratings
Manchester City 1 CSKA Moscow 2 - player ratings
1/12 Joe Hart

Poorly beaten at his near post for the crucial second goal, made a couple of decent saves but the mistake may have cost City a place in the knockout phase. 4

Getty Images

2/12 Pablo Zabaleta

As solid and steady in defence as ever, his attacking influence was much more limited than he is used to. 5

Getty Images

3/12 Martin Demichelis

Looked jittery and uncomfortable every time CSKA attacked, and was poorly beaten by Doumbia's movement for the opening goal. 4

Getty Images

4/12 Vincent Kompany

A poor performance from the City captain, never looked comfortable facing the speed of CSKA's attackers. 4

Getty Images

5/12 Gael Clichy

Unlucky to be penalised for the handball in the opening stages that led to CSKA's first goal. Similar performance to the man on the opposite touchline. 5

Getty Images

6/12 Fernando

Was meant to provide a defensive base that would leave City strong when facing the counter but was often overran. Poor in possession. 3

Getty Images

7/12 Yaya Toure

Scored a peach of a free-kick to draw the home side level and was City's most threatening player before he needlessly lashed out and was shown a straight red. 4

Getty Images

8/12 Jesus Navas

Only broke his anonymity to provide two truly woeful product, was rightly hauled off at half-time. 2

GETTY IMAGES

9/12 James Milner

As ever, the Englishman worked his socks off and was City's best player but will be ruing a missed chance early in the second-half when he could only find the keeper's leg. 6

Getty Images

10/12 Stevan Jovetic

Wasn't enough of an attacking threat despite a couple of nice touches, including a dribble that won the free-kick that led to the goal. Also taken off at the half. 4

Getty Images

11/12

Always lively and on the move but seemed to forget his shooting boots. Perhaps harsly booked for diving late on – it may not have been a penalty but there was some contact. 5

Getty Images

12/12 From the bench: Fernandinho

Was meant to add a solidity in the centre of midfield that would give more licence for Yaya Toure to push forward. Instead he was sent off for two yellow cards in 25 minutes. 1

Getty Images
Their campaign is not mathematically extinguished. They need to beat Bayern Munich and then take their hopes into the last game in Rome. If they draw against Bayern and there is a winner between CSKA Moscow and Roma they will be out. That is a lot of many big 'ifs' for a side so clearly adrift of the best in Europe. City have conceded two or more in six of their last seven games in Europe. There is no reason why the story against Pep Guardiola's side should be any different.
There were poor individual performances last night but an answer to the question of how this can keep happening lay in the manager's tone. Somewhere amid the wreckage, you looked for a sense of fury; the impression that there would be repercussions and that the players might have flinched when they walked back into the dressing room. There was none. Toure, with his lack of discipline, had let the side down badly. But Pellegrini was willing to explain the sending off as evidence that "maybe that reflects the nervous moments that the players have at this moment in this team." The club needed harmony after the Roberto Mancini years of strife but this is beginning to feel like easy street.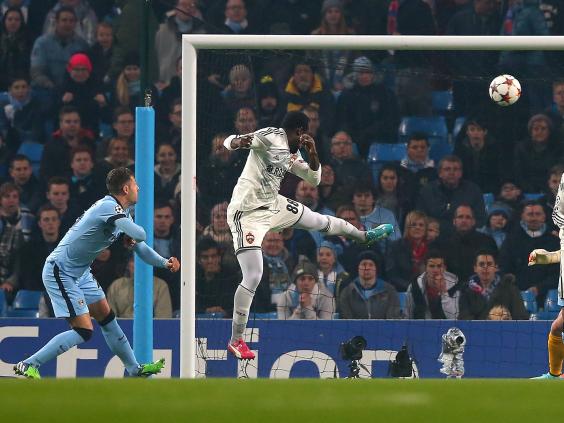 Pellegrini looks puzzled and characterises these occasions as a freak event, defying logic; a "bad moment" as some managers like to say and as he said again last night. But City, a side who have spent £150m on players since the Chilean arrived, have lost three games in five and look a shadow of the team which beat the same opposition here 5-2, exactly a year ago last night. The UEFA stats post-match stats sheets told the story of a side and a manager bereft of ideas as they tried to recover the game. City had two shots on goal in the second half.
The credit due to the manager was for his refusal to fall back on blaming officials. But this was a City caught between ambition and defensive inadequacy. They showed greater ambition than of late, flooding the opposition half early on. But they were stranded there as the kind of fast, strong, talented side that Europe has a habit of throwing up thumped them on the counter attack. It didn't take rocket science to beat them. "We hoped for counter attack and our plan worked," manager Leonid Slutski observed.
They only member of the visiting contingent they saw off was their Serbian midfielder Zoran Tosic – refused access to the stadium after his tourist visa was ruled inadequate and, by CSKA accounts, his passport was seized.
Pockets of CSKA fans were more fortunate. Those who had breached UEFA's discredited 'behind closed doors' punishment quickly revealed themselves – roaring with delight at the sight of their team carving up the City defence after only 96 seconds.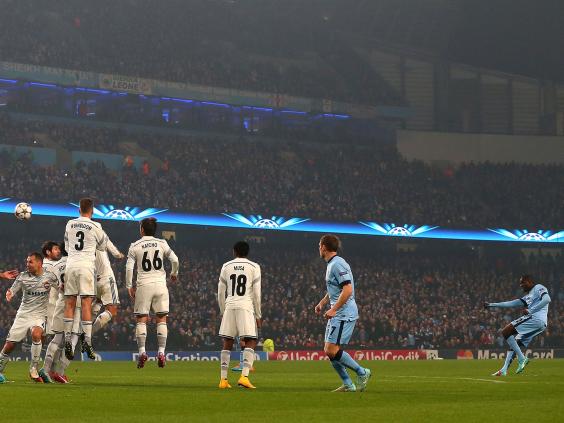 There was a little misfortune about the circumstances. Gael Clichy was two yards from Ahmed Musa when the Nigerian hit the ball at him on the right hand fringe of the City area to win a free kick. But there could be no argument about the desperate quality of the side's defending when Bebra Natcho swung it in. Seydo Doumia was left free and easy to head home's free kick, with Yaya Toure the errant marker. The boos which rang out were at the sight of the Russians but some must have felt the same sentiment for the  team.
The goal seemed to instil a little life and steel into City. Stevan Jovetic was clipped on the edge of the visiors' area by Vasili Berezutski. Toure – who was impressive before his exit - placed the ensuing free kick in the top left hand corner. But Pellegrini, waving his players forward, watched the defence and the shield in front of it prove unable to deal with the counter attack. Roman Eremenko provided a hint of the danger which lurked, when he bent a pass inside Martin Demichelis with his right outstep, allowing Musa to race onto it and shoot wide. Doumbia made no such mistake. A crass surrender of possession by Clichy, a ball fed into him and he buried it.
  Pellegrini tried various permutations to make a difference. Fernandinho arrived for the second half to pair with Fernando and allow Toure to push further up the field.  But within ten minutes he was restored to the back of midfield as Fernando made way for Edin Dzeko. It was a sign of the losing battle. The walking calamity City have become in Europe was written across the night when Fernandinho received two yellow cards for a foul and obstruction
 There were frustrations everywhere. Referee Tasos Sidiropolous did CSKA a favour by booking Sergei Ignashevich when the card should have gone to Wernbloom, who would then have been sent off. Then, the final indignity: Toure dismissed for a reckless challenge on Eremenko. Nasri could have walked for the same reason. "It's not a death match," Pellegrini said before this game. Well, it certainly felt like one.
Manchester City: Hart, Zabaleta, Clichy, Demichelis, Kompany, Fernando, Yaya Toure, Navas, Milner, Jovetic, Aguero.
Substitutions: Nasri (Navas, 45), Fernandinho (Jovetic, 45), Dzeko (Fernando, 65);
CSKA Moscow: Akinfeev, Mario Fernandes, Ignashevich, V. Berezutski, Schennikov, Wernbloom, Dzagoev, R. Eremenko, Natcho, Musa, Doumbia.
Substitutions: Milanov (Doumbia, 67), Efremov (Dzagoev, 86).
Booked: Man City  Touré, Fernandinho, Agüero CSKA Wernbloom, Ignashevitch, Eremenko
Sent off: City Fernandinho (70), Touré (81).
Man of match Doumbia
Match rating 7/10.
Possession City 63% CSKA Moscow 37%.
Referee T Sidiropoulos (Greece)
Attendance 42,000.