The unstoppable force in the Premier League; still the improbable farce in the Champions League. If Manchester City have not learned by now, after five seasons among the elite, how to manage games such as these then you have to wonder just when the penny will drop.
Manuel Pellegrini's team seized the lead before the hour in fortuitous circumstances and yet again they proved themselves resolutely unable to hold onto it against the champions of Italy who had come, primarily, to stall and frustrate the unbeaten Premier League leaders. In another familiar tale of missed chances and poor performances from their leading figures, City found themselves reeled in, out-thought and ultimately beaten.
The goals from Mario Mandzukic and Alvaro Morata sealed victory for a Juventus team who sit 16th in Serie A and have lost two of their first four league fixtures of the season. They might have sold key figures this summer, they might have on-loan Juan Cuadrado, unwanted by Chelsea, on the right wing but they were distinctly more sophisticated and ruthless in their approach to the lavishly upgraded City team that is yet to concede a goal in domestic competition.
Manchester City 1 Juventus 2 player ratings
Manchester City 1 Juventus 2 player ratings
1/25 MANCHESTER CITY: Joe Hart

England's No 1 produced a couple of fantastic saves to keep City in the game, but it was for nothing. Back to his best and nothing he could do about either goal. 8/10

Reuters

2/25 Bacary Sagna

The physical right-back stood up to everything Juve threw at him down the right. But didn't offer enough going forward. 6

Reuters

3/25 Vincent Kompany

Should have been penalised for the goal for climbing all over Giorgio Chiellini, but was impressive before going off. Hopefully his injury is not too bad. 7

EPA

4/25 Eliaquim Mangala

Still doesn't look anything like worth the many millions paid for his services. Athletically gifted but short on class and out of position for the goal. 4

Reuters

5/25 Aleksandar Kolarov

Always a threat going forward and starting to become better defensively as well, but was outmuscled by Juan Cuadrado for the second goal. 6

AP

6/25 Fernandinho

Full of energy but a level below the other midfielders when in possession. 5

Reuters

7/25 Yaya Toure

Subdued compared to his usual self mostly found himself being outplayed by the more adventurous Paul Pogba. 6

AP

8/25 Samir Nasri

Often found himself completely out of the game and was well handled by Juve's physical defenders. A strange decision to replace Raheem Sterling rather than the Frenchman. 3

Reuters

9/25 David Silva

His vision and touch are unmatched, the clever Spanish playmaker made numerous chances. Just a shame it was the overmatched Wilfried Bony rather than Sergio Aguero on the end of them. 7

PA

10/25 Raheem Sterling

His pace and movement always make him dangerous but he wasted two very, very good chances, one in either half. Didn't get at Lichtsteiner as much as his manager would have wanted. 5

Reuters

11/25 Wilfried Bon

His first Champions League game in a long time and he wasn't up to the task. He failed to hold the ball up for his team-mates and was man-handled by Chiellini and Bonucci. 4

AP

12/25 FROM THE BENCH: Kevin De Bruyne

After an impressive debut on Saturday De Bruyne came on but didn't show much, as Juve closed ranks after going in front. 4

PA

13/25 Nicolas Otamendi

Came on for Kompany and although he can't be blamed for the second goal, he looked a bit ring rusty as Morata powered past him to pick up the loose ball. 4

Getty Images

14/25 JUVENTUS: Gianluigi Buffon

Not looking close to his 37 years, Buffon is still one of the very best in the world. Never looked ruffled and pulled off one of the best double saves you are likely to see. 9

AP

15/25 Stephan Lichtsteiner

A constant menace up and down the right hand side, Lichtsteiner is vastly underrated and easily one of the best in his position in the world. 8

Reuters

16/25 Leonardo Bonucci

Physical, burly and good in possession, Bonucci never allowed Bony to settle into any kind of rhythm. 7

Reuters

17/25 Giorgio Chiellini

By hook or by crook, Chiellni gets it done. He's niggly, often dirty, but you could tell he worried Bony. Was fouled when scoring an own goal. 8

Getty Images

18/25 Patrice Evra

The former Manchester United defender is not the dynamic force he once was, but he's a wily defender. 7

Getty Images

19/25 Hernanes

His effectiveness was blunted a bit by playing a deeper role but he's tremendous when on the ball. 7

Reuters

20/25 Paul Pogba

Another performance that shows Pogba is at the very top of the world game. Outperformed Toure and delivered the defining pass of the match for the equaliser. 8

Getty Images

21/25 Stefano Sturaro

Got a way to go before he's at the level of departed Juve midfielders Andrea Pirlo and Arturo Vidal, but played with a passion and energy that made him a constant nuisance. 7

Reuters

22/25 Juan Cuadrado

ever played like that in a Chelsea shirt. Actually showed a bit of attacking intent and danger when in possession. 6

Reuters

23/25 Alvaro Morata

Absolutely brilliant winner that gave Joe Hart no chance. Morata is fast developing into one of Europe's best. One wonders why Real Madrid ever sold him. 8

24/25 Mario Mandzukic

Tremendous work rate throughout the match, the Croatian continued to ask questions of the City defender. Scored a deserved goal. 7

AP

25/25 FROM THE BENCH: Paulo Dybala

Looked neat and tidy in his Champions League debut. A very promising young player, even if he didn't have too much an impact on this game. 6

Getty Images
In this, their fifth season in the Champions League, City have still registered just one opening game win in the competition against Viktoria Plzen from the Czech Republic in 2013. Last season they did not taste victory until their fourth game of the group and this time around it has started with no more promise. Yaya Toure found himself passed around, David Silva barely got on the ball in the first half and Vincent Kompany withdrew injured with the game at 1-1.
For the chances they created, the best of which fell to Raheem Sterling, the goal that was put into his own net by Giorgio Chiellini should never have stood. With Kevin De Bruyne and then Sergio Aguero throw on to chase the game in the latter stages this became one of those nights when all the old problems surface.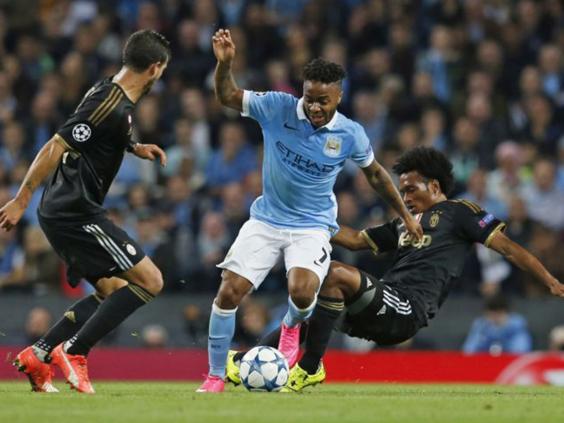 In the first half, Juventus mastered that skill Italian teams perform better than anyone else, the ability to suck the life out of a game at every opportunity, a technique passed down through the generations and used to great effect. When they needed him, Gianluigi Buffon, their 37-year-old goalkeeper, was magnificent.
There were chances for City but none that were unmissable and only one in the first half that was on target. There was possession for City but not in the areas where the away side might find themselves under pressure. They faced a Juventus starting line-up of 4-4-2 which soon became 4-5-1 or just 4-6-0 when the situation required it.
This was another test on the road for City and by no means the sternest they will face. But their tried and tested ways they have were not working in the first half. There was no fluency to their attacks, not in the way that each one took so long to set-up and in between there was much ponderous passing.
In the first few minutes, Fernandinho surged forward and played in Sterling to his left and, when he really should have scored, the young Englishman putted his shot straight at Buffon. Juventus made sure that was not permitted to happen again, and there was not another shot on goal from the home side all half.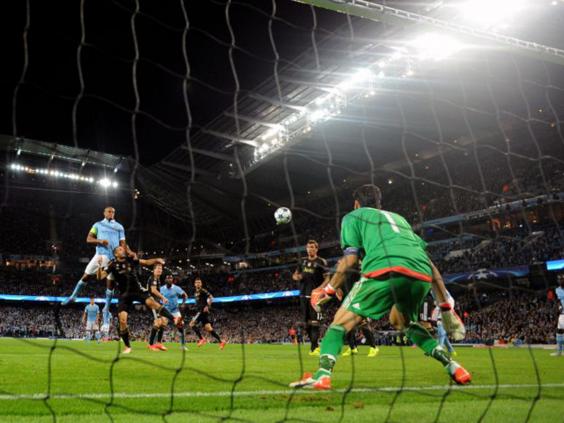 In midfield for Juventus, more often than not operating as one of five, was Paul Pogba, Europe's must-have midfielder and an elegant presence who covers the ground with such ease. There was the occasional moment of £70m-buyout clause quality from him - when he guided the ball away from Fernandinho and swayed past Samir Nasri - but this was a game when he had been told to form one crucial part of an unbreachable midfield and he stuck to that.
On the left wing for Juventus was loanee Cuadrado, that £26.8m Chelsea January signing that must elicit an uneasy silence every time his name is mentioned around the boardroom table at Stamford Bridge. He looked better against City than he ever did over five unhappy months in London, giving Juventus width and a flavour of adventure. His cross was turned in by Pogba early on but Morata had strayed offside.
As for City there was one prime moment for Wilfried Bony, Aguero's understudy, when he caught Leonardo Bonucci with his feet planted and his legs apart and flicked the ball through. It required a mighty shot to beat Buffon from the edge of the area and Bony's wild slice was nowhere near. By that point of the half, City's only sights of goal were coming from further and further away.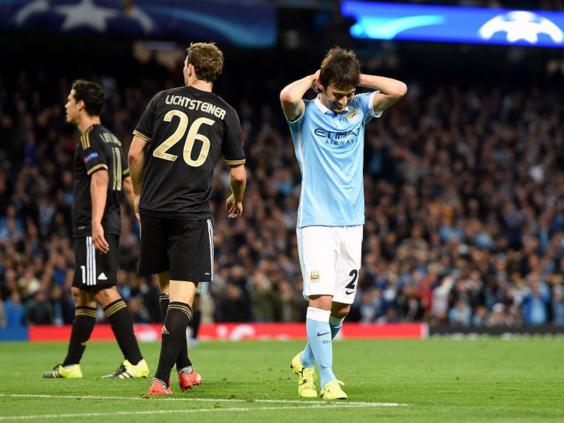 The breakthrough for City came just before the hour when at last a bit of pressure told - although if the Slovenian referee had kept his concentration then the goal would never have stood. As Silva's corner sailed over, Kompany's intention was to win the ball but by the time it reached him he had pinned Chiellini to the spot and used the old defender's face as means of steering the ball past Buffon.
Unsurprisingly this did not pass without protest from the Italian defender and a number of his team-mates, and it seemed to dawn on the referee that this was more than just the standard griping. Later, after Juventus' equaliser, Kompany would go off injured with 15 minutes remaining and the game in the balance.
There were chances after that for City to kill the game and Silva found himself on the ball more than ever. Once again, Sterling was put in a position where he should have scored and once again he seemed mesmerised by Buffon who saved from him and then stopped the rebound from Silva.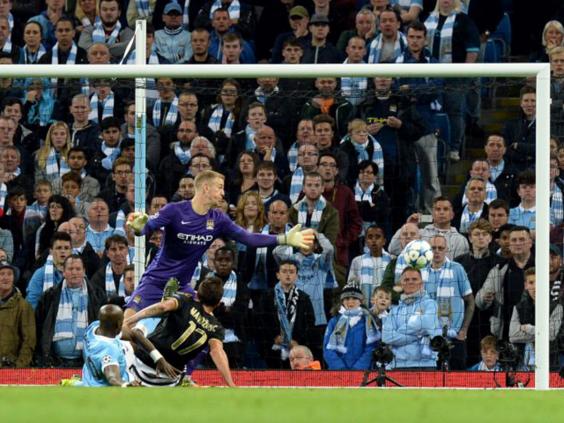 The equaliser from Juventus was a bad moment for Eliaquim Mangala who allowed the Croatia striker Mandzukic to run on his blind side to meet a Pogba cross from the left and guide it just inside Joe Hart's far post. It had taken 520 minutes of competitive football this season for City to concede, although this one rather changed the mood.
De Bruyne was already waiting on the touchline when Mandzukic scored and he came on moments later for Sterling whose evening was full of hard work but was defined by those two missed chances in either half. Then Kompany came off injured and there was more than a hint of vulnerability about City.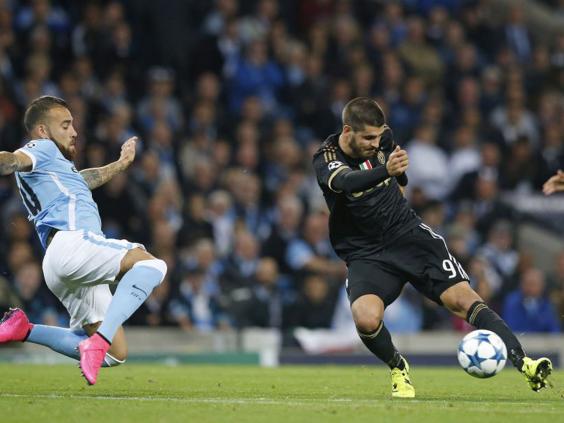 The winner arrived from an innocuous sequence of events: a hard run down the right from Cuadrado chasing a long ball and a collision with Aleksandar Kolarov that caused the ball to cannon off the full-back and into the path of Morata. He allowed it to pass him, turned, and hit a left foot shot first time that curled beyond the reach of Hart and in. for the first time all season, City found themselves chasing the game. One Toure shot aside, they never looked like rescuing it.
Manchester City (4-2-3-1): Hart; Sagna, Kompany (Otamendi 75), Mangala, Kolarov; Toure, Fernandinho; Silva, Sterling (De Bruyne 70), Nasri (Aguero 82); Bony
Juventus (4-4-2): Buffon; Lichtsteiner, Bonucci, Chiellini, Evra; Cuadrado, Hernandes, Pogba, Sturaro; Morata (Barzagli 84), Mandzukic (Dybala 78),
Referee: D Skomina (Slovenia)
Man of the match: Buffon
Reuse content