1. Bayern failed to make the most of their possession
Bayern Munich's possession stats were certainly an eye-opener. If the game had been a boxing match, then with Bayern's 698 passes compared to United's 166, it would have been stopped long before the second goal. But those stats are irrelevant if you don't hurt teams in the final third.
Some managers call it the red zone, but United matched Bayern in the penalty boxes.
David Moyes' men need to be better than Bayern in those boxes in Munich next week if they are to go through. What happens in the middle is almost insignificant.
2. Büttner proved he is a worthy Evra understudy
Alexander Büttner was singled out as one of the weak links for United before Tuesday's kick-off, but he performed exceptionally well against the German champions.
He tucked in well alongside Nemanja Vidic at left-back and his defending against two world-class players in Franck Ribéry and Arjen Robben will have given Moyes food for thought.
He might not have Patrice Evra's qualities on the ball, but the 25-year-old Dutchman has more energy and pace than his French  colleague.
Manchester United 1 Bayern Munich 1: Player Ratings
Manchester United 1 Bayern Munich 1: Player Ratings
1/22 David de Gea 7

Spaniard was not called on a great deal despite Bayern's monopolising of possession but made important flying stop from Robben on the half hour

GETTY IMAGES

2/22 Phil Jones 6

England utility man looked woefully out of place up against mesmeric Robben and Ribery before being moved out to left-back when Buttner went off

GETTY IMAGES

3/22 Rio Ferdinand 8

Confident beginning and put in easily his best performance of the season. Calm in possession and won crucial challenges to keep United in contention

GETTY IMAGES

4/22 Nemanja Vidic 8

Important tackle on Muller inside area and back to something resembling his best. Towering header briefly gave United hope of an unlikely first-leg lead

GETTY IMAGES

5/22 Alexander Buttner 7

Brought in to replace the suspended Patrice Evra, not afraid to dive in and conducted himself well. Handled in area but a case of ball to hand

GETTY IMAGES

6/22 Michael Carrick 6

Calm as ever in possession and careful with passing but effect paled at times. Slow to close down Bayern attacks as visitors dominated the middle

GETTY IMAGES

7/22 Ryan Giggs 5

Last night was his 141st appearance in the competition and did most of his meaningful work helping out defence. Taken off at half-time

GETTY IMAGES

8/22 Marouane Fellaini 5

Much-maligned Belgian struggled in both the air and on the ground but stuck to his task. Lost Schweinsteiger for goal that cost United the victory

GETTY IMAGES

9/22 Antonio Valencia 6

Harshly booked for late tackle on Lahm before surviving a second when going in on Boateng. Positive in possession, had one cross-shot deflected over

GETTY IMAGES

10/22 Danny Welbeck 6

Penalised for high feet when finding the net from 15 yards in opening minutes. Endured his Geoff Thomas moment when clean through before break

GETTY IMAGES

11/22 Wayne Rooney 6

As so often this season, left marooned at times as United struggled to keep the ball. Kept to task and corner set up Vidic to open the scoring

GETTY IMAGES

12/22 Manuel Neuer 7

Stood up well to Welbeck when forward was played clean through before the break. Quick off his line but caught wrong footed by Vidic header

GETTY IMAGES

13/22 David Alaba 6

Enjoyed evening in effectively a right wing position and provided steady stream of ammunition for the visitors. Mainly a successful night in defence too

GETTY IMAGES

14/22 Jerome Boateng 7

Offered muscular presence and dealt well with Rooney. Mistake allowed Welbeck clean run on Neuer and caught late by Valencia in the second half

GETTY IMAGES

15/22 Javi Martinez 6

Deployed in relatively unfamiliar role at back. Beaten by Welbeck early on before reprieve. Resorted to dragging Hernandez back late on, earning a ban

GETTY IMAGES

16/22 Rafinha 6

Like his fellow full-back the Brazilian spent much of the evening further forward and it was his arching cross that generated the equaliser

GETTY IMAGES

17/22 Philipp Lahm 6

Caught by Valencia which earned Ecuadorian a booking. Popped up in all the right places, with one vital block on a Rooney effort

GETTY IMAGES

18/22 Bastian Schweinsteiger 7

Easily bossed midfield against weak opposition. Classy finish gave Bayern crucial away goal but blotted copybook with late dismissal, albeit a little harsh

GETTY IMAGES

19/22 Toni Kroos 6

Covered a lot of ground but struggled to influence as he did on his last visit to England at the Emirates in February. Saw shot blocked by Vidic

GETTY IMAGES

20/22 Franck Ribery 6

Happy to sit back on wing and dictate matters, his partnership with Robben was a constant threat. Tired late on as Bayern forced to settle for a draw

GETTY IMAGES

21/22 Arjen Robben 7

Linked up well with Ribery and twice went close in opening exchanges. Forced fine save from De Gea and dragged wide of keeper's post late on

GETTY IMAGES

22/22 Thomas Muller 6

Just beaten to ball by Vidic underneath the United crossbar. Not able to make most of Bayern's midfield promptings before being replaced

GETTY IMAGES
3. United can hurt Bayern at set pieces
Bayern's defending for Vidic's goal was poor, to say the least. They decided to mark zonally, leaving three up, but what was even more baffling was that the smallest player on the pitch, Philipp Lahm, marked the key central zone, making it simple for Vidic to attack the ball unchallenged.
If Bayern are as slack in the return leg, then this could be one key area where United can win the game, especially if the delivery is right.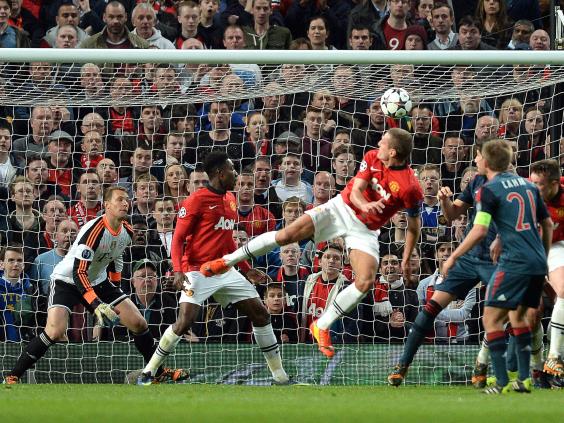 4. Guardiola oozes confidence on and off the pitch
From sitting just yards away from Pep Guardiola, it was interesting to see how he operates on a touchline.
He was very calm, demanding the maximum from all his players and making every decision himself. He very rarely consulted the other coaches on the Bayern bench.
But it was the post-match press conference where I really got to see close up how he works. David Moyes was first in and very strait-laced, thinking about every answer, being careful not to be caught out, but Guardiola was too cool for school when he told one English journalist to look him in the eyes when talking to him and telling another that he'd already answered his question three times. Guardiola had confidence in abundance.
5. Fellaini needs to show his worth against top opposition
It's fair to say that Marouane Fellaini's Manchester United career is yet to take off. Once again, it was a difficult game for the Belgian on Tuesday.
Against Manchester City last week there were ironic jeers when he was substituted, such was the  perceived lack of quality of his performance, and the crowd at the Munich game also got frustrated with him at times.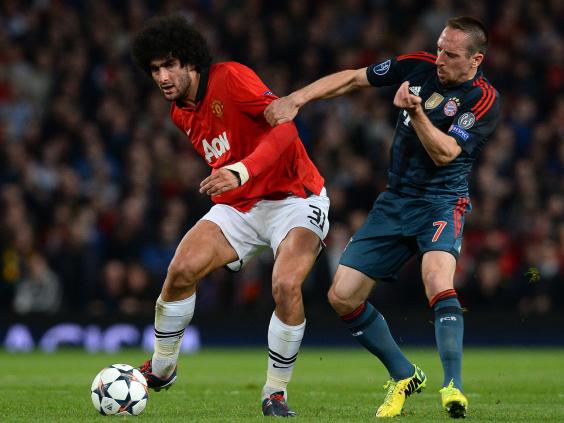 He will need to be mentally strong to get through this period and put the crowd reaction out of his mind to come out of it a better player.
There are signs, however, that he is showing his worth. In United's last three away games, albeit against lower-quality opposition, he has arguably been their best player.
Reuse content