Luck has been one of the many variables that has not gone the way of David Moyes. On the night when he finally gets a break and at the point it was needed most, it would be ungenerous to rain on his parade. So here goes.
Manchester United beat a team that would struggle to put Wigan away, that have never won in 12 attempts in England, and that might have delivered the vital away goal twice in the opening half, on one occasion requiring an improbable double save from David de Gea. A win is a win, except when it is against opposition as poor as Olympiakos.
There are a string of more representative results behind United, Sunday's home defeat against Liverpool being just one. You shudder at the prospect of Bayern Munich, Real Madrid or Barcelona pitching up here in the next round. Careful what you wish for, David.
On Tuesday, Manchester City are the visitors chasing a trophy beyond the reach of Moyes, the Premier League title. City will not be as porous as last night's visitors nor will they be as profligate in front of goal.
Manchester United 3 Olympiakos 0 - Player Ratings
Manchester United 3 Olympiakos 0 - Player Ratings
1/11 David de Gea 9

Made a number of key and quality saves throughout the game and was vital in seeing United through. A fantastic double save on the half hour mark was probably the pick the stops but made several others just as important. Good distribution and decision making in a commanding performance

GETTY IMAGES

2/11 Patrice Evra 7

Good all round shift from full-back in both a defensive and attacking sense. Drew a good save from the Olympiakos keeper from header following a corner and had another, more tame, effort soon after. Steady at the back and dealt well when the away side started to get on top late on. Booked for high boot on Nelson Valdez and will miss next game

GETTY IMAGES

3/11 Rio Ferdinand 7

Dealt well with everything in the air and looked very composed on the ball. Rode luck at times when Olympiakos gained the upper hand in the second half but continued to snuff out any attacks. Booked for bust up late on

GETTY IMAGES

4/11 Phil Jones 6

Played well but was a touch suspect against the trickery of Joel Campbell at times. Put in several brave headers in a whole hearted display though and was strong at the back when the pressure was put on in the second half

GETTY IMAGES

5/11 Rafael 7

Linked up well with Valencia down the wing and was a threat overlapping from full back. Was steady and watchful in defence and coped well with the pressure that Olympiakos put United under in the second half

GETTY IMAGES

6/11 Michael Carrick 7

Broke up everything that Olympiakos could muster for the first 70 minutes and was dogged and determined when the away side starting to get on top later in the game. Helped control the midfield alongside Giggs and showed great touch and composure. Booked for chopping down Hernán Pérez

GETTY IMAGES

7/11 Ryan Giggs 8

At 40 years and 110 days became the oldest outfield player to play in the Champions League knockout stages but rolled back the years in a superb display. Orchestrated things from midfield with a masterful passing display. Set up Rooney who hit the post and van Persie for the incident leading to the penalty and played a wonderful pass to release Rooney in the build up for the second goal

GETTY IMAGES

8/11 Antonio Valencia 7 (Young, 74)

Despite taking a heavy blow to the face early on and receiving a nasty looking shiner in doing so, continued to be a threat with his pace and power down the wing. Track back well all game and drew countless fouls with his trickery

GETTY IMAGES

9/11 Danny Welbeck 6 (Fletcher, 82)

Quieter going forward than his teammates but still a threat and never stopped running. Won the free kick for United's third and vital goal but was not in the game as much as he would have liked in an attacking sense

GETTY IMAGES

10/11 Wayne Rooney 9

Worked tirelessly all over the pitch, making tackles, winning back possession and playing all manner of passes on a great night's work. Hit the post with a good header and played a pin point cross for Van Persie's second goal. Looked hungry throughout and lead from the front for United and was unlucky to not get on the score sheet himself

GETTY IMAGES

11/11 Robin Van Persie 9 (Fellaini, 90)

His fantastic free kick completely wrong footed Jiménez Gago in the Olympiakos goal to earn his first Champions League hat trick of his career. Won and scored the penalty to settle United nerves and get that all important first goal and finished neatly for his second. Held the ball up well and was a constant threat throughout the game. Vital performance of real class just when United needed him most

GETTY IMAGES
This was a victory of graft over craft. Yes, Robin van Persie nailed a headline-grabbing hat-trick but two of his goals were set-pieces. On the whole United just did the dull stuff quicker. There was an obvious commitment hike but hardly a commensurate upswing in quality.
What was required was speed of thought as much as limb. United didn't fail against Liverpool for lack of effort but for an absence of wit and imagination. Running harder does not solve that problem. Moyes has not grasped that.
There was a discomfiting sense of desperation. This was not a team that believed in itself. Precisely the opposite. It was a side that has lost its way and has no idea which way is up on the compass. Even if we accept that a team that won the championship by 11 points was in decline, the frantic  to-ing and fro-ing was proof that Moyes has accelerated not slowed that process.
For a spell in the second half after Van Persie's third goal, United struggled to gain meaningful possession of the ball. Insecurities that have developed under Moyes would not go away despite the scoreline.
Among the many contradictions swirling around Old Trafford these days is the idea of United as underdog. The announcer welcomed the visitors from Greece to the world's greatest football club yet the ground staked by Moyes was full of red-blooded rhetoric about recovering lost causes and delivering a result against the odds.
His predecessor would regularly invoke the fighting spirit that lay at the heart of his teams but this was from a position of strength in the service of a club that won things. Moyes has confused the position of the club with his own. The fundamentals at Old Trafford, economic and cultural, almost certainly guarantee a return to happier days.
What is not so clear is the ability of Moyes to restore the team to the heights reached by Sir Alex Ferguson. The cheers that echoed around the stadium as the teams lined up were for United not Moyes. His brisk walk to the dugout was of the graveyard variety. He raised his hand to acknowledge the crowd and to project an air of insouciance but without convincing many.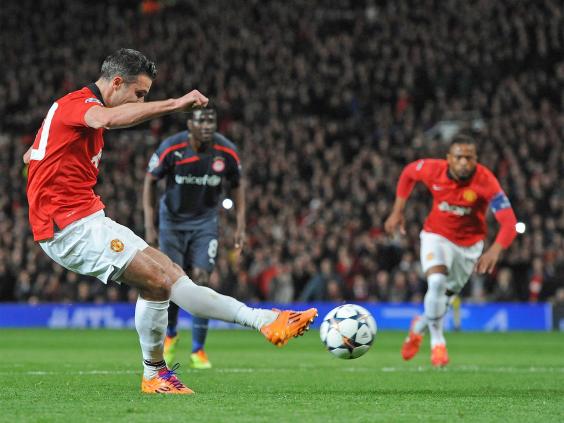 Wednesday night's solution to the midfield conundrum that has beset Manchester United in recent years was a 40-year-old member of United's coaching staff. Yes, he put the ball on Wayne Rooney's sixpence for the second goal. Ryan Giggs with the ball at his feet is still some sight. But he was also instrumental in the defensive lapse that created the overlap which led to David de Gea's vital double save.
The selection of Giggs propped up the argument peddled by Moyes from the start: "What choice do I have?" You wonder what Fergie makes of the claims that he left Moyes a basket case of a squad with which to work.
Ferguson's arrival at Old Trafford with former chief executive David Gill eight hours before the kick-off had the rumour cycle churning all manner of reasons for their early attendance. Crisis meeting was a popular suggestion pointing to the trouble Moyes is in, as if they needed to meet here to decide anything.
Each fixture brings a fresh judgement on Moyes' prospects. In the main he has borne the speculation well. There is an undeniable dignity about Moyes as an individual but being a nice bloke does not get this job done, as Ferguson's many abuses of civility demonstrate.
Moyes' promptings from the dugout are those of a conductor without a baton. He waves his hands, gesticulates but to no obvious effect. You might argue that once the whistle blows it is the job of the players to solves problems on the pitch. To a degree, but their ability to do so is conditional on the requisite preparation.
This is a group that has had the belief beaten out of them. The extra dimension that confidence brings is no longer on tap. That is entirely in the gift of the manager. You only have to look at the way Jose Mourinho has moulded Chelsea into a sum greater than its parts.
Under Moyes, United don't add up to the force of old, and he must bear responsibility for that. Edging past Olympiakos is a reprieve, nothing more.
Reuse content