Sir Alex Ferguson appeared to be scrutinising his mobile phone at the moment Old Trafford rose to acclaim Wayne Rooney as he came off late in the game tonight. The former Manchester United manager was never one for sentimentality anyway, but Rooney's relationship with his club's fans is a good deal less complex than the one with his old boss.
Many of those in Old Trafford will have seen Rooney's first three goals for United nine years ago this month when he scored a hat-trick on his debut against Fenerbahce. Tonight they witnessed Rooney's goals No. 199 and 200 that place him 49 behind the all-time club record held by Sir Bobby Charlton. The same record that was held up by David Moyes as something Rooney should stay around to surpass during his summer of tension.
Rooney now stands alongside Charlton, Denis Law and Jack Rowley as one of only four men in United's history to score 200 goals for the club. It was not a landmark one envisaged him reaching when Ferguson landed aimed that transfer request accusation at him in May and it is fair to say that the storm that blew up that day has still not dissipated.
Yet, as United won the first Champions League game of the Moyes era, it was Rooney who was the main man, even with a superb second goal from Robin Van Persie. The Germans got themselves level at 1-1 against the run of play but once United took the lead again it was never in doubt. Somehow Leverkusen scored a second with two minutes to play and Van Persie conspired to miss an open goal from a yard out just moments later.
This was Rooney's night, and not just for the goals he scored as Moyes pointed out later. It was Rooney's pass as United swept forward with ten minutes left, that played in Antonio Valencia who scored the fourth. With that giant foam band around his forehead, Rooney might look like a man who has been separated from the critical part of his top hat. Tonight his performance was sufficiently assured that he could have played in one.
Who knows what Ferguson makes of it all. He sat on the back row of the directors' box but still seemed to be going through all the usual agonies when chances went missing. One supposes that we are about to find out when the autobiography arrives in little more than a month's time and it will be interesting to see what effect that has on the Rooney dynamic.
The striker seems to be entering one of those periods when the goals come easy for him. He scored against Crystal Palace at the weekend and tonight was sharp all around the Leverkusen area. Sami Hyypia did a much better job of dealing with Rooney at times during his career than the former Liverpool defender's back four did tonight. Rooney's form requires defenders to be on their game and Leverkusen were nowhere near.
There was a good performance elsewhere from Marouane Fellaini who tidied up effectively in front of the United back-four. There was a start for Shinji Kagawa, his first of the season, a reprieve for the player whom Moyes has chosen to ignore thus far.
It was a side that had been selected to attack the German visitors, with Valencia on the right and the Rooney and Van Persie combination in attack. Whatever the interpretation placed on Moyes' remarks about Rooney in pre-season this was evidence that he does not feel he had to choose between his two famous strikers when there are games that need to be won, and the initiative seized, at Old Trafford.
Hyypia's Leverkusen side are third in the Bundesliga after five games, the same position that they finished in last season. They have lost Andre Schurrle to Chelsea since May and tonight they looked like they were caught between hanging on for a draw, before they went behind, and seeing if they could test United's vulnerabilities. In the end they did neither and were fortunate to score twice.
United dominated the first half and broke through at almost exactly the mid-point. Rooney improvised well to score from Patrice Evra's cross from the left, hitting the ball on the volley down into the ground and past Bernd Leno in the Leverkusen goal.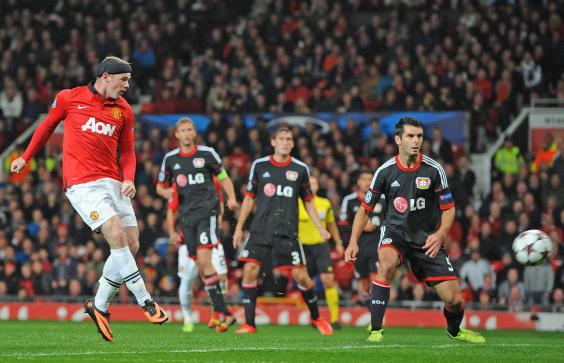 The chance had, in part, been created by Van Persie's work out on the left to keep the ball. The Dutch striker had a strange first half. He shot wide from Fellaini's throughball on ten minutes, the most promising sight of goal he got before the break. He was also booked, finding himself nose-to-nose with the Slovenian referee Damir Skomina when neither of them prepared to back down.
It should have been over as a contest with seven minutes of the second half played. The Leverkusen defender Omer Toprak turned back towards his own goal, fell over and let Rooney in on goal. He went around Leno easily enough and, wide to the left, should have had no problem wrapping his left foot around the ball and tucking it into an empty goal.
At that point Rooney might have changed his mind and considered squaring the ball to Van Persie who was unmarked in the area. In the event he did neither, his ball across the goal was too far ahead of Van Persie for him to be able to react and wide of the far post. It was a bad one to miss and United were made to pay within two minutes.
Leverkusen scarcely deserved the equaliser, yet their captain Simon Rolfes took the chance beautifully. It was created by some good work from Son Heung-Min, the South Korea international, who hung on to possession long enough to play it back out to Rolfes. He shaped his shot well, bending it in with a flight that began outside David De Gea's right post.
It was unfortunate for United and for Moyes, with Ferguson looking down on his successor from the stand opposite the one that bears his name. The United manager was rescued by the kind of quality that United have come to rely upon down the years. Valencia's excellent run ended in a cross from the right that was fractionally behind Van Persie and was sweetly volleyed past Leno, nonetheless.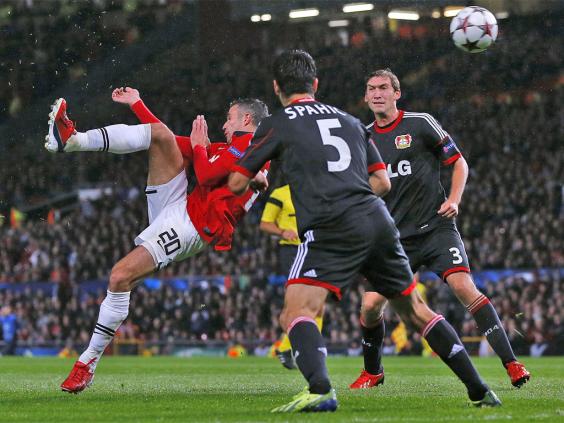 Hyypia sent on Lars Bender, not regarded as fit enough to start. Unfortunately for the Leverkusen manager his defence let him down again. This time it was Emir Spahic who misjudged a header, allowing Rooney to run on goal and tuck it inside Leno's near post for No. 200.
Valencia scored an excellent fourth from the right, after the substitute Ashley Young, and then Rooney had worked the ball over from the left. The Leverkusen defender Toprak forced in a second for his side as United's defence failed to clear in the closing stages. Before then, Rooney had come off to devoted applause.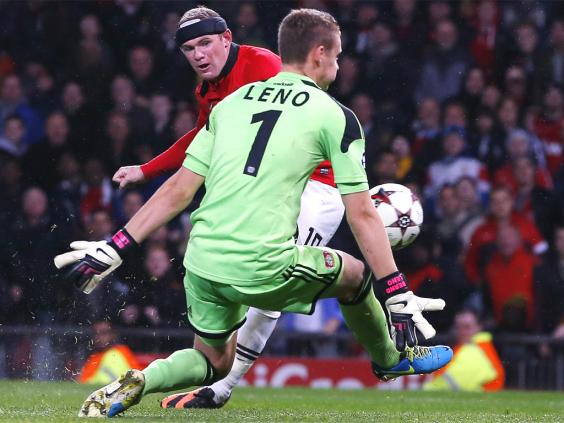 With an open goal, Van Persie somehow managed to direct the ball wide from Valenicia's cross late on, proving that even the truly talented are not immune to those calamitous moments. This, however, was Rooney's night, and everyone, Ferguson included, will have known that.
Manchester United (4-4-2); De Gea; Smalling, Ferdinand, Vidic, Evra; Valencia, Kagawa (Young 70), Carrick, Fellaini (Cleverley 80); Rooney (Hernandez 86), Van Persie.
Bayer Leverkusen (4-3-3): Leno; Donati, Spahic, Toprak, Boesnisch; Can, Reinartz, Rolfes; Sam (Kruse 78), Kiessling (Derdiyok 78), Sun (Bender 64).
Man of the match Rooney.
Match rating 7/10.
Referee D Skomina (Slvn).
Attendance 74,000.