"The ball is round, a game lasts 90 minutes, everything else is theory." That quote, from Sepp Herberger, who coached West Germany to victory in the 1954 World Cup, is not one that Jose Mourinho has ever taken to heart. For the Manchester United manager there are always theories and the latest surrounds the pitch at the Olimp-2 Stadium.
Rostov on Don is as unlikely to host the Olympic Games as Mourinho is to be invited to Arsene Wenger's leaving do. Theirs is a classic Eastern European stadium, an open bowl, overshadowed by floodlights. This is the club blocking Manchester United's path to the quarter-finals of the Europa League.
The pitch reminded Mourinho not of Eastern Europe but the Far East, specifically the re-laid one at the Bird's Nest Stadium in Beijing, which was so bad that he and Pep Guardiola called off the Manchester derby that was to have been the highlight of the clubs' summer tours.
Mourinho said he thought this match ought to have been called off two weeks ago and added that when he went to inspect the mottled, patchy playing surface one Uefa official, presumably a member of the technical team, said it would not matter if any of Manchester United's players got themselves injured on it because they were insured.
"It's still hard for me to believe we are going to play there, I know we have to but it is hard to believe we are playing on that field if you can call it a field," said Mourinho.
"I have not had any contact with anyone official until just now when I had a quick contact with one gentleman from Uefa when I was looking at the pitch. When I told him of my concerns, the gentleman told me that the players are insured and, if someone is injured, then no problem."
It is utterly impractical for Manchester United to attempt to call off this match now. To do so they would have to make a formal request to the official Uefa observer on the day of the game, just when many of their supporters would be making the long, expensive journey to this rather shabby corner of southern Russia.
There is no space in Manchester United's calendar for rescheduling and the nearest stadium to which the game could be transferred is at Krasnodar, 155 miles away.
There are always problems with pitches in what used to be the Soviet Union. When Manchester City played CSKA Moscow in the Khimki Arena, they found they had painted the grass green. In December, United played Luhansk in a game that had been moved to Odessa and saw the pitch thawed out with hot-air blasters. Neither Manchester club lost.
If a member of Uefa's technical team does think a broken leg is worth the risk of a dodgy pitch, then Mourinho was right to mention it but his defender, Daley Blind, had the more measured response when he said that, though he did not like the playing surface, Manchester United would still go out to win on it.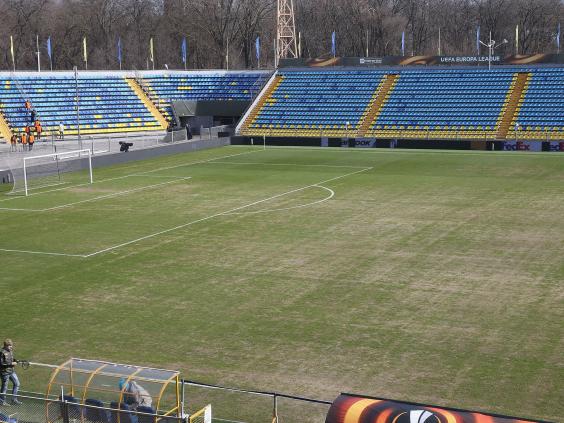 Rostov's manager, Ivan Daniliants, remarked they would love to play Manchester United at Wembley and that the pitch had been even worse when they played Sparta Prague in the round of 32.  
Rostov won that match 4-0 which might be a reason why Mourinho should be so ready to point out the obstacles in United's way. Both in the Champions League and the Europa League, Rostov have been seriously formidable in front of their own spectators.
This season they have beaten Ajax and Bayern Munich here and lost only one of their six home European fixtures – to Atletico Madrid.  In Mourinho's eyes, the ball may be round and the game may last 90 minutes but it always pays to prepare your excuses.