It wasn't the most convincing piece of football choreography for Manchester United, who are looking to take a sense of harmony befitting the name of their great club into a Champions League quarter-final against the continent's strongest side, Bayern Munich, on Tuesday night.
David Moyes, the manager, found himself sitting beside Ryan Giggs at the pre-match press conference on Monday and what might have been an opportunity to lay to rest suggestions of a rift between the two over the club's direction had its uncomfortable moments – not least when Giggs was asked, in an attempted discussion of managerial pressure, whether one day he saw himself taking over in the same capacity. This flank was quickly shut down. "We're here to talk about the match," the offending American journalist was told, amid forced laughter.
Giggs has denied a rift yet he was diplomatic, rather than emphatic, on the issue of whether his relationship with Moyes was a good one. Moyes made an unprompted contribution to that discussion – "I go to his yoga classes now, see if that helps me!" he said – just as Giggs was reaffirming that "there's not been a problem," so neither observation could be properly heard. Giggs was here by Buggins' turn, rather than in a premeditated strike against the new regime such as his friend Paul Scholes delivered in a Sky Sports appearance a week ago, yet the fixed smiles did give the whole business the feeling of a strained family get-together.
Though Giggs' most realistic chance of taking over Moyes' job would come with an interregnum prompted by the manager's departure before the summer, Tuesday night provides the chance for Moyes to put any notion of a "Class of '92" putsch into the background.  Another battering – an outcome which is distinctly possible – would provoke new questions about whether Moyes can take United forward and the size of the task is multiplied by the probable absence of the suspended Patrice Evra and of Rafael da Silva, who did not train on Monday owing to a thigh strain.
10 reasons why Manchester United can cause an upset against Bayern Munich
10 reasons why Manchester United can cause an upset against Bayern Munich
1/10 Wayne Rooney is in red-hot form

While many of United's players look a shell of their former selves, Rooney appears to be a player reborn this season. His double against Aston Villa on Saturday backed-up a brace against West Ham the week before, and took him to 17 goals in all competitions this season – two less than Munich's top-scorer Mario Mandzukic.

Getty Images

2/10 Pep Guardiola hasn't won at Old Trafford

The Bayern coach's last visit to the Theatre of Dreams ended in defeat as his Barcelona side went down 1-0 after a late Paul Scholes winner in the 2007/08 semi-finals. His playing days weren't much better either, as he only managed a 2-2 draw when he travelled to Manchester with Barcelona in the group stage of the 1994/95 season. Could Old Trafford be a jinx for Pep?

GETTY IMAGES

3/10 Bayern's record against English teams is poor

Having appeared to conquer all before them, Bayern's record against Premier League opposition isn't as good as you'd have thought. Over the past five seasons, they've won as many as they've lost when confronted by English opposition, with five wins and five losses along with one draw. The most recent game saw them held 1-1 with Arsenal (pictured). The most memorable defeat though? The Champions League final loss to Chelsea back in 2011-12.

Reuters

4/10 Bayern have been celebrating

With seven matches still to run in the Bundesliga, Bayern wrapped up a second-straight German league title, meaning they could focus their attentions on the Champions League and German Cup final. The up-shot of all this is that a number of reports have claimed the Munich players hit the town in celebration. If you can't celebrate back-to-back title wins, when can you? (Answer: When there's not a Champions League quarter-final the following week).

GETTY IMAGES

5/10 Shinji Kagawa has always won against Bayern

Having struggled to hold down a place in the United first-team squad, Shinji Kagawa showed promising signs that he could yet develop into a top player at Old Trafford with a good performance against Aston Villa. David Moyes will likely start with Kagawa on Tuesday, especially as he is without the cup-tied Juan Mata, but also because the Japanese international has won all four of his encounters against Bayern during his time with Borussia Dortmund – a point he made reference to in his pre-match press conference.

GETTY IMAGES

6/10 Could 1999 happen again?

Manchester United's finest moment in European football arguably came in the 2-1 comeback victory over Bayern in the 1999 Champions League final, when Teddy Sheringham and Ole Gunnar Solskjaer struck in injury time to secure Sir Alex Ferguson his first Champions League trophy. Could lightning strike twice?

GETTY IMAGES

7/10 All eggs in one basket

Chelsea's success in 2011/12 coincided with a dreadful run in the Premier League that saw them miss out on the top four, ending the season in sixth. However, Didier Drogba's late equaliser and subsequent winning penalty in a dramatic shootout – over Bayern coincidentally – gave Chelsea a way into the next season's Champions League, not to mention the accolade of winning a first ever European Cup. With United languishing down in seventh in the league, they can draw inspiration from the Chelsea Class of 2012.

GETTY IMAGES

8/10 Bayern didn't win at the weekend

They may not have lost at all in the Bundesliga this season, but they let slip a 3-1 lead over Hoffenheim on Saturday to 'suffer' a 3-3 draw. Guardiola may have chosen to rest his key players for the encounter with Tuesday's match on the horizon, but it is the first time that Munich have been held in the league since the 1-1 draw with Bayer Leverkusen on October 5 last year. Bravo, Hoffenheim.

9/10 Manchester is the danger-word for Bayern

It's well worth remembering that Bayern have already lost to Manchester this season. Ok, so it was rivals Manchester City, and it was way back in December, but at least they showed the rest of Europe that they're not invincible. The feat was made all the more impressive as City ran out 3-2 winners in the German's own backyard, whereas United will be hoping for a result at home to take a lead on their travels to the Allianz Arena.

GETTY IMAGES

10/10 Giggs was phenomenal last time out

Up against it in the last-16 with his side 2-0 down on aggregate, Moyes turned to Ryan Giggs to inspire the side to a three-goal victory against Olympiakos. The veteran midfielder did exactly that, laying on two-goals for striker Robin van Persie – whose hat-trick earned United progression to this stage – and standing out as the best player on the pitch at an incredible 40 years of age. Giggs has not started a match since, but Moyes could be saving him in the hope of another virtuoso display on Tuesday.

Getty Images
The Moyes speech bubble on the cover of this month's Red Issue fanzine could not have put the task facing United better. Headline: "United draw Bayern." Moyes: "And we've got Buttner at left-back."
Bayern's Franck Ribéry drew the foul that led to Rafael's fateful dismissal in the 2010 quarter-final between the sides but he and Arjen Robben can damage this United defence, featuring Alex Buttner, exponentially more.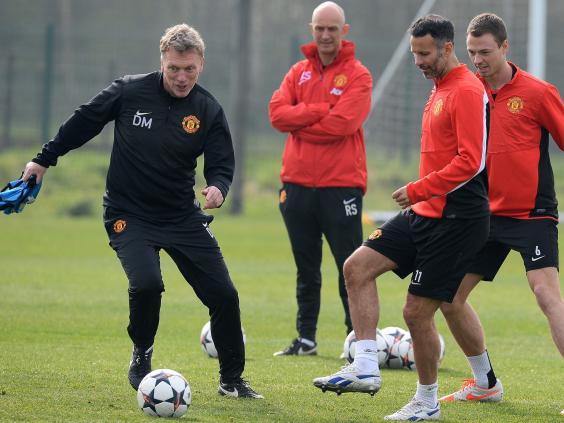 The mood among the Germans already decamping in Manchester was one of self-confidence bordering on swagger on Monday night. "Will Bayern score seven, eight or nine?" one TV crew asked British journalists. This was an alien environment for Giggs, sitting down to discuss an event at which his club have been written off by next to everyone. At the very least you imagined United would hold a reputation for indefatigability among the Germans, because of what Giggs and Co achieved against them in the 1999 final. Where Ferguson's statesmanlike appearance at a quarter-final stage like this would have produced a visiting press corps wanting to tackle the man who famously blamed "typical Germans" for that quarter-final elimination in 2010, the only questions yesterday came from the English. And 1999? Well, that seemed a very long time ago.
"Some of the lads probably don't remember it," Giggs reflected. No, it would not be used as a motivating factor.
Giggs talked in the Manchester United way, which is a way still less natural to the more cautious Moyes. "We don't see ourselves as underdogs. We see ourselves as Manchester United playing at home. We will go out to win the game," the player-coach insisted. "We are confident. We are looking forward to it."
But if Moyes is planning to dispense with his characteristic caution, launching on to the front foot in a way which proves that United can play and think like the champions they once were, then he has done a good job of disguising it. To the notion of an attacking strategy, enabling his players to take a lead to the Allianz Arena next week, he observed that "in the first leg there is always a bit of cautiousness. We have to make sure the two legs are important.".
 One of the decisions for Moyes is whether Shinji Kagawa will be used after his strong performance against Aston Villa on Saturday. The ever enthusiasic Japanese media fraternity pressed his case yesterday, reminding Moyes that Kagawa's record for Borussia Dortmund against Bayern had been four wins in four games. "He's in our thoughts. We like him a lot," Moyes told them.
Giggs, after his display in the win over Olympiakos which delivered United here, will eye a chance too. He did not deny that he would like to have played more in a season when he has made six Premier League starts, only one more than in Europe. "As a player you want to play all the time," he said. "I normally play every two or three weeks to probably get the best out of me. The last game was probably the first time in six or seven weeks."
He skirted around the criticism of the team's set-up from former United team-mates Scholes and Gary Neville. "Being criticised comes with the territory as a Manchester United player," Giggs said. "You lose a game. You get criticised."
On his own playing future beyond this season he was noncomittal, though this certainly feels like the end. "I don't know," he said to the notion that this might be his last European campaign. "I'll tell you after tomorrow maybe! I am just trying to enjoy this season, really, and then at the end I will take stock."
For Giggs, more than anyone tonight, there is motivation for one of those defiant United performances of old – because after all these years it wasn't supposed to end in a whimper like this.
Reuse content