Bayern Munich winger Arjen Robben says Jose Mourinho and Louis van Gaal are very similiar in the way they "live and breathe football and tactics".
Robben, now 30, was one of the world's hottest prospects when Mourinho brought him to Stamford Bridge in 2004. He helped the Blues to two Premier League titles and the FA Cup in three seasons at the club, but was often in and out of the team and heavily criticised for his diving.
Robben moved to Real Madrid but failed to hit the heights in two seasons in Spain before Van Gaal opted to bring the Dutch winger to Munich.
Since that move in 2009, Robben has undergone a renaissance, becoming one of the world's best players and helping the German side to three league titles, three DFB-Pokal cups, the Champions League and almost taking the Netherlands to the World Cup final.
Speaking to the Daily Telegraph, Robben has ruled out a reunion with either of his former managers as he is at the "perfect club".
"I am enjoying it so much over here," he said. "It is the perfect club with the perfect manager for me. My family is happy, we have lived here for five years and I am exactly at the place I want to be. If you see me again in three years in the Premier League, then who knows, but at the moment, there is not even one per cent of me thinking about going to England or anywhere."
Robben said the two managers, who worked together at Barcelona in the 1990s and go head-to-head at Old Trafford on Sunday, have huge similarities in the way they prepare for games and "live and breathe football and tactics".
"They are both very demanding, really intense, and what they ask from their players is the same kind of intensity," Robben added.
"They are the same in the way they prepare things, the way they live and breathe football and tactics, every second of the day almost. When I came to Chelsea and worked with Mourinho, it was my first time abroad, so that was an important stage for me.
"But I have also worked under Van Gaal, and now Guardiola, and I feel so privileged to have worked for these great coaches because it has certainly helped me make good steps in my career. When I met Mourinho, I was still very young, but mentally and tactically, he worked on me. He was really demanding, you could not take a step below your level.
"We played a lot of games, but how he prepares his team, what he says to the players, he can really say the right words at the right time and you start to think more. I made a big step under Mourinho, mentally."
However, Robben did say that the two managers are not without their differences.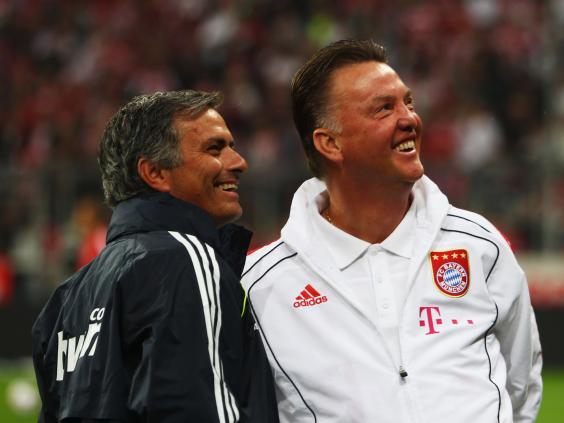 "Mourinho was always very strong for his players and you needed to deliver for him," Robben said. "For me, it was good. It was also very special because, in my first year, we won the league, Chelsea's first in 50 years, and that was important for everybody at the club. But for me, the big thing I learnt from Mourinho was about mentality. He taught us to be strong, collectively, and also strong for yourself.
"Van Gaal is the kind of guy who can really make individual players better. It was the most important step of my career to go from Real Madrid to Bayern. It was the best move of my career, coming here and working under him. It really gave me a lot of confidence and a new way of working.
"You know his style – maybe it helped me because of the Dutch language – but the way he trains players means you have to adapt initially. Maybe that is why people are adapting in Manchester now, because the intensity is very high and you have to get used to it. But it was good for me because I got stronger, I got fit, and that was very important for my game."
Robben added that Van Gaal will be a success at Old Trafford.
"He is the right man for United, definitely," Robben said. "That is what I will always say. In the beginning, when it wasn't going so well for him at United, people were asking me about it, but I will always tell them to have confidence in him. It will come, it just needs time. He has brought a lot of new players in, so he needs time to build, but he can really build a team.
"We have seen the perfect example of that here at Bayern, with what he did at this club. It is also shown with the national team, the steps he made to take us to third place in the World Cup and that wasn't normal. It was a unique performance for Holland, but with United, he needs time. I like him, I am a fan of him and I know what he can do."
Mourinho is attempting to become the first manager to win the Champions League with three different clubs, after his success with Porto and Inter - when he beat Van Gaal's Bayern in the 2010 final - and Robben thinks Chelsea have a chance to do it this season.
"If somebody can do it as a manager, he can," Robben said. "He is a specialist when it comes to preparing his teams for the big games, tactically and mentally. You cannot forget that they also have some very good players in the team, but he is the ideal guy for them. He is the special one for the special games. I see Chelsea, and Arsenal, too. They are always a dangerous team.
"Obviously, if we win our group and they come second in theirs, you already know who we will play in the last 16 after our meetings in recent seasons! But you have those two, you have Juventus, Real, Barcelona, Dortmund and a lot of other good teams in the Champions League, so it is going to be very difficult to win this year."
Reuse content