The weird modern business about who is prepared to take a low number jersey – a form of choreography which lead Luke Shaw to explain in last night's programme that he has given up No 3 because 23 "is the number I feel comfortable with" – is not something to which Memphis Depay felt he could subscribe when he arrived in this city.
The 21-year-old told his manager Louis van Gaal that he wanted No 7, if you please, because he intended to succeed Angel de Maria, Britain's most expensive football player. That uncomplicated self-expression of youth is what Manchester United have craved so badly across the course of these past two difficult years, in which 7 has such been a burdensome number. And though the early goal United conceded will give cause for unsettled minds between now and next Wednesday in north west Belgium, the Dutchman offered grounds for enormous optimism as he secured Van Gaal the most important win as United manager.
There were moments in this performance when it was simply impossible not to recall to mind the custodian of the jersey who last delivered the club to the European heights, and £35m precious Champions League income, they yearn for once again. The studied pose before a second half free-kick, the near insolent reaction to a goal scored: yes, they both belonged to Cristiano Ronaldo, too.
Manchester United 3 Club Brugge 1 player ratings
Manchester United 3 Club Brugge 1 player ratings
1/14 Sergio Romero

A less than impressive display from United's No1. Could have got down quicker to palm out Carrick's deflected effort and was very lucky his calamitous error from a Darmian back-pass was not punished. 5/10

GETTY IMAGES

2/14 Matteo Darmian

A smart, energetic display by the right-back. Unlike his colleague on the other flank he got back smartly to cover the pacey Diaby but did not allow Brugge's threat to curb his attacking enthusiasm. 7

GETTY IMAGES

3/14 Chris Smalling

Another rock-solid performance from the centre-back, who showed sharp positional sense when Brugge looked to counter. 7

4/14 Daley Blind

Looks to be an ideal centre-back in a Van Gaal side, he brings the ball forward neatly from the back and, whilst his pace was at times exposed, he positioned himself well. 6

5/14 Luke Shaw

Consistently found wanting defensively as Dierckx slipped in behind time and again. As exciting as he can be in attack he was a liability at the back. 5

6/14 Morgan Schneiderlin

Already looking like the foundation on which United can build their midfield in the years to come. Intercepted and tackled well, providing the energy and drive his more senior colleagues could not. 7

7/14 Juan Mata

Though he remains a creative threat he looks somewhat neutered on the right flank. His game was rather one-track, drifting infield and passing the ball elsewhere. 6

GETTY IMAGES

8/14 Michael Carrick

Lacked the pace to deal with Brugge's counters and on more than one occasion panicked when the opponent's pressed high up the field. Put himself in a poor position as he deflected in the opener. 4

GETTY IMAGES

9/14 Adnan Januzaj

Failed to build on a pleasing appearance at Villa Park, with wayward passing and poor decision-making marring his game. Once more his willingness to go down under the slightest of contact blighted his performance. 5

GETTY IMAGES

10/14 Memphis Depay

What a thrilling performance from the forward. From the moment he crafted his wonderful opener, beating five players before firing in, he played with menace and drive. Deserved a hat-trick and with more patience in front of goal he would have had it. 8

GETTY IMAGES

11/14 Wayne Rooney

Two contrasting halves from the United skipper. In the first he was anonymous and off the pace. In the second he looked re-energised, with a beautiful back-heeled flick from a Shaw cross showing he still has the skill to wow. 6

GETTY IMAGES

12/14 Bastian Schweinsteiger

Shielded the back four without much difficulty in the second half. He still looks very slow but showed real leadership, pointing and positioning his colleagues throughout. 7

GETTY IMAGES

13/14 Javier Hernandez

An energetic addition late on, his hard-running forced Brugge defender Mechele into a careless foul; the red card he received effectively ended the threat of an equaliser. 6

GETTY IMAGES

14/14 Marouane Fellaini

His 10 minute cameo may have decided the tie. The opposition could not deal with his physicality and his headed goal gave United the breathing room that they may well need. 7

GETTY IMAGES
Comparisons would be premature on the evidence of 90 minutes. Set this performance against the mere flashes of Depay''s creative input against Tottenham Hotspur, you would have to say. But after the struggles of Antonio Valencia, who gave up the number, and Di Maria, who wore but never claimed it, the two can be described in one breath. There will be relief from the top to bottom of Old Trafford at £25m well spent. It was multiplied to the power of ten by Depay's final intervention of the night, the arced free kick at the very death which substitute Marouanne Fellaini leapt to head home for the cushion of two goals.
There was no mistaking the kind of cacophony which is to come in Flanders next week. Liverpool discovered all about the sound and the fury of a Champions League play-off on Belgian soil when they travelled into the cauldron that Standard Liege's stadium can be, seven years ago, and nearly came unstuck. The Bruges delegation brought their English songs along with them: 'Sing when you're winning', 'Walk On', 'One Timmy Simons.' Give or take a lyric or two, this was like playing on Anfield turf at times.
For a time, the Belgians' football had noise, too. A weakness in United was exposed, as they pressed high up the pitch, turning Daley Blind with several balls delivered with pace into the right channel. When they scored eight minutes in – Michael Carrick sticking out a foot at Victor Vazquez's whipped free-kick from the left – Louis van Gaal looked ashen; a man who had lost his lottery ticket.
He had employed his intellectual superiority routine on Monday when rejecting the notion that Juan Mata operating behind Wayne Rooney might help bring the captain's goals back. But in his forlorn first-half search for impact, that proposal made sense. Rooney's plaintive look at Luke Shaw when the defender had elected not to thread a pass through for him, just before the half hour, spoke of a man needing to be found.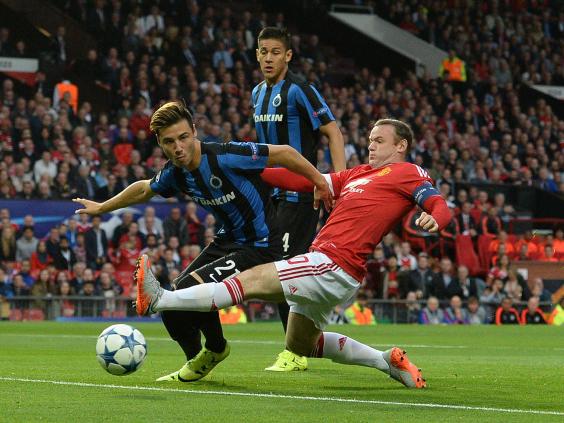 There was minimum purchase on Rooney's bicycle kick a few minutes later, cleared from the line as it bobbed into Vazquez's path, and misdirection on an angled header from the ensuing corner. 
Adnan Januzaj's struggle was no less graphic. The heavy and accidental second touch he took on a through ball from Mata as United began to grow into themselves, was the last thing the Belgian needed. The arrival of £18m Pedro is destined to drive a wrecking ball into the hopes Januzaj still harbours of making his way at Old Trafford. His protestations minutes later, borne of frustration at this struggle to establish himself, provoked the kind of wrath from Deniz Aytekin, the German referee, that must have made van Gaal's seem like a liberal.
It was Depay who rose above all this mundanity and almost single-handedly brought United's deliverance, not just by technique but by force of imagination: the desire to forge something out of every moment in which he found the ball at his feet.
The most sublime of those moments – his first goal for United – will live long in the collective memory. The 21-year-old flicked a ball over Dion Cools, the right back, headed it down under control, eased behind Tuur Dierckx and, when he seemed to have navigated too far across the face of goal, despatched it right footed into the corner of the net. Nonchalance ensued. He waved his team-mates back to the centre circle and pointed a finger at Carrick, whose lofted 30-yard pass had picked him out.
He shaped the rest of the course of the night from that point, attempting a 35-yard speculative shot after spinning beyond Vazquez, back-heeling enterprisingly to create penalty box space for Mata, displaying the speed of thought to play in a quick ball down the right channel for Mata, who wasted the cross. And then, two minutes before the break, cutting inside the unfortunate Cools again to superbly curl his side into a 2-1 lead and finally break into an expression of delight.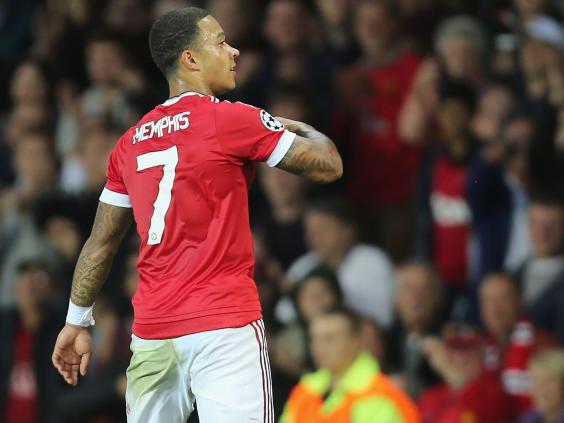 It was not a perfection. Depay could have secured the two-goal winning deficit himself, ten minutes from time, had he not fluffed his chance when Rooney deftly flicked back for him the ball Shaw played up from the right. "I am little disappointed because I will think about that last chance," he said after the match. Even after Brandon Mechele was dismissed for his second bookable offence, sliding into a tackle from behind which floored substitute Chicharito, United laboured. Then the No 7 stepped up on the left to deliver the dead ball. It felt like a huge stride forward.
Reuse content